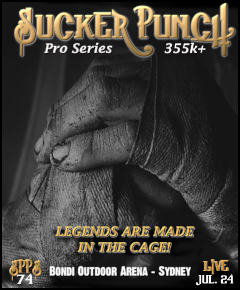 Hey Sucker Punch fans, Hare Rumpler here and we're going to get into this with a quickness tonight!  I'm currently down in North Carolina at a National swim meet with Nati Batti and she's over at the pool rooting on her teammates who made finals this evening.  In the meantime, I'm going to give you guys the quick low down on SPPS 74 and the NINE, yeah…not ten, nine…fights we have on tap tonight over at the Bondi Outdoor Arena!
As I said, I'm out of town, working directly on a laptop, no additional display…bah, I cannot work in these conditions, I'm entirely too much of a diva for this! Ha.  So skip the big intro other than for me to say we're one fight short as I mentioned due to yet more folks going MIA on us and we have no title fights on the line tonight.  But, we do have a bunch of fights that mean a ton to those involved and their chances to climb up the rankings, so…with that, let's get a quick word in about our sponsor and merchandise partner and move on to the good stuff!​​​​​​​
Do you find that you're resting your fighters too often? Two, three, maybe even 4 times a week sometimes?  If that's the case, you're probably not supplementing their training, and if you are I'm thinking you're not doing it with Shadow Warrior Tea 160Q, which is Shadow Warrior Nutrition's outstanding energy loss reduction supplement.  It's the best money can buy and will keep your fighter in the gym training rather than sitting days out resting!  Stop on over there today, you will NOT be disappointed!
Now, let's get to it!  The full preview is up here:
https://www.mmatycoon.com/forums/index.php?/topic/65096-sucker-punch-pro-series-355k-opens-in-sydney/&do=findComment&comment=949837
Article views: 3
» Donate to this author