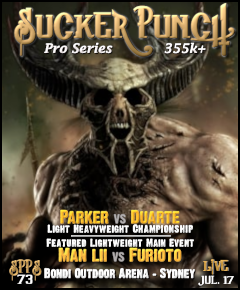 Hello out there folks!  We're back for our second big event over at the Bondi Outdoor Arena this week as eighteen kids get ready to go out there and put on a hell of a show for our Sucker Punch fans worldwide!  Yes, now, I said eighteen because we had one fella go MIA a while back and the date on the card was too soon to get anybody else who was ready to go, so we'll be one fight short tonight. Overall, it shouldn't affect things much and just gives us more time to focus on the rest of em, am I right?
So let's get things rolling here.  As usual, I'm Hare Rumpler and I will be joined again this evening by my colleague and analyst, Donkey "Dan".  Now, Donkey could be a little gun shy tonight I think, as he's been taking it on the chin pretty hard of late by one or two of our managers who have it in for him now, haha.  Most of that abuse has been coming through me as a middleman, but it's been coming regardless.  Honestly folks, he deserves it.  Again, am I right?  Of course I am!
Tonight we'll kick off the four fight Undercard with Apophis Kalmisto and Akara Kongsangchai as they, along with Sitsongrit and Bremner, will represent the Featherweight division this evening as bookends on the Undercard.  In between, we step up the beef factor just a bit with Light Heavyweights Jedi Rebel and Devin Ecker in the second fight of the evening and the big boys Teixeira and Ryker filling in the rest of the middle there.
For the Main Card we've got a ton of great action!  Fury and Lindgren mix it up at Light Heavyweight with possible Top Contender implications on the line for Fury.  Then, with even more Top Contender considerations on the line, Queen and Barbosa get things going in the Welterweight class as our first and only showing from the WW's on the evening.  Both of these kids have been lingering around the top trying to make good on opportunities to move forward for title opportunities but just barely falling short a few times between them of late.  A win for either tonight puts them one step closer to separating themselves from the pack and potentially working towards the chance once again, so you know they'll both be bringing their 'A' games!  Then there's the final matchup of the "big boys" before the Main Events kick in…with Tyson and Meshkov both attempting to make it three in a row and set themselves apart from the rest of the division that's chasing along.  Both have been giving it their best go to claw to the top and despite knowing what lies ahead you know that should they win a couple more they won't back down from the biggest opportunity of their careers!
Our Main Events are shocking in that we do have a Title Fight on the line tonight in the Light Heavyweight division between challenger Rogerio Duarte and reigning champ Jacob Parker.  But, that fight, believe it or not, is slightly out-hyped by the Lightweight battle between Yip Man lii and Maximus Furioto!  Furioto is on the hunt for a shot at the title and a win here would secure it.  Man lii has been offered the opportunity several times but hasn't felt he was quite ready for that step.  Will he take it this time if he wins here?  Or will he remain the ultimate gatekeeper?  Can't wait to find out!
With that, let's get a quick word in about our sponsor and merchandise partner and move on to the good stuff!​​​​​​​
Do you find that you're resting your fighters too often? Two, three, maybe even 4 times a week sometimes?  If that's the case, you're probably not supplementing their training, and if you are I'm thinking you're not doing it with Shadow Warrior Tea 160Q, which is Shadow Warrior Nutrition's outstanding energy loss reduction supplement.  It's the best money can buy and will keep your fighter in the gym training rather than sitting days out resting!  Stop on over there today, you will NOT be disappointed!
Now, let's get to it!  The full preview is now up here, enjoy all!
https://www.mmatycoon.com/forums/index.php?/topic/65096-sucker-punch-pro-series-355k-opens-in-sydney/&do=findComment&comment=949503
Article views: 4
» Donate to this author