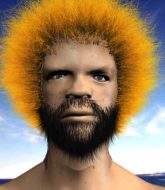 After a very promising start to his career, winning 9 out of his first 10 professional bouts, the career of Chocolate Al hit a dead end. He lost his next 4 fights and all of them by (t)KO. His experienced, veteran manager Marky Mark Had enough of him and decided to release him. Not many managers where interested in the 26 year old with a questionable chin and a tendancy to get cut by punches. There was one newer manager who saw potential in the fighter, despite all of his obvious flaws. His name is Bjorn O'Donnel. He contacted Chocolate Al and was able to convince him to join the group of fighters Bjorn had under his management.
 
After being threated for depression, "Loco Choco" went back to the gym and started training like a madman to get back to the level of his good old days. His coaches were impressed with his fitness and skills. After only two weeks of training, he was already at a very acceptable level and was very eager to step back in the octagon.
 
Not many orgs were interested in him, but luckily the owner of a top org was willing to give him a chance. Mike Thomas of Team Thomas Fight Club signed Chocolate AL to his roster and set up a fight with Brick Tamland.
In his debut for TTFC, and first fight under Bjorn's management, he had one hell of a great perfomance. He knocked out Tamland with the mother of all head kicks. He became an internet sensation immediately. His head kick KO has more viewer than the newest video clip of Justin Bieber!
 
His second fight, against Kaheli Sonni, was disappointing. The judges scored the fight a draw, altough Chocolate Al should always have been the winner. It was hard to take, but luckily Al has the heart of a lion and decided to not look at the past anymore, but to focus on the future.
 
About a month after his last fight, the cage door locked again behind "Loco Choco". His opponent Osmo Keinänen was a tough fighter, but wasn't good enough. Chocolate nearly KO'ed him in the third round, but won the fight by unanimous decision. The judges weren't drunk this time luckily!
 
One hour after the event, the phone of Mike Thomas was ringing. He picked up the phone and heard a superexcited Chocolate Al asking for a second fight with Kaheli Sonni to prove that he is the better fighter. The owner of TTFC granted him his wis hand the fight was booked for the 6th of december.
 
The fight showed what everyone of the team around Chocolate Al knew already for a long time. He is by far the better fighter. He won a unanimous decision victory 30-27 . He nearly KO'ed him and was able to cut his opponent. A decisive victory that shows that the career of Chocolate Al isn't over at all!
 
The click between his new manager Bjorn O'Donnel and himself is clear. He is 3-0-1 since working with him, and he is looking to keep on going strong for a very long time. He wants to make so much money that he can get retired at an age when most people are still working. He's dreaming of sandy beaches, tropical cocktails, beautiful sunsets and smoking hot girls! 
P.S. :  I lost my internet connection just before posting the story and my browser tried to refresh the page. End result => I had to rewrite the whole story...