First off, I have to give credit to the thread which inspired this amendment of sorts - Cardiff Wanderer's Beginners Guide which you can check out here
However, from talking with a bunch of guys, they've indicated that a lot of the info in the thread is outdated, meaning a lot of managers may be using ideas and theories that are from previous times and no longer efficient. We'll be going through the same process as Cardiff Wanderer's thread, amending any useless or incorrect info, while adding in any other relevant information we find necessary. I would like to point out I am posting the guide up as far as I have written, but added in the headings of topics I plan on talking about which I will then edit in as I finish them. I saw I was getting closer to 8000 total posts on the forums, so I figured I could dedicate my 8000th one to something that I feel will help benefit the game, and especially the newer players as a whole. A lot of this information is from my own knowledge, while I have asked some other members of the site for their opinions also when it comes to certain topics. One person I have to give a big thanks to is Wolf who has provided some of the information in this thread and helped read over it to correct anything.
From the previous thread:
"First thing is that all new (or noob) players should always be confident to ask a question, no matter how simple or complex, as everyone misunderstands or needs clarification on something. People are always willing to help and repetition of questions is never a worry to all those who contribute. If you have a question ask, this is why this part of the forum is here.
One thing that is always very useful, especially when asking about specific fighters and/or fights to post a link to them. It makes it far easier to be accurate when trying to help. "
Now let's move on to the meat and bones of this thread. I would like to add in firstly that if anybody spots a mistake, or has something else to add, feel free to post below and it will get added. The point of this is to create a dynamic guide that can be tweaked and adjusted constantly to reflect the changing game environment, something that got lost in the last thread as Cardiff Wanderer left the game.
So welcome to the game. One thing a lot of new players struggle to deal with when first joining the game is the vast quantity of information to process in order to just get started in the game. Honestly, once you get the hang of the basics, it's a case of learning as you go then. We'll be covering a wide array of subjects that a lot of new players should learn about, and we will be adding to the guide as we find more information that will benefit newer players.
Index
Getting Started

Cities

Toolbar - What do they mean?

VIP - Overview

VIP - Companies

VIP - Tools

Rankings

Fighters - Creating and Explaining

Fighters - Hiddens Explained

Fighters - What next?

Orgs - Where should you sign?

Possessions Explained

Noob Tools

Sliders
GETTING STARTED
So you just joined the game, and you'll be receiving a bunch of mails from the game with a brief explanation of things. While these can be useful, they don't really go into any detail about things. When you join the game, you'll set yourself a base location. Your manager's base location isn't overly important, it's only relevant if your fighters are in a different city.
The first thing I recommend for any new player is to immediately get yourself a mentor. You can do that on this page
A mentor is an experienced player who is willing to act as your go to guy for learning. Feel free to PM them any questions you have, and they will help you to learn and game, while it also gives you your first chance at networking in the game, which is one of the most important things you can do.
Following on from that, you will need financing, especially in modern times where gym fees are rarely below $1000 a week. Luckily, there is a player-run and financed Fund for new players, which you can find here. Read through the first post of the thread and it will explain it all to you, but long story short, you get $50k now, and another $50k a month later if you qualify.
Something that new players have access to is a 14 day free trial of VIP. We'll get more onto VIP later in this guide, but I highly recommend it to all new players as it provides you with a lot more detail into the game, and makes it a lot more fun and interesting.
And lastly, if you are a new player, the best advice you can receive is that this game requires a lot of patience in order to succeed. There are options for short term and long term in the game, with the long term being a much more fruitful path in terms of benefits and achievement.
CITIES
In MMA Tycoon, there are a number of different cities, with each one hosting Fight Orgs, Clothing and Nutrition Companies and Gyms. This does not mean you are limited to only the companies in your city, apart from your gym, as we will explain.
Taking an example, if I set my Manager Base as London, while I create 1 fighter in London and 1 fighter in New York. You can buy items from clothing and nutrition companies anywhere in the world. However, if you buy them from a different city to the one you are based on, it will take 3 real life days to arrive. So if I go to a clothing company in London and I buy some clothing for myself, and for both my fighters. My manager and my London-based fighter will receive the clothing immediately, while the New York fighter will receive them in 3 days. This is where your manager base comes into play essentially, because if you buy an item for your Manager's possessions, and you then look to give those items to your fighter, it will again take them 3 days to arrive if the fighter is in another city.
So if I buy 2 shirts for my manager, and I then send 1 to both the fighters, the London fighter will receive it immediately, due to them being in the same city, while the New York fighter will receive it in 3 days. Distance is not a factor in it, they can be in any city in the world other than London and it will still take 3 days.
Gyms are the only company that are location based with no room for change. If your fighter is in a city, they can only train at gyms in that city. So using the previous example, the fighter in London will only be able to train at gyms in London, while the New York fighter will only be able to train at gyms in New York. You can move the fighter's location if you wish to train at another gym, but you will have to pay a fee for the flight to move.
Orgs are the biggest company in the game, and they are the most important. Back in the old days, it was pretty much the case that new players could only fight in orgs in their city due to lack of finances to fly. However, now the games financial situation has improved, you will find the new orgs being able to afford to pay your fighter well enough to fly to any location to compete. If you don't want to get caught up in flying, it is recommended to compete in an org in your city, but if an org wants to sign you, ask about them setting up flights or financing flights to the city for the event and you will likely find them willing to help out.
You can see the activity of different cities here as it shows how many orgs, gyms and fighters there are in each city along with the ratio of Fighters to Gyms.
TOOLBAR - What do they mean?
On the right hand side of your screen, you have a number of options to lick on which will take you to a different page, all of which serves a different function to you as a manager. We'll go through these one by one.
News & Events: This webpage will show you any news posted by the top 20 ranked orgs in the world.
Highstreet: The highstreet shows you all of the Gyms, Orgs, Clothing Companies, Nutrition Companies, Alliances and Arenas in the game on a city by city setting. The initial city it will show is the same as whatever your Manager Base location is set as, and you can change which city you look at by using the dropdown menu at the start.
Map: This shows you all of the cities in the game, and shows the local times in each city. Fights happen in each city at 6pm local time so this is a good place to check it out if you receive contracts for different cities to see what time the fights happen. Like stated above, it also gives you the numbers of managers, fighters etc. in each city. Also, at the bottom of the page it shows all of your fighters along with their current location and their base city. Just below that, you can also schedule flights for your fighters and see the costs of moving.
Rankings: This page will show you up-to-date rankings for everything, including Fighters, Managers, Fight Orgs, Companies and Alliance Statistics. There are subcategories under each one for different aspects of the game.
Search: The search page allows you to look up different things in the game, such as Events, Organisations, Fighters, Companies, Managers and Fights using the different settings under each. This is very handy if looking for specific things, such as Fighters who are 290k and above and who are looking for a contract. This is the best friend mainly of Org Owners as it allows them to look at who is looking to be signed.
Forum: You'll know how this works most likely if you are reading this guide. The forums are a public place for users of the game to interact with one another on a variety of topics. There are different sections, such as Noob Help, General Game Discussion, Improvements and General Discussion. Whether it be the latest game drama, discussions on how to improve the game or general shit talking, this is the place for it.
Chat: MMA Tycoon has it's own channel on Mibbit.com where users of the game can join and chat with other users about pretty much anything. It might not be as lively as it was years back, but there are usually a few guys in there at all times, apart from maybe the dead hours between like 1am - 10am GMT. Whenever a UFC event is on, it's always got guys in there so feel free to join and see if you like it.
Profile: This brings you to your own manager profile. You can see your record as a manager and details like your current rank, your highest ranked fighter and your alliance, while further down you will see your trophies, your last 20 fights and your fighters, with details on their weight class, their current form, their record and their ranking. At the bottom you will see your Buzz activity including the most recent buzz to you, and your last 5 buzzes sent yourself.
Mail: Exactly what it says on the tin. If you have any messages, from other users or maybe from a company you have a fighter involved in, you will find it here.
My Fighters: This page shows you all the fighters you have on your roster, and allows you to tick boxes which will show them as Needing a Contract, Needing a Fight (If they are signed to an org) or if you are looking for a Sponsor. You can also sack your fighters from this page. You have the options of looking on the FA Market, Creating a New Fighter, Entering a QFC tournament, and viewing all available gyms your fighters can join. The bottom section of the page shows you all the fighters you have released, along with details of their current manager, their record, their form and their rank.
Fight Offers: If you are signed to an org, this page will show any fight offers they have sent you. You also have the chance to book a QFC fight from this page also. At the bottom, it will show all your current book fights, along with showing how long until the fight which is extremely useful for planning training sessions and flights leading up to the fight.
Contracts: On this page you will see any contract offers that have been made for your fighters. You can see the details such as Fights, Base Pay, Signing Bonus and Win Pay, as well as the inactivity clause and the expiration date. Further down you will see your current signed contracts and you will be able to give anonymous feedback to the org if you wish, and if the inactivity clause has been reached, you may cancel your contract.
Sponsors: Much like the Contracts page, you will see any Sponsorship offers that have been made for your fighters, and you can see the details of your current agreed sponsorships also. A note to add is that each fighter may only have 2 sponsors at a time.
Possessions: This page allows you to see any Possessions you have in your Manager account, along with any Possessions you have in your fighter's accounts. You can change their clothing and their supps from here, and bin any unwanted items. You can also give items from your Manager Account to your Fighter Account from here also.
Finances: From this page you can see how much money you have in your account, how much money your fighters have in their accounts and how much money you have in your companies account. You can use the boxes at the top to send money from your Manager account to your fighters, your company, or another person's fighter (Which does not incur a Transfer Fee). Further down the page you can see a more detailed breakdown of your transactions, or your fighter's transactions, while clicking on the Manager To Manager Transfers button allows you to send money directly to another manager's account, but at a fee as detailed here - Detailed Breakdown of Transfer Fees
Spin & Win: You can earn credits for Spin & Win by posting on the forums, voting for MMA Tycoon on a number of websites, and a number of other ways you will find on the page. It's 10 credits per spin, and you can win some great prizes like a free Private Jet, extra Fighter Slots and some other prizes.
Buzz (Beta): A relatively new feature to the game was the addition of Buzz, which acts as MMA Tycoon's own version of Twitter. Create a personality for your fighter, engage in some smacktalk, and basically do whatever the hell you want with them all in the name of adding some more depth to the game. Just for the love of god don't bang on about what you had for breakfast.
VIP - Overview
VIP is the paid feature in the game where you get a huge amount of benefits for spending your real life money. To be fair, at only $10 for 3 months, or $30 for a years worth, it's money well spent if you plan on playing the game for a long time. So what are the benefits to becoming VIP? Well we will cover that over three segments but for now let's cover some of the basic perks of VIP.
An extra 6 fighter slots added to your account for as long as you are VIP. If you lose VIP, these 6 fighter slots will be taken away as well, meaning you will have to sack fighters until you have the right amount.

The ability to set up a company - Gyms, Fight Organisations, Clothing Companies and Nutrition Companies. You can only run one of these, while you can also be staff at another company of a different type. So for example, you can have your own Fight Org, but you can't be staff at another Fight Org. However, you can be staff at a Clothing Company, Nutrition Company or a Gym.

The ability to join an Alliance. Alliances are groups of members in this game who help each other out. Essentially you think of these as real life camps, like the Blackzilians, Team Alpha Male etc. where each member will help each other to improve.

Extra stats shown after each fight, detailing what each fighter attempted and how many they successfully landed.

The ability to release a fighter every 15 days as opposed to every 30 days.

Access to a variety of helpful tools in the game, including the Tycoon Assistant which is essential for almost any top manager. We'll cover these more later on.

Able to upload a Manager Avatar and the ability to choose your fighter's avatars. You can also upload Custom Avatars giving your fighter a unique look. You can find designers on the forums who will create custom avatars for you for a fee.
That's just the tip of the iceberg as well when it comes to being VIP. You can look at these features, and some of you might be unimpressed, while some of you will be thinking it's great value. But seeing these perks is one thing, but experiencing them is a whole other story as we are about to explain.
VIP - Companies
In MMA Tycoon, all companies in the game are player run, aside from a few base companies used by Mike Tycoon to test for bugs and such. There are 5 company types in the game
Fight Organisations

Clothing Companies

Nutrition Companies

Gyms

Bookmakers
Bookmakers are unique in that you can have one of them while also holding another company type. This means you have to decide between a Fight Org, a Clothing Company, a Nutrition Company and a Gym. We'll explain each one in detail, to give you the most information to make an informed decision.
Fight Organisations
Fight Orgs are the most time consuming company in the game, but they can also be the most rewarding if done right. You'll sign fighters to your roster, book arenas to hold your events and book fights on those events as you go. One of the biggest mistakes I see new org owners do these days are rush into opening the company, and then trying to find out how things work. My advice to anybody looking to open an org is ask at established orgs if they can help you learn the ropes so you aren't overwhelmed when you finally do pull the trigger on your own company. I'll be writing another guide later on for Fight Orgs, and I will link it here when done.
Clothing Companies
Clothing Companies don't require huge finances to get started, and they reward you for being proactive and creative. Make some designs for your store, promote them and sell them. Some of the best stores in the game have gained their reputation for creating innovative designs and being highly active in promoting their brand. You can sponsor fighters in the game, having your thumbnail appear on their profile, and you can partner up with an org in order to bring in more profits from their events, which benefits both yourself and the org.
Nutrition Companies
Nutrition Companies are much like Clothing Companies in terms of running. You invest money into researching products and then sell those products to earn back your investment. With 160q being the standard these days, you will need to really be offering those products in order to be successful. It takes $1.3m in order to create a low 160q product, so that is really the minimum amount needed to start a new company of this kind.
Gyms
Gyms are the most beneficial company in the game to fighters, providing them with a place to train and improve their skills massively. They are a company that a manager can open to the public allowing the newer and more cash-strapped managers to enjoy a decent standard of training. A big point to make for newer players is that you will almost always find an experienced manager who will be willing to finance VIP and money to users in exchange for them holding a gym and having it private, which means only invited fighters can train there. This allows the experienced manager to enjoy the best training possible for their fighters, while also allowing newer managers to network a bit while also enjoying the top class training they would otherwise not have access to. Gyms require roughly $100k to start up with the best coaching possible, and also have weekly costs in the form of coaches wages.
VIP - TOOLS
So you have just bought yourself some VIP time or you are enjoying the perks of the VIP trial. This opens up a host of new features for you to enjoy and use to improve your managerial career and to enjoy some micro managing of your roster. We'll be going through each tool and describing the different features in each of them. We're starting with the top left icon, moving right and then bottom left moving right again.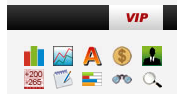 My Stats
Fighter Progress is a relatively unused page in your MMA Tycoon career. It shows you a graphical representation of your fighter's skills in the areas of Primaries, Secondaries, Physicals and Overall. You can use this to compare your fighters progress in comparison to each other. Read the footnotes at the bottom of the page for a further description of it.
This page shows a comparison of your fighter's in their Hype, Popularity, a Combination of the two, and also their profile views. The bottom section of the page shows you all your fighter's ranks in their weight class and in the P4P ranks, while showing how many fighters are contracted to that weight class and where in the % they are.
This page gives you an up to date reading on any individual skill of your fighters. You click the dropdown box and input the skill you want to check, and the bar will represent where your fighter is at. This page is essential in looking at the Learning Speed of your fighters. When making a fighter, they will start at 100% energy and morale, which is needed. You have to have your fighter train in a session with an Elite coach, and they have to have started with 1 in that skill. Now, there are 2 ways of checking the results. First, you go to this page and you input the skill your fighter trained. If you don't use the Tampermonkey (Chrome) or Greasemonkey (Firefox) scripts, you have to right click on the bar, and then click Inspect (If on Chrome, not sure for Firebox). This will bring up a box on the page, with one section highlighted. You need to see the % it says, which in my example here is 3.3% after right clicking on the box next to Test Dos.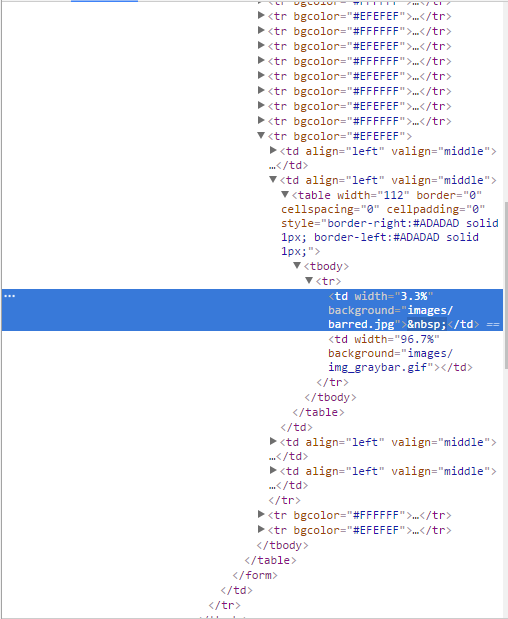 Now from that, I multiply 150 (the max a skill can be) by 3.3% (or 0.033) to get the result of 4.95, which is the fighter's learning speed.
Alternatively, if you use the scripts, all you have to do is left click on the box and it will bring up a pop up message saying the result.

This page allows you to directly compare 2 of your fighters skills in correlation to each other. It will show all of their skills on a graphical representation (Apart from Transitions and Escapes which were skills added later to the game but seem to have not been added to this list) and see the differences between them. Personally, I use this as a way to compare fighters who I created at the same time to see how much their learning speed affects them.
This page is a good way to see how your fighter's injury hidden has affected them in their career. It will show a list of your fighters, show you how many days of injury they have suffered (and show how many they average per fight), and also how many KO losses they have suffered (Again with an average per fight, although this does include fights you have won so maybe not the best thing to look at for these).
This page is slightly broken when looking at the Defensive section. This page shows you how all of your fighters do when it comes to each kind of offense and defense. You can use the dropdown menu to look at how successful they are at particular bits of offense, and also how well they defend strikes (Although this page repeats fighters on the list).
A page for a bit of fun now as you can see how you have done against different managers in your career. You can set how many fights you need to have taken against the managers for them to show, although if you want to find any manager, just set it to a minimum of one fight and then use Ctrl+F to input their name and find them.
Global Statistics
This section doesn't contain anything majorly helpful to you as a manager, but mainly lets you find some fun facts in the Tycoon world such as Fighter Stats, Manager Stats and Previous Year Stats.
Tycoon Assistant
This is the big daddy of what having VIP is about. You can check this every day and it will have a list of any skills your fighter popped, making it a hugely helpful tool for training your fighters. It also shows a list of your fighters, their energy, the gym they train at along with the gyms cleanliness and equipment levels, and also if they have any injuries or cuts. Below this it has a detailed breakdown of each fighter, with their skills, their current training schedule and their total training sessions also being showed. This alone is worth the $30 a year.
Company Finances
If you own a company, this will show you your current manager's balance, along with the balance of each company you own. The bottom area shows you the weekly and overall financial breakdown of the company.
My Businesses
This section is where you can view all the companies you own, as well as the companies you are employed at. You can also sell your companies to other managers here, or put them up for general auction. If you want to start a new company, or hire (or fire) staff to your company, this is also the place to do it.
Bookmaker Search
This section allows you to search for specific events to bet on, fighters, managers, and also is a way for you to look at any bookmakers offering odds on your fighter's own fights.
Notepad
Standard notepad which you can use to save any info which might be of use. Things like Fighter's learning speeds, IQ's, hiddens can be good things to keep in here.
Stat Search
This allows you to look up 2 specific fighters and compare them in terms of their fight statistics. This is a good way for you to look at your upcoming opponents in comparison to your fighter and pinpoint any weaknesses in both fighters that you should be aware of.
Scout Search
This feature gives you a Scouting Report of 2 particular fighters. Their primaries, record, rank and hype are some of the more important things it shows along with other little bits of information.
Scout Tool
This will provide you with a Scouting Report like above, but this will automatically load up all of your current booked fights, and it will show you the comparison between your own fighters and their opponents.
 
RANKINGS
FIGHTERS - CREATING AND EXPLAINING
FIGHTERS - HIDDENS EXPLAINED
FIGHTERS - WHAT NEXT?
ORGS - WHERE SHOULD YOU SIGN?
POSSESSIONS EXPLAINED
NOOB TOOLS
SLIDERS