Why have multiple threads whenever a new fight is announced - what will follow is Oompa Loompa's story for 2014. Here's hoping he doesn't fail.
Oompa Loompa Vs Danny Power
EVO 145lb Title Fight
9th of Jan 2014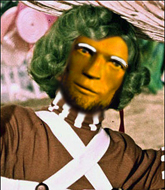 Vs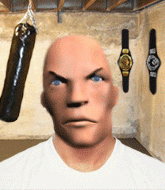 Oompa Loompa - 17-3 (6 via KO, 6 via Sub) p4p111        Danny Power - 31-13-2 (15 via KO) p4p79 
The little man of the fight game Oompa Loompa made some bold statements just before Christmas about his desire to destroy all those that fought in the 135lb and 145lb divisions. 2 weeks after his claim he fought his last fight in the Invictus Fight Org with an embarrassingly easy decision win against Shazaam McDaniels.
Within 5 minutes of finishing his shower the CEO of Evo Mega Jug was on the phone to Stu Pidasol with details of a contract for Loompa. After a quick scan of all the potential opponents Stu decided Evo was the best place for the little man to start his 2014 crusade. Danny Power the current 145lb champion fresh off his loss on the Xmas Bash card was selected as the first victim...
Reporter: Loompa it has been a bit of a whirlwind these last few weeks - from big fish in a little pond to a little fish in a shark tank - how are you travelling?
Loompa: Yeah you got that right however I'm no little fish - Danny Power will be the first the to realise this. Danny Power has been a great fighter, he has beaten some legends of the fight game, but his time in the sun has come and gone. He is a shell of his former self - riddled with self doubt, typical pom if you ask me. Lacks the mental toughness to hang in the big leagues.
Reporter: Bit harsh of you Loompa - have you not seen his 2013 record?
Loompa: Yeah I have looked at his record - early days he was like a FOTY winner, but the FOTY isn't won in 6 months you need to back that shit up all year. That middle section when he went 1 from 5 tells us when it all came tumbling down on him. 
Reporter: You haven't beaten a single fighter of note - and here you sit taking pot shots at a fighter of Power's caliber from the well respected fight camp of Sean McDonnel
Loompa: And your point here is? I respect McDonnel but his boy Power is as useless as the English cricket team - this fight is nothing more than my stepping stone to have a crack at the form fighters of the division.
Reporter: Just exactly how are you going to tackle this massive fight?
Loompa: I'm going to go out there and fight my fight - if I want to stand and trade I will, if I want to take him down I will, if I want to get in and clinch I will. I can finish him wherever i choose. Power on the other hand is gong to need to keep this fight standing.
Reporter: He's a Black belt you're a Brown belt - he has you covered on the ground?
Loompa: He got his Black belt off the back of a wheeties packet - I can out grapple him in my sleep. In fact I dare Power to take me down - I know he won't have the balls but the challenge is there Power.. Let this fight hit the mat..
Shine that belt up real good for me Power - because in just a few short days while they cart your limp body from the cage the Evo belt will be put around my waist..
Result: Loompa via Decision (split)