"The Dog" Simba Burns Jr (119110)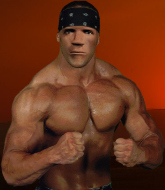 After 5 close back and forth rounds, Ugor defeated Simba Jr by Unanimous decision. Both fighters landed big shots, with Ugor landing a lot of punches while taking kicks from Burns Jr in return. At the end, no one knew who had won the superfight. Close scorecards read, but Ismba had lost.
"It was a tough fight. I thought I had done enough to win but I did take a lot of punches from Ugor. It seemed like a Machida/Shogun 1 sort of fight, where judges don't value kicks as much as punches.. Ugor was hobbling bad from round 3 on, and had no power in his punches anymore. He's an awesome fighter, no excuses, good luck to him I hope he continues to do well. His manager Davies is one of the best dudes around.
I'll be back shortly, I am still the CEC LHW Champion."