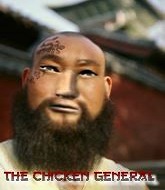 Zongtang Tso here to inform Fightfans Island-wide about our re-branding of BEEF's Burning Bush tournament. Details are cut and dry... Island Season Fighters(25YO Builds) ONLY until further notice. Do not fear, on invite day i shall not appear!!!
This Season will also be OPENWEIGHT.
Openweight is an unofficial weight class in combat sports. It refers to bouts where there is no weight limit and fighters with a dramatic difference in size can compete against each other.
25YO Ex-Island fighters will compete for an invite. TEN winners and the TWO losers who lasted the longest in the cage with the highest fight rating will join the SlaughterSeason House for season TWO!
For the "Play-In" fight, these 20 fighters will go into a cage for 3x10 minute rounds in BEEF's Ironman rules. This entry event will also set the two divisions of fighters apart. These two divisions will have 6 fighters and every fighter will get one fight with EACH fighter in their division. After the season, the divisions will fight each other based on standings (Season Finale) and the first place fighters will fight to decide the winner of the season as well as the winning division, decided by amount of winners in that event + 2 points for finishes. Fights throughout the season will be decided on championship bout rules 5x5 minute rounds.
PRIZES(Direct to manager Account)
* First Place winner will receive 3 months VIP + 200K + any other bonus 
* Runner up will receive 100K + bonuses
* First Place DIVISION (Division-mates) will receive 30K each (including 1st)
* KO of the Season will receive 25K
* Sub of the Season will receive 25K
* Fight of the Season will receive 25K
* Any fighter to lose all of his fights after invitation will receive 50K
* 1st and 2nd place fighter will receive a 10K/10K/10K contract from BEEF as well as HOF induction.
*BEEF intends to continue to add more prizes.
Contracts will be given to ALL 20 fighters as 4000/4000/4000K for 7 fights in our 265+ weight class
If you lose the invitational fight, you can become an alternate for the tournament but they MUST pm me within 24hrs of your failed invite asking to do this.Losers of the invitation are allowed to move to a weight division of their choice but remember 265+ is for 25YO Builds only so the fairest fights will take place there.
I plan to have fights 2 weeks apart based on injuries.
PM me if you are interested in making any type of donation towards this season and thank you all for cooperation.
Sign Up list
3. Arnold Khmer
6. Stepan Razin