My boy Suksapet (322085) is a slow learner and barely has any skills. He needs a test fight so we find out his hiddens and decide his future - Become a kickboxing prospect or get sacked and left stranded at the unknown, dangerous city of Rio de Janeiro.
As we all know there is no QFC for kickboxers, but still I would like to test him in a KT setting and avoid a submission loss to a 25 y/o grappler can. if a KT org owner is interested, I'll accept a 1/1/1 contract to fight against another project from the 320 ID range. Cheers!
Suksapet Sitsongrit (322085)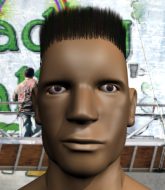 "Help me avoid a lifetime of grappling training and boredom. My manager put me on a plane and brought me to a strange land where he watched me train once, pulled out a number out of a notepad and told me if I don't pop 'Granite chin' I'm done. He'll leave me at the streets where people are eating each other alive."