Yesterday, July 11, 2015, MMA fans head to the Liberty Dome as the sold out event Executioner Lace Up was held. With an outstanding lineup, featuring two title matches, a full 5250 attendance was attained. Lace Up features the third faceoff of the superheavyweights Clinton Offley and Barney Gumble. Before this match, each of them scored 1-1 and Offley was the champ going in this one. Gumble managed to pull off with the win strategically in this one, gaining some critics.
To back it up, recently crowned middleweight champ Arnavut Sevket defends his title against the challenger Angel Face. Undercards were mostly filled with interesting fighters, mostly bantamweights and heavyweights. There were a total of 8 finishes, including the top 3 matches. Despite having a not so good main event, our tickets were still not wasted. 
(Records stated show new records after their fights)
Preliminary Matches
Match 1: Bantamweight bout
"The Dark Destroyer" Nigel Benn Jnr (5-0-0) vs Joseph "Squizzy" Taylor (6-3-0)
Undefeated Nigel Benn finally proves his KO capabilities as he got his first finish in his 5 wins. Benn just destroyed Taylor in the clinch in this one. 
Result
: Benn Jnr by 1st round TKO (Strikes)
Match 2: Heavyweight bout
Capital "C-Murder" Punishment (6-5-0) vs "RAVISHING " Rick Rude (4-4-0)
Punishment's desperation to get takedown pulled off as he quickly managed to get a submission as they got to the ground. Take note, he missed 7 of his 8 takedowns. Persistence pays!
Result
: Punishment by Submission (Americana)
Match 3: Bantamweight bout 
Sum Ting Wong (7-2-0) vs Jasun Wharton (6-4-0)
Was there something wrong with the match? Yes. It was a one sided parade for Sum Ting Wong as he clinchraped Wharton who basically wasn't able to do anything
Result
: Wong by Unanimous decision
Match 4: Featherweight Bout
Paul Teixeira (6-1-0) vs Kicky McLegs (5-1-0)
Teixeira (21) wasn't really on his best shape but he managed to defeat the undefeated McLegs (26) by submitting him late in the first. Very expected win when they got to the ground.
Result
: Teixeira by 1st round submission (Kimura)
Match 5: Superheavyweight Bout
Rickety Cricket (7-0-0) vs Bio Hazard (2-2-0)
Rickety Cricket, at a young age (18) has proven to have a flourishing career as he bagged his 7th win in his early career, all via TKO. Amazing finish by Cricket.
Result
: Cricket by 2nd round TKO (Strikes)
Match 6: Bantamweight bout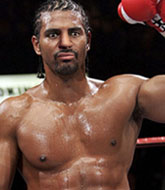 vs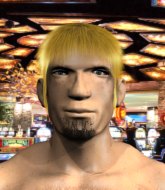 Jensen Haye (7-1-0)
                   vs             Kirk Lancaster (6-5-0)
Both fighters gave their all in 3 rounds but Have proved to be the better fighter as he had more efficient moves. Haye got all rounds but kudos to Lancaster for not giving up. Lancaster has been cut shortly after losing twice in a row. Not a bad pickup for a 20 year old (good chin and confidence). Meanwhile, Haye has been on a role since his only defeat in his debut match, winning 7 straight.
Result
: Haye by Unanimous Decision
Match 7: Welterweight bout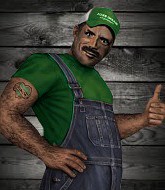 vs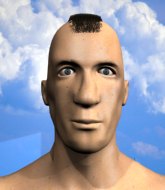 Luigi "The Green Plumber" Bates (4-0-0) vs Oleg Bartowski (10-6-0)
Overall, Bates has the advantage in this one and he's proved it by submitting Bartowski right in the first round. When both fighters seemed to fail in their takedown attempts, Bates went to a clinch and succeeds with the takedown. In a just a few seconds after the takedown, Bates quickly managed to get the submission locked on. Great performance by Bates earning him the Sub of the Night award.
Result
: Bates by 1st round Submission (Triangle)
Match 8: Bantamweight bout
           vs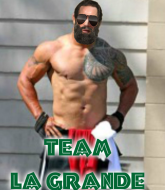 Jet Hemi (11-9-0) vs "Dangerous" Dale La Grande (11-3-0)
Right off the bat, La Grande decided to bring the match to the clinch. It was a good move but Hemi started to connect a lot of punches to the head causing La Grande to lose control. That short right hook by Hemi shook La Grande up and he finishes with a powerful uppercut followed by a series of strikes causing the referee to call a TKO, eventually earning KO of the night honors. 
Hemi proved that records don't matter in the cage. Hemi came back from a bad career standing when he was 7-9-0. Now he's at 4 straight wins and got a shot at the champion Devin Jaqquard. They are bound to meet on EFC: Protect Ya Neck on the 29th so don't forget to secure a ticket. 
Result
: Hemi by 1st round TKO(Punches)
Co-Main Event
Middleweight Championship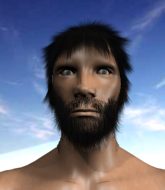 vs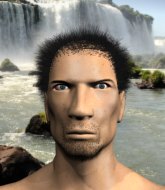 Arnavut "The Bird Man" Sevket (17-3-0) vs Angel "The Real Deal" Face (8-2-0)
Sevket is the favored fighter in this one as he is a bit superior skillwise compared to Face. As expected, Sevket will look to bring this to the ground as he has the clear advantage over the white belt Angel Face. Sevket gets the wonderful takedown and barrages some GnP right after. Face tried to hold on and his desperation paid off when he survived a near TKO situation. The match got stood up in the last minute and Sevket tried to end it quickly but Face managed to survive. In the second round, Sevket had the same gameplan and it was just too much for Face too handle. 
The best middleweight on the Island Season 3 continues to impress me as he immediately defended his title a week after his previous defense. With an astonishing record for 17-3-0, he continues to knock enemies out of his way including the challenger Angel Face. Angel Face was a rightful contender and with only short breaks within the matches of both fighters, both have proven to be adjustable fighters. Great match for us, despite the short breaks, earning them Fight of the night award.
Result
: Sevket via 2rd round TKO (Strikes)
MAIN EVENT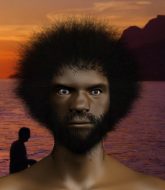 vs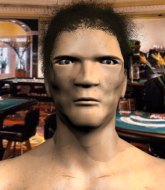 Clinton "Baked Fish" Offley (16-4-0) vs Barney Gumble (21-5-0)
Here comes the rematch that we have waited since Executioner: Heads will Roll! For those new to this amazing rivalry, this is the third faceoff between both fighters, tracing way back to the Island. Gumble had the more prosperous career in the Island but Offley earned his payback last July 8 2015, making their head to head record 1-1, both ending with finishes. They enter this match with heads high as they aim to beat the other with fashion to make a statement. 
Right after the bell, sources say that Gumble looks to counter primarily on this one. Not really the best decision for the fans here but it's a wise move to consider that he lost in a first round submission to Offley. Gumble succeeded with some early counters and managed to cut Offley early in the first. A series of aggresive takedown attempts by Offley just continually gets stuffed by Gumble who focused on counters. When Offley finally managed to get his first takedown from the clinch, he desperately tried to submit Gumble who was leading up until that point. However, Gumble successfully defends against those sub attempts until he manages to get back up. Offley got his second takedown eventually but it was too late as the bell rung for the 3rd round. Later on, it all become a match dominated by Gumble as Offley's attempted keep getting blocked and countered, and his cut worsening as each hit lands. The match was stopped as soon as it got too bad. Gumble regained his title from Offley and looks to defend sometime soon.
It was not really the best match we could've seen for a main event title match. Offley was too aggressive and Gumble played too safe, that it ensured him the victory. Who am I to judge how they both fight. I'm just saying that the match didn't build up to the hype it built. Who knows if Offley chose to adjust his strategy in game and not stick to the checkmated gameplan? Who knows if Gumble and Offley went all aggression and we could've seen an all out match or a quick finish. Anyway. Let's just stay tuned for more Executioner Events to see what happens!
Result: 
Gumble by 4th round TKO(Cut)
Special Awards:
KO of the Night: Jet Hemi 
Sub of the Night: Luigi Bates 
Fight of the Knight: Sevket vs Face