Not as long as I'd like it to be, but still easing back into the writing gig
Bushido 48: The Kings of 205
Main & Co-Main Preview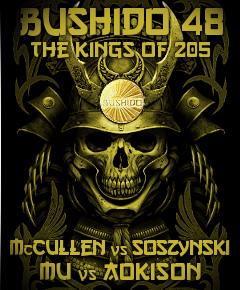 Main Event
Light-Heavyweight Title Eliminator
He "Shaolin" Mu

(5-0-0, Bushido Debut) vs.

Ryu "11th Planet" Aokison

(8-1-0, Bushido Debut)
Since its conception, Bushido has been home to a number of great Light-Heavyweight fighters and tonight we will welcome two more as former DFC standouts He Mu and Ryu Aokison are set to face off in a title elimination bout. Fighting out of Tokyo by way of Hong Kong is the undefeated He Mu, a former Kickboxer and now rising star in the world of Mixed Martial Arts. Opposite him will stand the grappling sensation Ryu Aokison, a Fukushima native now living and training on the other side of the world in New York. As both men have a ton of hype behind them as well as the skills to back it up, this bout is being treated as an official title eliminator.
"Shaolin" is a Muay Thai specialist and up until now no fighter has come close to besting him on the feet. This is due to the Hong Kong native's deadly speed and accuracy coupled with his heavy handedness. Mu is not flawless however as he has been taken down before by better grapplers, although it is worth mentioning that he has managed to escape from their grasp quickly most of the time. A completely different fighter to that of his opponent is "11th Planet" Aokison, whose specialty lies in grappling. All of Aokison's wins (not counting a disqualification) have come by way of submission and this can be credited to his incredible wrestling and extensive Brazilian Jiu-Jitsu background. This main event is simply a classic striker vs. grappler fight and it's outcome will be decided by whichever man happens to impose his will and better execute his gameplan.
Co-Main Event
Light-Heavyweight Championship Bout
Sam McCullen

(8-2-0, 6-2-0 Bushido) vs.

Krystian "Polish Hooligan" Soszynski

(6-2-0, 4-0-0 Bushido)
The Co-Main Event of the evening will welcome back the reigning, defending Light-Heavyweight Champion as he looks to earn his fourth total title defence with a win over the always-dangerous Krystian Soszynski. McCullen relinquished his title for a short while when he suffered a loss via TKO Cut to 5 to 1 underdog Osama Akharraz back on Bushido 37. Much to the "Polish Hooligan's" dismay, the pair would rematch soon after and the Scotsman was successful in reclaiming his strap. Now, Soszynski is finally being given his shot at the Champion and the fans can not wait to see how this one plays out.
The Glaswegian is a true blood-and-guts brawler that has never been afraid to come out swinging hard and heavy. The strongest aspect of Sam's technical abilities is his Boxing and we have seen those skills shine during his fights, where he has out-struck and knocked out almost all men that have come up against him. McCullen also has great Wrestling and BJJ which he mainly uses as defensive tools, to prevent grapplers and clinch-fighters from having their way with him. Unfortunately for the Champion, the so-called "Polish Hooligan" is one of the best Boxers in Bushido and he will be looking to beat Sam at his own game. The Poland native also has a similar level of grappling as the Scot, but he too uses it only in defense. Both men have incredible knockout power and gifted hands, so this will be a fantastic display of Boxing. Although the Challenger has the advantage when it comes to striking, it is worth noting that he has been knocked out before, twice, albeit a very long time ago. Can McCullen crack the chin of the terrifying challenger? or will the third man from Ganja Ninjas pick up a Bushido belt alongside his teammates Vilson and Aziz? Find out tomorrow, on Bushido 48: The Kings of 205.