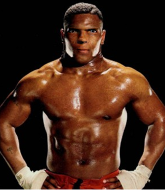 George "The Demolisher" West (240456)
I hearby proudly present you all one of the toughest fighters alive.
He might not be the fastest learner, the smartest or the most handsome of the lot, but damn he is tough as a million nails!
He grew up in Brooklyn and had a troublesome youth. He spend most of his time robbing shops, beating people up on the Streets and getting drunk.
He wasted 24 years of his life, until i noticed him in the street beating up a guy twice his size. I knew that he had it in him to become the next big thing.
I walked up to him and gave him a bottle of Vodka. He emptied it in seconds and asked me what i was up to. I told him how i was 100% sure that he could become a great fighter if he got his life on the rails again. I gave him my phone number and adress and told him to contact me when he was sober. The day after, he was ringing my doorbell at 5h30 in the morning. He said he was good to go. Since then, everything went fast. After only a week of training, he instisted to get a fight. I granted him his wish and boy he delivered! It took him 21 seconds to destroy his first opponent. He joined EFC after he had won his first 4 fights, 3 in less than 25 seconds. They guys at EFC knew that they had signed a big boy. I took him a minute and a half to demolish his opponent in debut and earned him a shot at the title.
In less than 50 seconds, the title was his. He sadly enough lost his next two fights against two young talents. They threw everything at him , including the kitchen sink, but he didn't go out. One of them landed 236 knees and still George wasn't even hurt. He made a name for himself as the unfinished finisher. He bounced back from his two losses by winning another fight by way of (t)KO. He continued in his next fight like he had been doing all of his career. He knocked down his opponent and demolished him. This time the referee stepped in to save his opponent. In his last fight, he got the call to fight Fred Cagun, a top Muay Thai fighter on very short notice. He stepped up and did all he could, but Fred Cagun was the better man that day.
George is happy that he will get a chance to get back to the winning column soon as he faces Koji Kanegi in a few days. Let him be warned: George West is no joke!! Every time he fights he is the fan favorite because of his attacking style, big heart and granite chin .