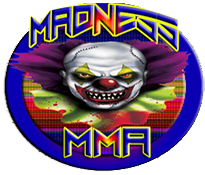 MADNESS MMA Presents
MADNESS Fight League
The concept will be simple 8 teams with 8 Fighters 1 fighter per division. There will be 8 Captains which will be the top 8 ranked fighters in the Division. 
First Step will be to draft the teams I will contact all the managers of the top 8 fighters and organize the draft. It may take a few days for this
1. I want to make this as fair as possible so I want to get a manager other than myself to randomize a draft order.
2. Draft Fighters 1 per weight class. If the Team Captain is a HW they will draft 1 fighter per division(Other then there own division) until they have a full team.
Step 2 finalize a schedule each matchup will be held on separate events so the fighters will fight 1 per month.
1. this will be another random thing done. 
2. 8 teams so 7 matchups per team.
Step 3 Championship Matchup
1. The top two teams will have a finale matchup to determine the winner. 
Point system
1. there could be ties so i want to avoid that with a tiebreaker. My guess is to see which team has the quickest finish to determine and if that's a tie then move to the second quickest finish
1rst round finish= 10 points
2nd round finish =5 points
3rd round finish =3 points
Unanimous decision =2 points
Split Decision= 1 point
Prizes 
This will be TBD but I want to give the winning team participants a decent prize. Donations are very welcome and a Sponsor is welcome as well to step up.
I have been wanting to do this for a while and the time has finally come
If you have a fighter that you want to enter in, this contact me and i will send them a contract. My only requirement is a pfp ranking of 3000 or less.
There is no ID Restriction in my org so, there won't be one for this either. The Best of the Best only need to inquire.
So that's the idea interested or have any questions please drop a line. This is all just discussion right now but I want to get started in the next couple months.