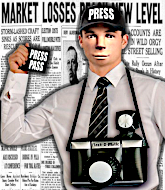 https://www.mmatycoo....php?FID=350764
Hello ladies and gentlemen. My name is Chip Nickel and I'm an MMA fighter and journalist (in that order). Welcome to my new blog. Here you'll find information about my career, fighter interviews, feature pieces, spelling and grammatical errors, plus many confusing switches between third and first person.
After that thrilling introduction I know you'll all be excited and no doubt have some questions, so I'll now attempt to answer a few. 
Why aren't you doing this on Buzz Chip? Because Buzz is a sewerage pit filled with subhuman scum. Chip Nickel doesn't write in a sewerage pit, Chip Nickel is old school, Chip Nickel is classy, Chip Nickel is a blog man.
Why is this being published in the General Game Discussion section Chip? Well where else would I publish it, in the Fighter Interview section that's viewed only by losers, and nerds, and loser nerds? Readers of Chip Nickel are none of those things. Readers of Chip Nickel are above that. They're General Game Discussion types of people.
And if any mods are thinking about moving this blog then just know that Chip can write an expos
é on you and your undoubtedly full closet of skeletons quick snap! Now I don't claim to have any direct evidence against our mods, yet, but lets be honesty if you're the sort of person that does a thankless*, joyless, unpaid task like being a mod then baby you've got things to hide. 
Any further questions can be asked in the comments section below. They will most likely remain unanswered due to Chips busy schedule and lack of interest in his readers undoubtedly mundane and uninspired questioning.
As mentioned above in between fighting I'll be conducting fighter interviews. For a taste of my work follow the link to a previous interview I conducted with former #1 P4P fighter and current hardcore tripper Akoni Gray. Be warned though, it is located in that loser nerd section. 
http://www.mmatycoon...showtopic=64006
By now you're probably, and rightly, thinking about nominating Chip for a Pulitzer prize. Well don't. Pulitzer was a hack and if he was alive today I, Chip Nickel, would spit in his stupid hack face.
As a Florida native I'll be including a bonus to each blog entry. This bonus will be a headline, without further explanation, from a local Florida newspaper. This week's headline is from the Tallahassee Tribune: 
Man punched so hard in the face that his legs fell off.
Never change Florida.
That about wraps up my first blog entry. Stay tuned as next time I'll be bringing you a pulsating review of my first two professional fights.

Chip "The Scoop" Nickel, signing off.
*You guys actually do a good job, thanks