Brak Maugøn "I'll finish him early"
BANDAi™ MMA Minute!
Hi everyone. We are here with the Brak Maugøn who is main eventing BANDAI 1: Origins tommorow. He kindly agreed to spend few minutes with us and answer some questions.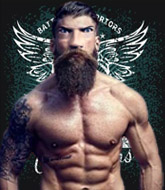 BF: Hi Brak. How are you?
 
Brak: I am angry.  It's been three years since I destroyed some fool in a cage in front of 5000 screaming maniacs. 
That's far too long. My last manager ran away like a coward and took all my money, so I've started again, new name, new team.
Finally with a manager who believes in me and who has the ability to train me to my full potential. 
I warn my opponents - its gonna get more painful for you from now on in.

BF: Why did you choose BANDAI?

Brak: Just like me, this org's got a big future. We're gonna ride this wave together to the top. 
Ok, the first fight is in an Irish bar with drunken partygoers as an audience, but we're gonna make some new MMA fans there tomorrow night. 
Bandai is a name and a force to be reckoned with, just like Bräk Maugon is.

BF: What do you think about your opponent, Justin Biggs?
 
Brak: Biggs? He's a skinny old man who can't take a punch. 
I'll try and finish him early so he can get back to the nursing home in time for his cocoa.

BF: How did you get your nickname?
 
Brak: *looks deep in interviewers eyes*  I eat souls.  I destroy all semblance of life. 
I take your puny existence and I feed it to the burning fires inside of me.  
 
BF: There are rumors floating around about your connection to Jacob What, BANDAI's owner. Do you want to comment on that?
Brak: Jacob What is doing a great job.  He has joined the premier Tycoon alliance - YABAI - so that shows he has wisdom.
But all that has nothing to do with me - I train, I fight, I feast.  The rest is irrelevant.
See you all tommorow at BANDAI 1: Origins!