HIGHLAND GAMES 138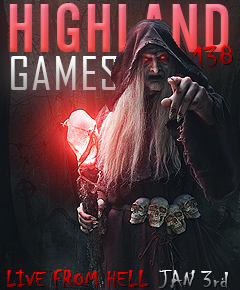 Event Preview
UNDERCARD
Jason Smith v Warren Parker – 155lbs
For the first fight of the evening Brazil's Jason Smith takes on Canada's Warren Parker in this lightweight matchup. Both opponents are Jiu Jitsu brown belts and accomplished at finishing fights: the vast majority of their combined victories have come via submission. However, in this instance the expectation is that this bout will go the distance; both fighters are astute Jiu Jitsu practitioners and have plenty of experience in the cage (with 47 appearances thus far between the two of them). Submissions attempts are a given the second this fight hits the floor (and it will), however success is by no means guaranteed. That said, Smith has looked more vulnerable to submissions in the past – Finnish black belt Taitso Antilla was able to lock in the guillotine back in Highland Games 111 but whether Parker can pull off a similar feat here remains to be seen. This will be the second time these two have met, Parker won that fight via unanimous decision thanks to his superior takedowns and standup; however, that particular matchup took place over two years ago and accordingly it's difficult to say whether we will see a repeat performance. In recent times Parker has looked the more impressive against other grapplers and for that reason I suspect he will take the win here; he uses his underrated boxing skills to disguise takedown attempts and that may well reflect itself on the scorecards with both a higher percentage of strikes landed and greater success taking the fight to the floor.
Prediction: Parker by decision.
Billy Tinkl v Lou Hole – 170 lbs
Submission specialist Billy Tinkl is looking to record back to back wins following his victory over US wrestler Peter Green in Highland Games 126. Tinkl is a proficient grappler with a solid chin, which is just as well because this guy tends to absorb a lot of shots. His opponent for this matchup is Canadian mixed martial artist Lou Hole; Hole is an aggressive standup fighter with a well rounded ground game to back up his striking prowess. He is capable of winning fights in multiple ways, whether it be with his boxing, submissions or his ability to grind out opponents on the floor. For this fight he will almost certainly be looking to stay on his feet; Tinkl's gameplan revolves almost solely around his Jiu Jitsu – if Hole can persistently punish Tinkl's attempts to bring him to the ground he is in with an excellent chance here. Hole has appeared vulnerable to submissions in the past but has made substantial improvements to his Jiu Jitsu in his time away from Highland Games, even if this fight does find its way to the ground I suspect Tinkl will struggle to find the finish here. The Canadian does posses knockout power but should be confident of outscoring Tinkl on his feet regardless; if Tinkl can catch his opponent in an awkward position he is more than capable of taking advantage but all things considered I see Hole as a strong favourite to take the win with either a late stoppage or a judges decision.
Prediction: Hole by third round KO.
Cho King Fang v John Pinaglabanan – 135 lbs
Jiu Jitsu brown belt Cho King Fang is making his Highland Games debut here against US wrestler John Pinaglabanan. Fang is an exceptionally skilled submissions artist with an MMA record of 11-5 (with all eleven wins coming via submission), he is a former LFC featherweight title holder and Abu Dhabi champ having notched up numerous awards as an amateur. He does however have one significant flaw in his game; his standup is more or less non existent. That might not be a problem here because Pinaglabanan's natural inclination is to go looking for the takedown anyway and, assuming the American follows his usual modus operandi, Fang will be quite content to work off his back and look for the finish. Pinaglabanan is more than capable of winning this fight on his feet; he is not the most accurate of punchers but the brawler does possess knockout power in his right hand which Fang can underestimate at his own risk. It's also worth mentioning Pinaglabanan has never been submitted; Fang might be the one to break that streak but given the American has seen off similar submission threats from the likes of Dan Small and Renato Laranja that might be a tall ask here. If Fang is unable to find the finish the judges are invariably going to favour Pinaglabanan's ground and pound abilities: his superior standup may also play a factor, but either way Fang will know he needs to end this fight before the final bell. But unless Fang has a hidden ace up his sleeve I don't see that happening; Pinaglabanan to take this one and don't rule out the possibility of a knockout either – the American loves to work the ground and pound and will almost certainly test the newcomer's defensive guard at some point in this bout.

Prediction: Pinaglabanan by decision.
Harry Potter v Mib Louie – 265 lbs
A cross-Atlantic matchup as England's Harry Potter squares up against Canada's Mib Louie. Potter is boxer/wrestler with a knack for finishing fights early, primarily he prefers to use his boxing to control ring space but he also has the power to take opponents to the ground should the situation merit it. In this instance that may well be a viable strategy, Mib Louie is an accomplished kickboxer who prefers to operate on the outside. He also possesses tremendous knockout power – in twenty seven prior MMA appearances not one has gone the distance. Given Louie's self evident abilities it would seem logical that Potter will opt to make the necessary adjustments to play away from Louie's strengths. Louie is a Jiu Jitsu white belt and although his wrestling is solid he will be no match for Potter's ground skills should the fight hit the floor. The outcome of this fight will most likely rest on Louie's takedown defence; Louie has not always shown the greatest of abilities in this area (55% of takedowns defended is respectable but hardly what we would classify as 'elite') but there is one significant factor weighting this bout in his favour – his speed. Louie is an exceptionally quick customer and if he can use that to his advantage here he is in with an excellent shout. Potter has great cardio so the Englishman is unlikely to gas over the course of three rounds, but if Louie maintains his concentration and uses his innate quickness to dart in and out it may only be a matter of time before the knockout comes. On paper this matchup would appear to favour Potter: he is coming off a four fight winning streak while Louie has come up short in his last three bouts. However, looking at this bout stylistically I would wager the Canadian has an excellent chance of causing an upset.

Prediction: Louie by first round KO.
Arnavut Sevket v Pyotr Korobeikin – 185 lbs
Turkey's Arnavut Sevket was unable to come up with the goods in his bid to wrest control of the middleweight title from reigning champ Massimo Benvenuti. He will be eager to set the record straight here with a win over Russia's Pyotr Korobeikin, an opponent he will already be familiar with. These two met last year back in Highland Games 112 and the result was a controversial split decision in Sevket's favour. Sevket marginally edged the standup but it was the Russian scoring points with the takedown – both fighters struggled to make much of an impact on the ground and we had five referee standups over the course of this fight. I doubt we will see much of a high octane affair here; definitely one for the more technical purists. Judging by his performance against Massa Hurmaaja, it would appear that Sevket has made improvements to his takedown defence so that is something to bear in mind – if Sevket can keep the fight standing for longer this time that may well swing things in his favour. Korobeikin is a Jiu Jitsu brown belt but recently has been struggling to find submissions; his last submission victory came back in Highland Games 108 and that was against a white belt – Sevket is a highly proficient grappler and chances are Korobeikin will have to look for a decision victory if he wants to rectify the outcome of the first matchup. There is no doubt that Korobeikin deserves this matchup: the last fight between these two was far too close to call, but in this instance I see Sevket winning the rematch by a larger margin. He is the superior striker and his ground skills should again prove to be too well rounded for Korobeikin to exploit.

Prediction: Sevket by decision.
Texas Pete v Jimmie Craig – 205 lbs
Texas Pete, who coincidentally hails from Texas, is an accurate striker who is deadly in the clinch. He impressed in his last outing against James Helm and earned himself a knockout of the night bonus for his efforts. The former LGP light-heavyweight champion is eager to work his way back to title contention and a win over versatile standup fighter Jimmie Craig would contribute significantly to his cause. Craig is a talented striker who has notched up an impressive resumé in his career thus far – the former EFC champion is coming up to his 30th MMA appearance and would surely love to celebrate the occasion with a victory here. Craig isn't the most accurate of fighters but for what he lacks in accuracy he makes up for in knockout power; his head kicks (when they land) are a particularly potent weapon as Juhani Tuomiola found out much to his dismay in Craig's last Highland Games appearance. But Pete will not be an easy opponent to knock out, the man from Texas has shown excellent striking defence in the past and only has two losses on his record: one to ground and pounding phenomenon Jake Theodorou and one to the reigning champion LightHeavy Weight. Craig has looked vulnerable to the inside leg kicks and body kicks before in the past and given these are precisely the sort of strikes Pete likes to mix in with his boxing that could spell trouble for the Canadian. At this weight level the direction of fights can easily swing from one way to another, especially when both opponents possess knockout power; Pete's accuracy may well give him the upper hand in this contest but don't rule out the possibility of a flash KO – Craig certainly likes to play the role of the aggressor and will almost certainly be looking to make life as uncomfortable as possible for the American. Regardless of the outcome this should be a thoroughly entertaining fight for the fans, the likelihood of takedowns is very slim so both opponents can afford to let loose a little as they go searching for the knockout.
Prediction: Pete by second round KO.
Mustafa Shabazz v Roberto Silva – 155 lbs
Highland Games veteran Mustafa Shabazz is making his twenty fifth appearance in the cage against former lightweight champion Roberto Silva. Both of these fighters are noteworthy Jiu Jitsu specialists; with twenty nine victories between the pair all bar two have come via way of submission and collectively they have notched up eleven sub of the night bonuses in their careers thus far. Of the two Shabazz is the more versatile; he uses leg kicks to good effect during standup exchanges and is underrated in the clinch. However, when it comes to the ground game Brazil's Roberto Silva is something else; the counter fighter excels at finishing opponents in the first round and was on a seven fight winning streak prior to running into Macedonian clinch fighter Zoran Jolevi. Silva was outclassed in that fight but the Brazilian remains very much a deadly opponent; a win here would put him in good stead to start thinking about re-challenging for his recently usurped title. Despite his precocious Jiu Jitsu pedigree Shabazz has appeared vulnerable to submissions in the past and I would anticipate he will seek to use his superior standup rather than risk the possibility of the Brazilian putting another blemish on his record. Shabazz does have his excellent takedown defence (83.3% of takedowns defended in his past twenty four appearances) to count in his favour and as much as Silva is a threat on the ground he can sometimes struggle to take opponents down. This is certainly not an easy fight to call – Silva perhaps has the edge in the grappling department but whether he will have enough time on the floor to find the finish is difficult to say. As loath as I am to bet against the former champion who has notched up an extremely impressive string of victories in recent times, I think Shabazz can cause a bit of an upset here and last the duration to take the win by decision.
Prediction: Shabazz by decision.
Erik Thorvaldson v Ricardo Gerson – 185 lbs
Erik "The Red" Thorvaldson is an Icelandic mixed martial artist who above all else excels at finishing fights. He is a former Highland Challengers middleweight champion and is looking to earn his way into title contention following a quick first round submission win over US Muay Thai practitioner Johnny Sitko. His preferred method of victory is finishing opponents with either a triangle or an armbar but his boxing should not be overlooked; the man has knocked opponents out before and will not hesitate to use that big right hand should the opportunity present itself. Chances are it will be his boxing that he will utilise here to try and gain the upper hand. Gerson is a ground fighter and similarly skilled in submissions (with all thirteen of his wins coming in this manner). The Brazilian's gameplan will without a doubt revolve around the takedown and it's worth noting this is an area Thorvaldson has struggled with in the past. Thorvaldson has only lost two fights before but both of them came against Jiu Jitsu brown belts; Gerson won't like his chances standing up but should he prove successful with the takedown he will be banking on his Jiu Jitsu skills coming in handy. Gerson's chin is equipped to handle some of the big shots Thorvaldson is apt to throw and if he can weather through the initial storm he could well be the one to break Erik's five fight winning streak. From a tactical standpoint this should be a fascinating fight to watch and I would bank on an early finish here – the vast majority of these two opponents combined fights have ended in the first round and if this fight does go by way of submission it will most likely be early on when grappling is less impended by the natural perspiration that will accumulate throughout this bout. If Thorvaldson has made improvements on his takedown defence he could well take the win here but as that remains to be seen I would wager Gerson will be the one to emerge victorious.
Prediction: Gerson by first round submission.
CO-MAIN EVENT
Bill The Kid v Arthur Schopenhauer – 185 lbs
Our co-main event features American boxer Bill The Kid against Polish grappler Arthur Schopenhauer. It is still early days in Bill's career but he has marked up an impressive 10-1 record so far with his only loss coming against middleweight champion Massimo Benvenuti. The American is an accurate puncher and will happily clobber opponents till the lights go out; most of his wins have come in under a minute as adversaries struggle to deal with the sheer power he possesses in his punches. By contrast Schopenhauer is a pure ground fighter; he can use both submissions and the ground and pound to put competitors to sleep. He has little in the way of standup skills to speak but the majority of the time that is hardly a problem for the former Solitude middleweight champ. This will be his second fight in Highland Games (the first featuring an impressive kimura finish over Cordell Walker) and he will be looking to make the most of the occasion as he enjoys a return to main card appearances.
The outcome of this fight will surely rest on where the bulk of the action takes place. However, herein lies a problem – Bill has a tendency to finish fights so quickly that opponents barely have a chance to shoot for the takedown. As such it is extremely difficult to say how successful Schopenhauer will be in this aspect. What we can talk about however is Schopenhauer's chin; in eighteen prior appearances he has never been knocked out, although this may in part be due to his excellent striking defence. The Pole has looked exposed on occasion in the clinch but given the American will probably look to stick to the outside that may not be an issue here. A very difficult fight to call; Bill is a punching phenomenon but if Schopenhauer can take him down we may see a very different tale of the tape. In this instance I'll chalk it down as a win for the American but this could easily go either way, "The Kid" has seen off challenges from grapplers before but none quite on the level of the Pole and this could be a big test of his abilities on the ground if Schopenhauer can evade that powerful right hand.
Prediction: Bill The Kid by first round KO.
MAIN EVENT
Rama Udo v Zoran Jolevi – 155 lbs Title Fight
Zoran Jolevi can't seem to stop winning fights. The Macedonian clinch fighter has accumulated an impressive 13-1 record in Highland Games (25-2 over the course of his entire career) and has recently regained control over the lightweight belt with an early stoppage of Roberto Silva. However, that sole loss on his record? Courtesy of one Rama Udo... The man from Japan is a well rounded mixed martial artist who has accumulated several title defences of his own (coincidentally losing control of the belt to the aforementioned Roberto Silva in this game of musical chairs at the top of the lightweight division). Udo is particularly gifted in his ability to find the target with his accurate striking and although most of his victories have come by way of decision he does possess the capacity to finish opponents if they present a large enough opening. Jolevi won't be an easy opponent to knock out though; in twenty seven appearances not once has he been on the wrong end of a KO. Jolevi does tend to absorb his fair share of shots but so far there is no evidence that this has slowed him down in the slightest; it wouldn't be the most outrageous of claims to state that the Macedonian probably has one of the best chins in the business. If Udo wants a repeat victory I would venture he will need to go the full five rounds to reclaim his belt.

In boxing terminology this is a classic outside/in-fighter matchup; Udo likes to work from range where his accuracy can be displayed to its full while Jolevi will be looking to operate from within the clinch. Stereotypically this sort of matchup would favour the in-fighter, especially one with the sort of durability Jolevi has shown. However, this is not boxing – there are several other factors to consider. Firstly, Udo will mix in leg kicks and the occasional body kick to slow Jolevi down. Secondly, takedowns are not entirely out of the question; Udo will try to stick to the outside at all costs but if Jolevi sees the opportunity to ground him he will utilise that to his advantage. Should that prove to be the case the Macedonian will seek to use his Jiu Jitsu to out-grapple and ultimately submit Udo – Udo hasn't lost many fights (three in total) but all three of those losses have come by way of submission. That could well be an area Jolevi will seek to exploit here. While the Macedonian didn't opt to go for the takedown in their first matchup (presumably on the assumption that his clinch abilities would be too much for Udo) he has shown the willingness to adapt his gameplan before in the past; with the lightweight title on the line that may be precisely what he seeks to do to avoid a repeat of the previous matchup between these two. There are a lot of unknowns to consider, although of the two Jolevi can be more confident in predicting his opponents gameplan; Udo will almost certainly look to stay at a distance and perhaps work on the counter; Jolevi on the other hand will want to get up close, but what his intentions are Udo won't know for sure until the fight is well and truly underway.

Prediction: Jolevi by second round submission.