With today being New Year's Eve, or in some parts of the world, New Year's Day, I think it'd be a great time to reflect on what all happened in the past year. Perhaps some people could share the major stories that happened?
 
 
Improvements to MMA Tycoon in 2013
 
 
 
Here's a list of the major improvements from 2013:
 
1. Spin & Win: Very popular and has helped boost activity on the forums
2. The World Grappling Championships: Now fighters have the chance to prove their the ground fighter in MMA Tycoon.
3. The Island: Each season on The Island lasts 6 months. Our last season ended in Late November/ Early December.
4. Two new ground secondary skills added to the game: Transitions and Escapes
5. The ability to retire a fighter directly to the Bahamas
6. 16 year olds and 17 year olds introduced to the game
7. Skill progression charts added to Tycoon Assistant
 
 
Sponsorship of our very first Pro MMA fighter
 
Perhaps one of the biggest events that happened in 2013 is that we sponsored our very first real life MMA fighter - Leeroy Barnes (12-13)
 


 
 
Unfortunately Leeroy lost that fight and it didn't last long, however seeing that MMA Tycoon logo on his shorts was a great feeling. I don't think there's many web browser games that achieved the sort of exposure we did when we secured that sponsorship deal.
 
 
 
MMA Tycoon World
 
As for in game events, one fighter really made a name for himself in 2013, beating some of the biggest and best fighters in the Light Heavyweight division, EVO's Light Heavyweight Champion of the world - "The African Assassin" Smokudju Womba (39-6-1)
 
Smokudju Womba
 
 
When you look at his record and see some of the fighters that he has beaten, there's no doubt about it, there's something very special about Womba and many believe that he could be the GOAT. I guess everyone is wondering when will his impressive winning streak end. Perhaps we'll see a new dominant Light Heavyweight champion in 2014, or perhaps Womba will be still be #1.
 
 
 
 
A couple of famous people visited the MMA Tycoon chatroom
While I wasn't there to witness this, the manager of Johny Hendricks, also Team Takedown founder - Ted Ehrhardt was in the MMA Tycoon chatroom, talking away to the guys who were online and sent them official Johny Hendricks T-shirts. Not only that, Ted appeared back a couple days later with Jared Rosholt (pictured below), a UFC heavyweight fighter with a record of 9 wins and 1 loss. Jared was nice enough to answer questions from the guys who were online at the time on the MMA Tycoon chatroom.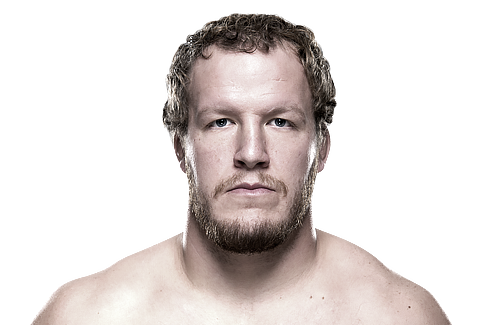 Jared Rosholt (9-1)
Other Events 
A couple of other things happened in 2013 here's a quick summary of them:
 
1. I joined the moderating team for the forums
2. Jax joined the moderating team for the forums
3. New Mods of the MMA Tycoon chatroom were appointed ( not sure who left and who joined, unfortunately
)
4. EzekelRAGE set up the Boom Fund for Noob Managers which was created to help give new managers some money to help them get started in MMA Tycoon
5. I took over control of the Facebook (now 1,158 likes) and Twitter (509 followers) MMA Tycoon accounts
6. I set up a Google+ page for MMA Tycoon and have 757 +1's and 98 followers.