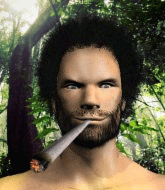 ONI Search for competition for Ben Stone
On the 30th of May, 
Osaka Niten Ichi
 will be holding ONI 163 in front of a potentially packed audience at Shinjuku Indoor Arena, Tokyo. Fighter 
Ben "Balls of " Stone
, is looking for an opponent at the highly anticipated event and has even gone as far as too issue an open challenge to anybody brave enough to meet him inside the cage at ONI 163 for the ONI Welterweight (170lbs) title, as he attempts to regain what he feels he never truly lost!
The title is currently vacant and Stone has earned his shot at gold but owner 
Jamie Coton
, who had been looking for an opponent to step forward, has yet been able to find a challenger for the man who when ONI seemingly finished was champion. This was when Ben showed he had real "Balls of" Stone and began to take things into his own hands, encouraging Cotton to allow him to face whoever may want to challenge him. While it is understood ONI would prefer Stone to face another competitor from inside of the organisation, they are open to allowing him to face a new talent coming in or a fighter from elsewhere who wants to face the Welterweight force.
Stone is a well-rounded fighter, who was made to leave his ONI welterweight title vacant when the company took its 8 month hiatus. Following this after a mildly successful run in the world's number 2 promotion, 
Synchronicity
, as his contract came up he made the jump back to the organization he sees as home – ONI upon its re-opening. After facing and beating Boy Bubby convincingly in his return to ONI on the second night of their resurrection, it was announced Stone would get a shot to re-claim the Welterweight title but now the challenge is finding him an opponent who can push him to the limits and maybe beyond. Who will step-up? We hope to find out shortly. All potential challengers are urged to PM 
Jamie Coton
 or post a challenge in the 
ONI Smack Talk thread
.
Report by,
Daniel "TheMould" Milner