3 Brothers, all from Galway, Ireland. They have all re-located in Halifax, Nova Scotia, Canada and train in Montreal with Canadian Elite Bruins Gym. 


 
                                                              "Scotia Bear" Alex John Conor Burns (236715)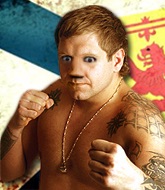 BEEF Season 1 Tournament Champion. He was the only of the 3 to not get into trouble. He started training wrestling at age 7 and travelled around the world at age 17 and started his pro career at 18. Great Chin, KO Power and outstanding Wrestling. He has not fought in MMA in over 7 years, as he is a professional boxer holding a record of 15-0-1 with 14KO's. His transition back to MMA will come soon.
His MMA record stands at 7-0 as a professional. He fights as a Light Heavy Weight. He is a slow learner but has crippling KO power, a great chin and amazing wrestling to back up his devistatingly powerful striking.
                                                                "Little Fedor" Titan Xavier Burns (245231)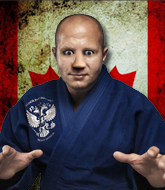 Titan and Connor could not stay out of fights or out of trouble. His parents sent him to Canada to train MMA in hopes of keeping him out of trouble after he was aquitted of 3 counts of Assult in Self Defence. His brother Connor was unaware the charges were dropped against them and he fled. They reunited in Canada.

Won The Under 18 Division 1 Open-Weight World Sambo Championhip 2014 weighing in at 157lbs.
Won the 2015 Muay Thai World Championship Division(under 150lbs) winning 4 fights in a Single Night.

He has yet to make his professional MMA debut. Is 3-0 as an amateur.