Conrad "The Joker" Mcgillicutty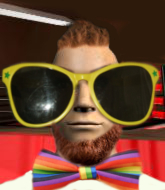 I destroyed the champion in just over one minute and took home what is mine, the KOTB 265lbs+ belt. 
Great to have this belt and be able to prove that I am no joke. I'm 225cm 300lbs of pure Irish awesomeness and not many can deal with that.
And to KOTB, thanks for the afterparty !
What a day ( and night
  ) !