On the 6th of July 2015 , the world press assembled to attend the long awaited first press conference of the biggest prospect in MMA history. The man who can move a 1000lbs weight with his left toe and has the record for the longest masturbation session in the Western Hemisphere ; the one and only ... (drum rolls) ... 
Conrad "The Joker" Mcgillicutty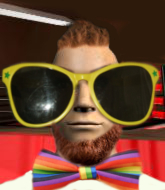 Announcer: We are very happy to finally have been able to find a day that suited Mr. Mcgillicutty to speak to the press and all his fans. It wasn't easy for him to find a bit of free time in his busy scedule, but he took some time to sit down with us and is here to answer all your questions. 
 
Conrad: I am a busy man for sure, but I'm happy as well that I can finally do this. I love my fans and they love me, so it's only right that I do this. 
 
Announcer: It's an honor having you here sir. The press will start with the questions and if there is some time left, we'll try to let some fans shoot a few questions for you as well. Just a quick reminder to the journalists; Mr. Mcgillicutty is a superstar and this show will be watched from all around the world, so please don't ask stupid questions. 
 
Conrad: They are journalists. These guys are born to ask stupid questions. Aah well, lets see what they have in mind this time. Shoot! 
 
Journalist: Hey sir! Is it ok if we call you Conrad for the rest of the press conference? We feel blessed to finally meet you, so I'm wondering what took you so long to set up a press conference. 
 
Conrad: (turns around to the announcer) You see, I told you. These guys with their stupid questions! ( faces the public and press again now) Why wouldn't you be allowed to call me Conrad? It's my name. Show me your name tag.  Euh what !?! Eugene? Wow, ok, from now on , I'll call you Shitface. Even that is a better name. 
 
As I already said Shitface, I'm a very busy man, so I have to try and find a balance between training , being epic and pleasing my fans. Anyone has a better question? 
 
Journalist: Apologies for the stupid question of my colleague Conrad. What I'm wondering is what made you decide to join the MMA circuit at age 18? 
 
Conrad: Aaaaah! That's what they call a good question! I actually used to be a big ginger fatty that was being bullied 24/7. When I turned 18, I decided that such thing wouldn't happen again to me. I joined a gym and turned into this piece of epicness in just one year. I hear they are going to do a documentary about my amazing story, but there is a bidding war for the rights of the docu at the moment, so I'm just waiting to cash in. 
 
Journalist: People have commented in the past that you are a bit of a risk taker and that you have a big mouth. What do you have to say about that? 
 
Conrad: Obviously I have a big mouth, as I eat 20lbs of pure epicness each day. If you mean that I like to talk tough , yeah, I do. The thing is that what you call smack talk, I call the truth. I don't lie or act any different than I am. If you are pure epicness , the world needs to see that. About the risk taking, that is a bit exaggerated. If jumping out of airplanes, riding bulls,.... is risky, ok, then maybe, but I know what I'm doing. 
 
Journalist: How do you feel when you step towards the octagon? I have no clue how pro MMA fighters feel when they walk towards the cage and now they will be facing a trained pro fighter. 
 
Conrad: There is no better feeling than that. When I enter the arena, the crowd goes crazy and the girls get wet. It's not often that they see a 225cm 300lbs Irish beast from upclose and they really enjoy it. Before I actually reach the cage, I already have 20 phone numbers in my back pocket and the smell of pussy all over me. I am confident stepping towards the cage and once the door locks behind me, nothing can make me lose my focus. 
 
Journalist: That's great! You have been doing amazing so far in the tournament and I suppose there is hardly any room for improvement right? 
 
Conrad: Hahaahahaha! You fool! If you think that there is little room for improvement, then you are badly mistaken! I am not happy with how the tournament has gone so far, as I have actually lost a fight. The opponent was a tricky bastard, but I'll admit that he did a great job. I am 3-1 in the tournament with 3(t)KO's . My only losses comes by being hugged and then being forced to tap out due to that bitch putting his crotch in my face and the smell was just too much. 
 
Journalist: The idea that you can still improve is scary. I'm looking forward to how you will do in the rest of the tournament. 
 
Journalist: What victory tasted the best for you? 
 
Conrad: My superman KO was sweet, but I would have to say that my last win ( also a one punch KO) tasted even better as my opponent had been trying to talk crap about me all the time, so shutting him up felt pretty damn good. 
 
Journalist: Where do you see yourself in 2 years time? 
 
Conrad: Hard to say, but I know where I'll be in 2 hours; in your bed! I can not believe they allow such sweet brunettes to be journalists. Your tits are just the right size and your ass seems like a the perfect match for my sausage! Lets make hotdogs ! 
 
Journalist: (blushes) . I'm flattered sir, but I would rather not have you speak about this in public. 
 
Conrad: You won't be calling me 'sir' anymore tonight. You'll be my princess and we'll make a fairytale together. ( his hand slides in his pants for a few seconds to adjust some stuff)
 
Journalist: I can't wait! 
 
Announcer: It seems like Conrad has already scored! Lets move on to the fans for one or two questions and then let Conrad finish it in his room. 
 
Fan: I have a question for you Conrad. Howcome do you get all the girls? 
 
Conrad: It's the Irish accent and the looks man. No woman can say 'no' to me. When I enter a changing room for women, legs open. 
 
Fan: That's just epic Conrad! Can I get an autograph please? 
 
Conrad: Sure kid. ( Leaves his chair and takes some time to sign posters, mma gloves ,...) 
 
Fan: How do you think the rest of the tournament will go? 
 
Conrad: I have asked my manager to contact the org owner and see what the plans are. I don't know, so I'm just going to focus on training and improving myself while I wait. I know, it looks as if this 300lbs of epicness has little room for improvement, but for sure I do. I might talk a lot , but I also train a lot. THey say that hard work beats talent if talent doesn't work hard. I say that hard working talent beats everything. (looks at his watch) Speaking about that, I'm heading to training now or I'll be too late and my coach will want me to run extra laps then. See you!!
 
The 3000 in attendance quickly shout back a mix of ' We love you Conrad' , ' See you!' and ' This is my phone number,... ' as they see their idol leave the stage. 
 
Announcer: Thank you everyone for coming over. I hope that you all enjoyed it and I'm sure we'll hear more from Conrad ' The Joker' Mcgillicutty in the future. His enormous presence and amazing choice of words makes him the star people have been looking for the last decade. 
 
Have a great day everyone! 
 
Unplugs the microphones and asks his assitants to empty the room and clean it.