Insanity presents….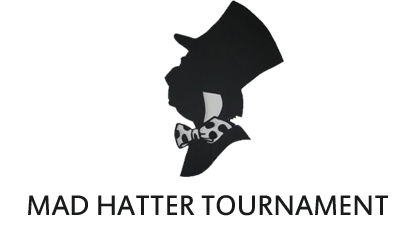 "There is a place. Like no place on Earth. A land full of wonder, mystery and danger! Some say to survive it: You need to be as mad as a hatter!"
Hey everyone and welcome to our review of the first knockout round of the Mad Hatter tournament! Apologies are in order for the lack of a preview. It is my own mistake (I thought the tournament was later, but I lost track of dates over Easter), but I am looking forward to this review, and be sure to look out for our exclusive Preview for the Semi Finals coming soon….
FIGHT #1
Jonathan Banks vs Pat Verbeek
Our first fight of the event had one of the favourites for the tournament, Pat Verbeek, taking on a improving Jonathan Banks!
This was a good standup contest, but one where expertise ultimately became the deciding factor. Verbeek landed all 8 of his leg kicks, mixed in with his head punches, and that led to Banks not knowing what was coming and threw off his gameplan. Banks got rocked just after 2 minutes into the first round and then Verbeek finished it with a huge uppercut that actually had Banks gaining some airtime as Verbeek became the first fighter to book a Semi Final place!
Pat Verbeek def. Jonathan Banks via KO (Punch) at 2:39 in Round 1
FIGHT #2
Carl Jamison vs El Mo
Our next contest had another favourite Carl Jamison taking on El Mo!
This fight almost finished before it began. You could see El Mo didn't look in the right frame of mind going in, and it all ended early. Jamison had 100% strike accuracy for this fight, landing 6 body punches with his 7 head punches, and that mixture allowed him to cut El Mo, and then land a big right hand which sent Mo down, but Jamison had to follow up with more strikes to ensure the job was finished!
Carl Jamison def. El Mo via TKO (Strikes) at 0:54 in Round 1
FIGHT #3
Dr Thork vs Phil Ewen
Our penultimate fight of the round pits Dr Thork against Phil Ewen!
This was a fight where Dr Thork could count on his Granite Chin to pull him through. Choosing not to go all out for the takedown, Thork looked to strike a little bit, as he suffered head punches, body punches and combos before he shot for the takedown around the 2 minute mark, gaining it and landing in side control. He immediately went looking for the Kimura, and was able to sink it in, forcing Ewen to tap out!
Dr Thork def. Phil Ewen via Submission (Kimura) at 2:56 in Round 1
FIGHT #4
Darren Kissel vs Mac Donalds
Our final fight of the round had two undefeated fighters compete to pop the cherry of the other persons loss colum with Darren Kissel fighting Mac Donalds.
Funny enough we mention popping cherries, because this is the kind of fight that would be rejected from a porn website due to excessive content. Kissel gained the clinch early in the first round, and there was sweet FA Donalds could do about it. Kissel controlled from the start to the end, landing almost all of his punches inside the clinch, and rocking Donalds late on in the round.
The second round was much the same, as Kissel clinched early again, but there would be no round end here. Pushing Donalds into the cage, Kissel flashed a swift right hand which dropped Donalds, and he followed in with more strikes to force the referee to stop the fight!
Darren Kissel def. Mac Donalds via TKO (Strikes) at 0:55 in Round 2
All the fighters remaining in the tournament could win the whole thing, so be sure to look out for our preview of the next round coming soon as we look at the match ups!