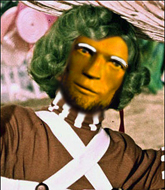 The little warrior, the pint sized champ, Oompa Loompa has just notched the first big scalp in his belt with former No.1 p4p fighter Danny Power going down to him in a hard fought 5 round thriller. Loompa showed he clearly has what it takes to tackle any of the games big names. Most laughed when Loompa first debuted, who would have thought a midget could be so devastating in the cage, with an impressive 18-3 record and a big name scalp those that laughed are now taking the first bites of humble pie.
Most champs are happy to sit back and wait for the next challenger to come along - well not little Loompa he has joined us today to talk about who he wants next....
Reporter: So Loompa that was a great win by you against Power, you must be happy with the result?
Loompa: Of course I'm happy with the result, getting the win is always great.I'm not happy with how I fought the fight though, I should have put Power away, I was just a bit sloppy with my ground striking and couldn't use it to set my subs up..
Reporter: Big fight nerves?
Loompa: Maybe, I have never fought in such a big crowd. The atmosphere was amazing.
Reporter: 1 fight at Evo and 1 title, you look to be backing up the big words of yours
Loompa: You wanna talk the talk you gotta be able to walk the walk - I know I'm an unstoppable force and the rest of the MMA world will know the same after I put Sly Randolph away. I see him prancing round at the fights, handing out business cards with nothing other than "The One" on them.. I look through his record and who has he beaten? Dawkins.. Bwahahaha.. Cabrera - that guy gets carted to the cage in a wheel chair.. Power? Yeah I just beat him.. Randolph has done nothing yet finds himself one of the top ranked featherweights in the game..
Reporter: You aren't going to make many friends with comments like that.. I'm going to point out the obvious take out Power and you have beaten no one as well...
Loompa: Friends? I couldn't give a shit about any of the so-called fighters in this division, they are nothing but punching bags that need to be beaten up.. Yes you are right Power is the only name I have beaten but I'm the one holding Evo's 145lb belt.. My first defence of that title will be one where I serve "The One's" head on a platter.. 
I'm the champ "The One" and you will be the next that I lay to waste. 
Well the Little man has spoken, the champ has called out "The One" Sly Randolph - all we need now is for CEO Mega Jug to set the date - lets see if the tables can be turned on Loompa... Or will he be shooting further up the ranks.....