War Machine:  Look at this little bitch, his mouth got him a title shot. 

 

WAHHHH WAHHH all my orgs close

 

WAAAAHHH WAAHHHHH nobody likes me, nobody likes curry face Mumbai man

 

Well I like you boi.  And in prison when a War Machine like me likes little indian fella , well .... 

 

I make you my bitch !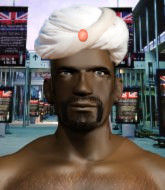 Great Tiger: So much aggression. Anger is not good for you. Anger leads to a lot of bad places, the dark side, prison, yes you know about that already. You need to try meditation, it helps ward off evil spirits. No? Not interested? I see now I must help this poor man, I must knock him out hard enough that the demons leave even if just for a short while.