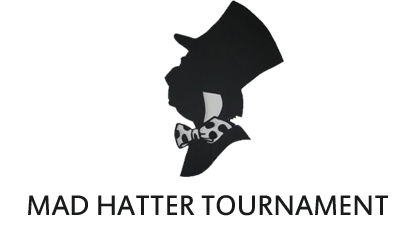 INSANITY'S MAD HATTER TOURNAMENT
18 year old creation tournament – 155lbs Division
"There is a place. Like no place on Earth. A land full of wonder, mystery, and danger! Some say to survive it: You need to be as mad as a hatter."
Insanity will run it's very first tournament and it will be a 18 year old creation tournament.
CONCEPT
To stand out a little in the tournament scene, I decided to do something I think/hope is unique.
I'll be looking to get 20 fighters total. There will be 2 parts in the tournament, with only 8 of the 20 fighters advancing to the second part of the tournament after 3 fights.
First part: The first 3 round of fights in the tournament will be drawn from a 'hat', all these fights will be completely random. You will get points for your fights, based on how they go.
Second part: The top 8 fighters with most points advance to a bracket. The fighter with the highest amount of points is able to make the first fight for their fighter. Then the next fighter in line can choose their fight and so on. Then the bracket will decide who faces each other next.  The other 12 fighters can choose to stay or leave at this point. More details for those fighters will come after the original 3 rounds of fights.
POINTS
(T)KO/SUB Win – 6 points
Decision Win – 4 points
Draw – 2 Points
Loss – 1 point
PRICES
Winner – 6 months VIP, 500k, custom trophy and Hall of Fame status. 
Runner up – 200k '
3rd Place - 75k donated by Federico Manta
Top 8 fighters – 25k bonus
Bottom 12 fighters – 15k Bonus for completing their part (the first 3 fights)
KO of the tournament – 50k
Sub of the tournament – 50k
Fight of the tournament – 50k
Extra Prices
Fastest Submission of the tournament 150k + 50k by KRad
Fastest KO of the tournament 150k + 50k by KRad
Most Dominant Fighter (most finishes) 150k + 150k by KRad
The Maddest Hatter (win all fights via finishes) – 1 million
The of the tournament awards are done via a public poll and the managers who take part will be able to vote for the winners. Obviously others can vote too, but only the votes of those who competed will count.
CONTRACTS
7 fights, 5k/2.5k/2.5k
Inactivity clause set at 35 days.
OTN AWARDS
2.5k for all
FIGHT RULES
MMA Rules
3x5 minutes
Cage
10 point must
FIGHT SCHEDULE
Once the fighters are created and locked in, this is the schedule. You will get 4 weeks after creating, then fights are every 3 weeks.
Feb 11th- Round 1 fights
March 4th- Round 2 Fights
March 25th- Round 3 fights
Top 8 are picked and we go in bracket formation
April 15th - Bracket Round 1
May 6th - Bracket Round 2
May 27th - Bracket Round 3 - Finale
Fights take place in Los Angeles
FIGHER BUILDS
Weightclass: 155lbs
Max height:  6'2' / 187cm
CREATION DAY
Friday 9th of January - 00:00 AM GMT.
So the night of Thursday onto Friday
After the date, you will have 3 days to submit your fighter to the tournament and be locked in.
Then you will have to; Monday 12th of January - 23:59PM GMT to submit your fighter.
QFC is allowed in those 3 days.
PARTICIPANTS
9.DoctorWho / Sean "BuckFutter" Connery
10. KRad / K Rad
13.Phoenix44 / Kyro Maia Teraska
17. handgrenaide / Huey Freeman
18. RazorMuayThai / Aaron ThaiGuy
19. potter09 / Scott Davies - Quit after 1st match
Backup
still accepting back up fighters!
Dropped Out
1  twookool / Ryan Woodsmall (no free slots)
2. TheWolf / Michael Brakeley (no free slots)
3. Sassano / Tony Sassano(no free slots)
FIGHTERS
1. GBK16 / Michael Brophy
2. Tats / Phil Ewen
3. METAL666nz / Darren Kissel
4. GBS / John Tournament Jr
5. rdalycolts / Mac Donalds
6. Deuce7 / Demir Kartal
7. Patriot / Pat Verbeek
8. Dee / Carl Jamison
9.DoctorWho / El Mo
10. KRad / Serious Mum
11. davie1903 / Bane Quincy
12. H2Beau / Bjork Freeze
13.Phoenix44 / Dr Thork
14. Manta / Random Hajile
15. Caleb613 / Eddy Little
16. MilTownMMA / Crazy Charlie
17. handgrenaide / Armen Hammer
18. RazorMuayThai / Jonathan Banks
19. Beck / General Saint
20. warlord / Paul Gray
Backup Fighters
1. Sean "BuckFutter" Connery / Bob Neal
2. Beck / Kevin Hall
Notes:
General Saint was dropped after round 1. Beck picked him up to continue the fights.
.
STANDINGS
(spoilers)
Round 1 Results
Round 2 Results
Round 3 Points
TOTAL POINT COUNT
Spoiler