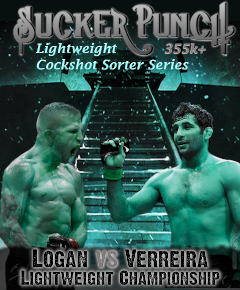 POST EVENT CHEAP SHOTS
LIGHTWEIGHT COCKSHOT SORTER SERIES: FINALS
Hello again Sucker Punch Fans!  I'm Hare Rumpler along with my partner and analyst, Donkey "Dan", and Suzy Sucker Punch, our happy go-lucky media correspondent!  We had a ton of fun on tap last night with our card over at the Bondi Outdoor Arena in Sydney, where we finished off the Lightweight Cockshot Sorter Series tournament along with an extravaganza of other Lightweight action! 
I'm going to say right off the bat here that there were more than a few surprises last night and I think Donkey may have had one of his worst nights of predictions so far!  Perhaps not THE worst, but it was right up there!  And that is definitely not a bad thing.  I love it when the fights aren't that predictable…and even more when a curveball is thrown like it was last night.  Most of the time, Donkey is right on when he uses his go to moves for looking at morale or energy to determine the edge in a fight.  But last night we had more than a couple guys buck the trend and somehow find a way!  That's awesome…would be more awesome if they come in prepared next time, but damn, talk about heart on the part of the fighters!
Unlike some of our more recent cards, this one was a solid mix of finishes and decisions!  Three Decisions on the night, three TKO finishes, and a heavy dose of submissions with four of those!  So there was definitely a little something for everybody in this night of action.
I say we get to talking about our merchandise partner and sponsor, and then jump right into it, ok?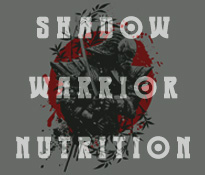 When you think about training your fighters, one of the biggest concerns is keeping them in the gym and actively training, am I right?  And you can't do that if they have to be stopping to recover and rest for sessions here and sessions there!  That is why you need to visit our sponsor, Shadow Warrior Nutrition, and specifically grab some of their Shadow Warrior Tea 160Q.  It is literally the best energy loss reduction supplement money can buy and will keep your fighter in the gym training rather than sitting days out resting!  Stop on over there today, you will NOT be disappointed!
Now, let's get to it!  
Undercard Bout #1: Featherweight Sparring Session
Kazuhisa Nagashima Defeats Surianglek Sitsongrit via Unanimous Decision
Donkey, our first fight of the evening was a little one round, three minute sparring session between these two kids.  Both were out to show what they've got to their respective managers in hopes of obtaining a permanent spot in the stables. 
Ultimately the result isn't that important.  Sure, one will get a win on their record and the appropriate level of rank jump and hype and the other will learn something about their morale after a loss. But more importantly, the managers really want to see what they may be hiding in the tale of the tape!
We could tell neither really came out with intensity in this sparring session, probably purposely so. There were some strikes thrown, sure, but a lot of it was a bit of kicky-kicky here and there, some to the legs, some to the body. From both fighters.  A bit like two little girls kicking their older brothers in the shins there Donkey!  Haha.
Donkey, any comments on what we found out…?
Donkey's Takeaways:
I don't know whether we really got any great results that will please the managers involved or not here Hare.  Nagashima showed a Solid Chin there in the TotT for his manager, Esiah Xavier, but that may or may not be good enough depending upon what he's looking for.  He won the fight, so nothing learned about morale and confidence.  For Sitsongrit, it turns out that with the loss his confidence remained VERY high, which is fantastic.  But…he showed Determined in the TotT, and that's not something Theksit is usually willing to accept.  So word on the street has it that Sitsongrit is looking for new management and one more opportunity!
*********
Undercard Bout #2: Lightweight
Robin Van Doen Defeats Sho Pereyra via TKO (Strikes)
We move on to the first non-test fight of the card here as Doen faced off against Sho Pereyra.  I know Donkey got this one wrong…dead wrong.  But admittedly, even I underestimated Doen on this one and thought that with the disadvantage in morale he'd potentially be easy pickings for Pereyra.  Turns out, that wasn't the case at all! 
Pereyra came out and rather than try to get this fight to the ground, where we believed he might have been able to have some success, he stood with Doen and even took it into the clinch right after the one minute mark.  Doen was the stronger standup fighter, so no doubt he had no issues whatsoever with Pereyra's initial approach to the fight!  With Pereyra unable to land any shots, both separated and in the clinch, he did finally attempt a takedown about halfway through the second minute.  By then Doen had established his rhythm though and was landing the occasional well placed shot.
Not sure if Pereyra lost his focus for a moment or two, or what, but just before the two minute mark Doen was able to come over with a hell of a head kick that put Pereyra out on his feet! Wasn't more than a couple more strikes before the ref was jumping in to save Pereyra!
What do you think Donkey…?
Donkey's Takeaways:
Doen needed a win, and at 0-3 coming in, he got a much needed one here.  And kudos to him for going in there and getting it done!  But really, the story on this one is a bit more on the side of how many things didn't go the way they should have for Pereyra!  First, he was 1-4, and really needed a win.  Second, he had the advantage of an opponent being low on morale…and I might add, having started his MMA career a couple thousand spots behind him.  Then, he didn't go to his strength until it was almost too late in the fight, waiting until after the first minute to even attempt his first takedown.  Doen may be on his way up the ladder now, which is fantastic…but Pereyra, unfortunately, was shown the door after the top brass met with his manager following the fight.
*********
Undercard Bout #3: Lightweight
Ko Artist Defeats Jank Stank via TKO (Strikes)
Yet again!!!!  Donkey, the world is upside down for this event and so far you just haven't been able to get one right, despite following your well-heeled guidance!  Artist came in with considerably worse morale than Stank did, but something must have turned that attitude around, because he stepped into the cage and decided he was NOT leaving with another loss in this one!  And boy did he come for it fast!
Thirty-eight seconds Donkey!  That's what it took Artist to finish this one off and really, in many ways, essentially stave off disaster and potentially start a career defining turn-around!  Now, will he come into the next fight fully prepared though?!?  I sure hope so, let's not ruin a good start!
And you know me Donkey…if you're going to make a big statement with a finish…I'm all for it being done via a huge ass head kick! This makes it two in a row if you look back at the fight before this!  This one brings home KO of the Night for Artist though, as the fans loved  how quickly he went out there and put the smack down, and likely the way he just DROPPED Stank with that shot!
Well, what do you have for us Donkey…?
Donkey's Takeaways:
Well, well, well!  Two in a row wrong!  I can't remember the last time I started out an evening so badly with my picks.  But that's ok, I don't really like when I can pick them easily!  A surprise and shocking finish is always more fun for us and for the fans.  Artist bounces back from a four fight losing streak, and makes the case that perhaps he can turn it around?!?  Only time will tell, but he HAS to swap out those tighty-whities and get the morale further up despite the win!  For Stank, he just wasn't able to show it for us here at Sucker Punch.  We're really glad he gave it a shot, but with a 1-2 record here and a 3-6 overall, it was time to help him help himself with a new career!
*********
Undercard Bout #4: Lightweight
Corona Virus Defeats Conor Notorious via Submission (Kimura)
Our fourth fight of the night ended up very, very lopsided!  At least Donkey got this one right, although he did claim this was going to be a great, hard fought one.  Well, it may have been great, as far as results go, for Virus, but it wasn't strictly hard fought and really, it was just one of those "it's going to happen sooner or later" scenarios.
Notorious got one strike attempt in…that's it.  Then he was taken down, and the submission spam began!  Eighteen sub attempts later over the course of four and a half minutes, he was tapping out due to a kimura!
There's really not much more to say about this one.  That was literally the fight.  Couple strike attempts, a takedown, sub, sub, sub…more sub…and bam! Done. 
What do you have for us, Donkey...?
Donkey's Takeaways:
While a win is a win, the fans identified this for what it was and apparently rated it low at 25%.  Well, I like a good game of chess on the ground as much as the next guy, but that's not what this was.  This was Notorious biding his time and hoping for the bell, no hope of escape, yet being able to do a fairly decent job of fending off the sub attempts.  But you can only do that for so long!  Solid win for Virus…a last hurrah and loss for Notorious.  This loss took him to 2-6, with three losses in a row and it was time for us to part ways and go our own directions.  Good luck with his next gig, we appreciated his time with us.
*********
Undercard Bout #5: Lightweight
Veljko Bakocevic Defeats Rock Lee via Submission (Kimura)
Wow, and with our last fight on the Undercard Donkey now goes 1-3 on his picks for the night!  Donkey, I can't remember the last time you had such a rough go man! 
Tonight, the rules of coming in with your morale and energy managed and prepared were right out the window apparently!  This is the third fight where Donkey went with his rule of thumb on that, and came out on the wrong end of the pick! 
Bako did a fantastic job of staving off Lee's strikes over the first minute or so…giving himself just enough time to recover from one takedown miss and then nailing the next at about a minute in!  From there, it was wham, bam, thank ya ma'am, here's a kimura for ya, goodnight friends!
Bako's slip into that kimura was so slick and smooth it got him Submission of the Night honors!  Great stuff, well done, and a great display of technique!  Clearly he came in determined that there would NOT be any talk of whether this was the end of the road for him or not after this fight!
Donkey, how about that, eh…?
Donkey's Takeaways:
No question about it, Bakocevic clearly knew that he had to come through in this one, and kudos to him and his camp for coming in with a plan, training appropriately for the skills he was going to need to get it done, and then doing it!  His strike defense was strong early, his takedowns up to snuff…and that kimura was a pretty little thing.  For Lee, this doesn't put him in an awful position, but it has to be disappointing.  He had won two in a row and looked to be on the verge of making a case for himself to be in the picture for top contender sometime soon.  With this loss, he's going to have to step back and work his way back up, and perhaps clean up that ground game that may have been exposed a bit in this fight.  He'll come back strong, no doubt.
*********
Main Card Bout #1: Lightweight
Rey Bargos Defeats Bobolo Jubbly via TKO (Strikes)
Donkey!!!  What is going on here man?!?!  Is this the twilight zone or something?!?  Are you seriously 1-4 now on the night?  Wow…unheard of!  But kudos to these young fighters for going out there and keeping us on our toes! This is why you fight the fights in the cage and not on paper folks!
If you had told me before I saw this one that this fight was never going to make it to the ground and that it was going to be dominated on one side in standup, I would have told you that you were full of crap and to stop trying to pull my leg Donkey!  But that is exactly what happened!
Jubbly had six shots at putting this thing on the ground. SIX.  When do you ever see this guy get that sort of opportunity and then have zero success? Well, apparently the other night, that's when!  Bargos' camp claimed that he had stepped up his training game.  That he had worked with the best, had a fantastic camp and was very, very confident that they worked on what they needed to for this. Well, damn…ain't that a thing?  Cause he came into this with his takedown defense TIGHT…and piggy backing on the ability to keep this thing on the feet, his striking was ON POINT!  14 for 14 head shots, 9 for 9 body shots…and boy, that was enough!
This easily could have been KO of the Night or Fight of the Night if it wasn't for an exciting head kick that stole the show early and a championship fight that brought the drama and suspense as well.
Donkey, wow…eh…?
Donkey's Takeaways:
I'm getting them all wrong tonight Hare, or most of them it seems, and that's pretty cool!  You were wondering where Jubbly's profile picture has been lately? Well, if you figure out where his takedown game went, they might both be in the same place!  Certainly they weren't here for this fight.  That's probably a bit unfair to say, as I suspect that Bargos' preparation had more to do with it than a lack of skill for Jubbly.  Jubbly was on the verge of going 3-1, rebounding from a loss to Frankie Logan in the Sorter Series finals and having his name right back up there as a top contender candidate.  Now, he'll need to work a bit longer to get back there.  *spoiler alert*  For Bargos…he's definitely turned some heads now!  He's 2-1 on his career, with his only loss being to NEW champ Frankie Logan.  So really, that's almost like a half loss, being he took him to a decision!  His future seems bright.
Suzy was down ringside while Alex Conors was waiting for Rey Bargos, his fighter.  He approached her and had this to say…
Alex Conors:  I would like to announce Rey Bargos has not only signed two new sponsorships after his latest win but also a new 5 fight deal with SPPS. Bargos is ecstatic about the deal and awaiting word on his next challenge.
Suzy Sucker Punch:  Mr. Conors, that is fantastic to hear, and I know that everybody in the organization is excited to know that Rey will be around for a while!  His fans certainly will be celebrating this win and the new contract tonight!
*********
Main Card Bout #2: Lightweight
Valery Bokov Defeats Frank Carey via Submission (Armbar)
You know Donkey…the fans really didn't give this fight a high rating, but I loved it!  Honestly, this fight went almost exactly as we anticipated, with both men wanting it on the ground and both getting their opportunities to do what they wanted to.  Short of finishing early that is.  I guess the fans just don't appreciate a chess match of different skill sets on the ground the way I do!
As I said, both men were intent upon this being on the canvas.  We knew that, and it was just a matter of establishing position and getting the right chances.  In the first round, they both had them, with the position reversing a couple times, Carey working the ground and pound and Bokov trying for the submission.  A close round, but Bokov got it. 
Round 2, more of the same, clinch, takedown, sub attempt, ground and pound, reversal, you name it, we got it! Carey took this one, in what was turning out to be a really close contest!  And finally the third round…and again the clinch from Carey and the takedown.  The punchy-punchy thing ensued from Carey and the sub attempts for Bokov!  And then…the fatal mistake…Carey went to posture up…left his arm there…and BAM!  Bokov had it for the armbar!  Another one that could have easily been the Sub of the Night right there, such a key pivotal move to nail that submission when it presented itself!
Donkey, anything…?
Donkey's Takeaways:
Wow, I finally get another correct!  This was a really, really good fight.  We suspected it would be, and it did NOT disappoint!  I'd watch this one over and over as well Hare, so I'm with you on that.  This one gives Bokov two in a row and three of his last four…and puts him right into the discussion for potential top contender soon!  For Carey, we didn't have a lot to go by, but we were able to figure out what his plan would be.  He tried to implement it, and had his chances, but he just couldn't get past that solid chin of Bokov's. It'll be fun to see how he evolves and where he goes from here!
*********
Main Card Bout #3: Lightweight
Tua Graves Defeats Piney Winston via Unanimous Decision
We've got one that went the distance here between two fierce competitors Donkey!  You got the winner correct, but I don't think anybody saw this going to a decision.  And frankly, considering all of the action in this fight, it's unbelievable that it did!
This one was ALL ground.  We weren't sure if Graves would definitely take it there, but he most certainly did…and Winston going to the ground was never in question.  Four takedowns over three rounds, all by Graves, resulting in almost the entire fight being spent on the ground.  A lot, and I do mean a lot, of jostling for position, some serious ground and pound from Graves…which likely won him the fight with the judges…and…WOW…twenty-four submission attempts between the two of them!  And not a one managed to be finished! Say who-what?!?!
Let me repeat that last part…16 sub attempts by Winston…a brown belt…and an accomplished submission artist…8 sub attempts by Graves…no chopped liver himself!  And they didn't finish this thing, that's how much this fight was a game of cat and mouse, one upping the next and just refusing to be caught!  Damn.  Just…damn.
Donkey, over to you, what do you have…?
Donkey's Takeaways:
Graves gets the win, no doubt as you said by controlling the action and landing strikes on the ground.  But this was a well fought battle from both sides!  Graves gets ahead of things now with a 5-4-1 record…and Winston still retains a solid 6-3…I can't wait to see more fights from these two…they both belong right up there in any discussion!
*********
Co-Main Event
Lightweight Bout
Demi Achilles Defeats Two Two via Submission (Kimura)
Heyyyy!  Donkey, you finally nailed one right on the head, winner, finish and exact sub!  Nice.  Way to bounce back late! 
The Artist Formerly Known as Two (TAFKAT), now known as Raleigh St. Clair, having moved out of his mom's house, rejected her lack of love for him as the second child…and perhaps had a sex change…is that a porn star name Donkey?...came in and did his very best to control this fight, implement the game plan that we actually suspected he might and got off to a good start.  His strikes were landing unhindered in the clinch once he established himself there. But then…and this is the head scratcher…um, after wisely and valiantly shrugging off six takedown attempts by Achilles…he…well, Donkey…he took this to the ground himself!!  No, seriously.  He basically committed hari-kari! 
That's where this fight went from REALLY good for him, to REALLY bad, REALLY fast.  Sure, he landed a couple shots on the ground…but his safe zone was on the feet.  Achilles is deadly on the ground with his submission game! And sure enough, a little over a minute later, Achilles had taken a couple shots, but in the process had worked into a better position…and bam, there was the kimura…for the win!
Donkey, I really have to believe that Two's…er, I mean, St. Clair's…manager and he must be shaking their heads still, a couple days later…wondering what possessed them to do that.  Pretty much gave the fight away that they had well in hand I'd say.
Donkey, got anything on your mind…? 
Donkey's Takeaways:
I figured Achilles was going to eventually get this to the ground.  And once that happened, I figured this was his to lose.  I NEVER figured that he'd be gifted that trip to the canvas! Wow.  I'm with you Hare, this fight looked like it could have been finished from the clinch or shortly after in standup. This is one that St. Clair's camp is going to look back on and wish they could have back.  For Achilles, you take em where you can get em!  So he'll take it, and this puts him in the driver's seat to make a case as a potential top contender!
Demi Achilles was heading to the locker room as Suzy caught up with him for a few words…
Suzy Sucker Punch:  Demi, you were picked to win by Donkey, and now, even after perhaps a rough start to the fight, you've come out the victor.  With only one loss on the record, some are saying you're in the driver's seat for a spot at the top of the division again.  Any thoughts on your record and what it means?
Demi Achilles:  As I said to you guys, my loss was just a fluke. I came unprepared. But now I'm always prepared and ready to bang!
Suzy Sucker Punch:  I have a feeling that Demi will get the chance to prove that in the near future, and his fans can't wait!
*********
Main Event
Lightweight CSS Championship Bout: #1 vs. #15
Frankie Logan vs. Vinicius Verreira
Our Main Event tonight folks!  It was time to belt our very first Lightweight champion here at Sucker Punch!  Two extremely talented fighters both very deserving of this shot, I couldn't wait for this fight there Donkey!
Frankie and Verreira both navigated a tough tournament full of talent, with Frankie actually having one opponent bail and run with tail between legs at one point.  We just had a heck of a finish in that prior fight, so the crowd was all on edge and ready to go for this big one…and now it was time, as Juice Fluffer made his way into the cage…here's the replay of the fight start…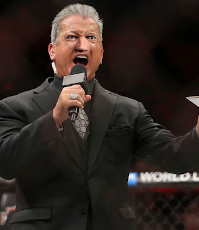 Juice Fluffer enters the cage…
"Ladies and gentlemen…this is the Maaaain Event of the evening!"
"The judges for this bout are Summer Carpenter, Ben Hemmingworth and Skip Squint."
"Our sponsor for this event is Shadow Warrior Nutrition."
"Annnnnnnd Now!  The moment Sucker Punch Pro Series fans around the world have been waiting for!"
"LIVE!, from The Bondi Outdoor Arena in Sydney, Australia…"
"Iiiiit's TIME!  Three rounds for the Undisputed Sucker Punch Pro Series Lightweight Championship of the World!"
"Introducing first…to my left, fighting out of the red corner.  With professional record of three wins, one loss and NO draws, he stands 178 centimeters tall, weighing in at 153 pounds and 21 years of age, representing Falkirk, Scotland and fighting out of your very own Sydney, Australia…the NUMBER ONE seed overall in the Sucker Punch Lightweight Cockshot Sorter Series, Frannnnkieeeee… "The Scotch Kiss" ….LOOOOGANNNNN!!!"
"And now introducing…to my right, fighting out of the blue corner.  With a professional record of three wins, one loss and NO draws, he stands 180 centimeters tall, weighing in at 155 pounds and 21 years of age, from Rio de Janeiro, Brazil and fighting out of London, England …the number fifteen seed overall in the Sucker Punch Lightweight Cockshot Sorter Series, "Viniiiiiiiiiciuuuuuussss...VERREIRRRRRAAAAA!!!"
And we were off folks!!! 
This was a hard fought contest, although if you just look at the judge's scorecards it's not going to seem that way.  These two combatants came out and went at it right from the bell, landing shots for over a minute before it was taken to the clinch.  As we said in the preview, with Logan, you never quite know how he might attack you in any given fight…but wow…did Verreira plan to show us that he could be the one to pull out the surprises from his bag of tricks!
The second and third minute were spent in the clinch with shots taken back and forth!  Then back to separation for a minute with more shots exchanged and a bunch of sizing up.  Then the surprise came…into the fifth minute of the first and Verreira decides to take it to the ground!  Ok! So it's on, we're about to find out what that brown belt of his is all about for the first time in his career!...and…sub attempts from Verreira…they didn't succeed, but they were there, and he was taking a new angle on things!  Frankie got the round, but it was Verreira who definitely brought the stunning surprise in that one!
Round 2…some more boxing…shots land…and clinch!  And then…BOOM, just to show it wasn't a mistake, Verreira takes it to the ground yet again!  With top position, he was able to avoid much in the way of damage from Logan while starting to work the subs, which he did over and over, with Logan thwarting him at every turn!  The round ended with Verreira failing to get the submission shortly after a very close attempt at an armbar!  The refs gave that one to Logan, no doubt due to landing more shots in the standup, but honestly I felt like Verreira got that one being the aggressor and getting it to the ground.
Round 3…!  And Logan clinches again…with Verreira AGAIN taking it to the ground, clearly determined to finish this thing with a sub from down there!  Logan neatly escapes though, gets back to the feet…and then begins the process of taking over and exerting dominance in the standup, refusing to let this thing go back to the ground again!   Verreira seemed a bit more focused on the counter, waiting for the right moment, while Logan continued to tenderize his legs, body and face!  With the fight clearly in hand…Donkey…this is when the real shocker came!
In what can only lead to some bad blood down the line between these two, Logan, who already seemed to have the fight in hand going into the last and final minute…oh my…yep Donkey!  Ooooooh baby, this is SUCKER PUNCH my friends!...and Logan, living up to his name and showing us just why he's done things to earn the "Scotch Kiss" moniker…landed a nasty shot to the boys!!  Yep, those family jewels just got reduced in value folks!  Here it was…
"That's four minutes gone in the round.  Oooooooooooh, not good. A low kick from Logan lands where it shouldn't have, right in the... well, you know what he did? He kicked him in the penis. He's injured, injured bad. The referee sends both fighters to their corners and Verreira has 5 minutes to recover. He's OK now though... a thumbs up from Verreira and we're back underway with a touch of gloves."
Dang Donkey!  In a championship fight no less!  That one's going to be remembered for quite a while…certainly by Verreira!
Juice Fluffer enters as the referee has both fighters in the middle of the cage…
"Ladies and gentlemen, after three rounds, we go to the judges' scorecards for a decision…"
"Summer Carpenter scores the contest, 30-27, Logan."
"Ben Hemmingworth scores it, 30-27…"
"And Skip Squint scores it, 30-27…"
"For the winner…by Unanimous Decision…ANNNNNNDDDD NEWWWWWW…Sucker Punch Pro Series…Undisputed…Lightweight Champion of the World… "The Scotch Kiss" Frannnnkieeeee…….LOOOOGANNNNN!!!"
WE HAVE A CHAMPION DONKEY!  We have a champ!  You have anything else…?
Donkey's Takeaways:
Wow!  Yes indeed, some big moments and big shocks in that fight!  I had the call wrong, but the suspense was worth it!  First, Verreira fakes us all out, going with a tactic and approach he's never shown before…and honestly, it could have paid off at any time!  Credit to Logan for managing to fight off those subs and stay cool under a lot of pressure from Verreira.  For Logan, a well-rounded fight where he showed just why he's so dangerous and difficult to plan for, with a varied skillset that isn't weak in any given area!  A well-earned championship, especially to avoid being subbed out with so many opportunities given to Verreira!  But that shot at the end…oh boy.  To the boys?  C'mon, was that necessary…or just part of the package and what you get when you have a reputation to uphold!
Suzy made sure she was at the cage door waiting for Frankie Logan as he exited, the victor and first Lightweight champion, his manager beside her with a smile on his face…
Suzy Sucker Punch:  Frankie, you have to be very, very happy with this result.  Verreira definitely brought something to the table, tried your move with keeping his opponent off-base, but you hung in there and pulled it off!  How are you feeling right now?
Frankie Logan: I am very proud to be the first Sucker Punch Lightweight Champ at the most prestigious 355k org in the game. Now the hard work begins!  Vinnicius is a tough opponent, a well-trained grappler with a single hitter quitter is very dangerous. We knew we had to fight smart in this one, outpace him on the feet and tire him on the ground.
P J Jones:   Suzy, just wanted to thank Sucker Punch for everything. It's great to get a win but the best part is the energy, excitement and professionalism at SP, which is second to none. This is a very exciting organization that we look forward to being involved with for a long time. In fact we have just signed a LHW prospect to SP and we have very high hopes!
Suzy Sucker Punch:  Undoubtedly this is a night that both of you, and the fans, won't forget for a long time, if ever!  Congratulations on the championship!
*********
So there we have it Sucker Punch fans!
Great stuff and the Sucker Punch universe now has its first Lightweight Champion!  And some other great fights, clearly flipping the script on Donkey all night long and throwing surprise after surprise!  This is what we come out for folks, the excitement, the twists and turns, the action packed fun!  Hope you enjoyed it as much as we did!
See you all soon, and till then…
Keep it cheap and dirty…Sucker Punch Pro Series 355k+ style!