RISE Fight League 325k+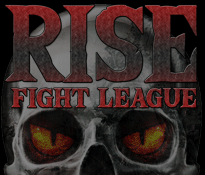 RISE 82 – King of the Jungle is an upcoming mixed martial arts event to be held by RISE Fight League in conjunction with Hoarseplay Writing Productions. This event will take place on July 8, 2019 at the University Park arena in Los Angeles, California, USA. This exciting fight card is brought to you by Trap-a lot-Clothing.
[Event Preview]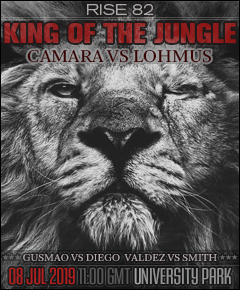 [Undercard Bouts]
(Welterweight Division) Ronnie White (10-4) versus Samuel Turbitt (6-1)
Ronnie White is a former Olympic Wrestling alternate that shifted his focus from chasing Olympic gold to chasing MMA stardom. In addition to being an incredible grappler with powerful ground and pound, Ronnie is an accomplished amateur boxer with power behind his punches. Known as "Rotten" to teammates, Ronnie has fought under the banners of Skrap House MMA, Sydney Fights, and the Terra Australis Fighting Championship promotion. Formerly a prodigy of Ikki Takeda's management style, Ronnie White has found great success with his new leadership.
Ronnie started his MMA journey as a fan sitting in attendance at CCF FN 18. After drunkenly boasting to his buddies that he could "smash these guys", he stepped up as a last minute opponent for Jo Asce, a seven fight veteran. Asce's opponent had fallen out the night of the fight and so Ronnie became one of those "ultimate fighter guys". White took Asce down immediately in their fight and began mercilessly pounding the MMA vet with vicious strikes, badly hurting the man and forcing a referee stoppage. Ronnie became a regular face at the CCF shows, taking on Magyan Murko, Joshua Moore, and Arthur Dayne before tasting defeat for the first time in his career. The opponent was world class MMA black belt Ricardinho Vieira.
The loss didn't turn Ronnie away from MMA. If anything it pissed him off and made him take the sport even more seriously. After changing management teams, White rematched Vieira at SyFi 112- suffering another submission defeat to the man. White fought once more for Sydney Fights, stopping Stable Genius with heavy ground and pound in the opening round.
Following the fight with Stable Genius, Ronnie White signed an exclusive contract with Terra Australis Fighting Championship. Keeping in line with his usual style, White made his promotional debut with a rematch against the last guy that he fought. This time around Genius found some success off his back... he reversed into the top position and fell into an immediate triangle choke. White tore his way through the TAFC welterweight division, stopping Billy Jack with strikes, Alvey Kulina via submission, and won a decision against Akira Harada. Unfortunately White finished out his TAFC career with back-to-back losses to Narek Sirakanian and Luiz Santos respectively.
In his most recent bout, Ronnie White stopped Franky Stanky with strikes late in the second round.
Samuel Turbitt is a life long Brazilian Jiu-Jitsu practitioner with a brown belt in the art. Reportedly an accomplished music producer, lately Turbitt has taken to producing incredible performances inside the MMA cage. Unlike the strength based style of his opponent, Samuel Turbitt compares his fighting style to being more like music: he flows around opponents, going where the feeling takes him.
While Samuel was approaching MMA as a fan, Turbitt was coming in from the perspective of sparring partner. He was the man that trained with other professional fighters, giving his insight as an expert in submission grappling. A few weeks before Ronnie White faced Stable Genius in Sydney, Samuel Turbitt made his MMA debut. The itch to challenge himself had become too great; done were the day of simply submitting MMA fighters in the practice room. Turbitt was ready to do the real thing.
Samuel Turbitt began fighting in smaller local shows, taking on any random opponent that showed up that evening. The pay was meaningless, the fame was negligible; Turbitt just wanted a challenge. In his professional debut, he was paired up with fellow brown belt Galdra Kiddi. Turbitt found exactly what he was looking for: he was caught in a kimura early and forced to tap out. While other guys may be discouraged from a loss, this was exactly what Samuel Turbitt was looking for. He returned for another show not long after, taking on another BJJ guy in Cyrius Python. The two fighters traded takedowns until Turbitt landed the only submission attempt of the fight, forcing the tap. He returned for another quick match, taking on 2-1 submission fighter Leuan Thomas, smashing the man with top control before taking his back and choking him to sleep.
Samuel Turbitt was paired up twice with one of the two most unfortunately named fighters that I've had the pleasure of talking about in Adolf Hitler. In both fights, Turbitt caught Hitler with an early blitzkreig, submitting the man in the opening round on both occasions.
Following the second Hitler fight, Turbitt moved up to welterweight and signed with the RISE Fight League. His dance partner for this promotional debut in the big show would be world class striker Tyrell Williams. This promised to be the biggest test of his career... but it wasn't. Turbitt took him down immediately and man handled the striker en route to an armbar submission with two seconds remaining in the round.
In his most recent showing, Samuel Turbitt defeated power wrestler and BJJ purple belt Lazar Markov via early first round guillotine choke. Markov took Turbitt down and almost immediately began signaling S.O.S on the mat with his hand.
(Lightweight Division) Xavier Merlin (13-10) versus Ernest Graves (13-10)
Xavier Merlin is an absolutely top of the pile world class Brazilian Jiu-Jitsu practitioner. He is one of the few legitimate black belts in running around this crazy sport. Xavier has competed in RISE on two separate occasions; he actually started his career in the California-based promotion before leaving to test the waters elsewhere. He held a world championship title during his tenure with Sydney Fights and competed, for a time, under the Terra Australis Fighting Championship banners.
Xavier began his career with a lightning fast rear naked choke victory over Muay Thai striker Scotty To in the QFC. After that, he signed a three fight deal to compete for RISE Fight League. After submitting Randell Miranda and Barrios Messi, Xavier was paired up with fellow BJJ brown belt and reigning lightweight champion Randy Kelly for his first title defense. The fight would prove to be incredibly competitive, with Xavier Merlin dominating the young champion everywhere the fight took place for fourteen minutes and twenty-six seconds before falling into an armbar and being forced to tap out.
A fresh free agent with his championship dreams shattered, Xavier began fighting for Sydney Fights. After besting freak athlete wrestler Che Huu Mo in a unanimous decision victory, Merlin was submitted when paired up with fellow brown belt and former NJMMA lightweight champion Justin Sane. Not put off by this setback, Merlin began piling bodies as the opponents fell before him: Keon Fazeli, Pit Canthropus Jr, Deklek Sitsongrit. Three big names, three big graves behind him.
At SyFi 70, Xavier Merlin was given the opportunity to rectify his earlier championship flop against former Bumfights lightweight champion Evan Page. The two fought for the inaugural lightweight championship with the fight nearly going to the final minute of the opening round. Before it was all said and done, Page was submitting and Xavier Merlin entered the history books as the lightweight champion of the land down under. His first attempted title defense was against fellow BJJ wizard Jorginho Marcelo who would submit Merlin early in the second round. Merlin began chasing the belt across the roster, smashing Gennady Glovkin to earn a second crack at it but the new champion was just as forgiving as the man that he defeated to steal the crown. Just like that, Bernardo De Barros retained the title and Merlin was left wanting.
Xavier Merlin entered into a dark age of his career: he would go on to be stopped by Verneri Ahma, suffering his first loss to strikes in his career. After changing management teams he won a fight but then lost to Evan Page via late KO in a rematch fight, dropping management teams once again. Under new management Xavier faced Pit Canthropus Jr twice, an old opponent from his run up the championship mountain prior. Despite having dominated Canthropus Jr before, he was stopped by the man in back-to-back performances this time around.
Now fighting for Terra Australis Fighting Championship, Xavier Merlin put together a 3-1 record before returning to RISE Fight League. He knows that a big win over Ernest Graves will likely make him the top contender for the throne currently occupied by elite striker DeMario Valdez.
Ernest Graves is the former RISE Fight League lightweight champion of the world. He has fought in the QFC arena at length, competed in Island Extreme Fighting, and has most recently made himself a household name in RFL.
Earnest started his trek through the world of mixed martial arts in the QFC arena where he competed seven times, taking on anyone and everyone fool enough to face him. He suffered only two defeats during that time: once against future Island Xtreme Fighting and RISE Fight League lightweight champion Scott Smith, and once against fellow QFC standout Ben Law. With two consecutive QFC victories behind him, Earnest signed with Island Xtreme Fighting... where he lost three fights in a row, dropping fights to Ben Seimens, Flibberti Gibbet, and Mohammed Jonhson. He did finish out his time on The Island by decisioning Joshua Brown.
Free from the confines of The Island, Earnest Graves signed with RISE Fight League. In his promotional debut he stopped Shannon White with a second round keebar submission. Next Graves faced Armin Schulz but would go on to be stopped in the second round of their fight. After tearing through world title challengers Joshua Brown and Tyrone Spong, Graves faced former Beach Fights lightweight champion (who never lost his title) Humberto Spong, submitting him early in the opening round. After suffering a shocking defeat against future RISE champion DeMario Valdez, Graves faced Scott Smith in a surprise rematch. This was the man that he had started it all against back in the QFC arena, the man that handed him his first pro loss. This time around, Graves dominated Smith on the feet, stopping him with heavy strikes in the opening minute of their fight. At RFL-71, Graves stopped Shoju Bayushi with a big punch to become the top contender.
At RFLFN-22, Ernest Graves challenged two time RISE lightweight champion Nick Morris, who was attempting to complete his sixth consecutive title defense against Graves. Always happy to play the spoiler, Graves took Morris down midway into the opening frame and submitted the man with 33 seconds left in the round. Graves attempted to defend his title against Tud Stoddler at RFL-74 but was stopped by the man late in the opening round.
Ernest Graves has fought twice since then, suffering back-to-back TKO losses to Shoju Bayushi and Tud Stoddler. A big win here could put Ernest back on the track to reclaiming his title.
(Heavyweight Division) Tonkei Oloishona (6-1) versus Toturi Akodo (5-3)
Tonkei Oloishona is an unstoppable kickboxing prodigy born and raised in the Ngorongoro Crater in Tanzania. This fearsome striker has never been stopped in any of his seven professional MMA bouts. Currently residing in London, England where he lives and trains, he has aligned himself with the elite training of Dr Hatsumi's Clinic, a private facility.
After deciding to pursue fighting as a full time career, Tonkei made his debut in the World Fighting Championship of Amsterdam. At WFC 14, he faced future RISE light-heavyweight champion Joosep Lohmus, suffering his lone career loss via unanimous decision.
Tonkei abruptly parted ways with his management after the Lohmus defeat. Under his new management he signed with Terra Australis FC where he went on an absolute tear through the heavyweight division. At TAFC: Murphy v Shorton he crushed Erik Friedrichsen, picking the man apart from the outside before stopping him three minutes in. After tearing through Itzhak Weinstein, Oloishona narrowly defeated More IsMore Ii via majority decision. At TAFC: Biffs & Brawls 15, Oloishona faced his biggest test to date when he fought former SyFi champion and Olympic wrestler Ross Barkley. In his final fight with Terra Australis, Oloishona defeated four time title challenger Bill Shorton via second roud TKO.
In his most recent bout, Tonkei Oloishona faced BJJ purple belt Inspektor Bee, badly hurting and then subsequently knocking him out in the second round.
Toturi Akodo is a true savant in boxing and an accomplished wrestler, which he uses strictly for defensive measures. Toturi has fought for four organizations, including: Sydney Fights, EMPIRE, and Terra Australis Fighting Championship. He represents the elite Rokugan camp in Tokyo, Japan.
Toturi Akodo started fighting under the Sydney Fights banner, taking on Bubba Brandon at WeIn Syd 36. Toturi made short work of Bubba, dropping him with a right hand and finishing him with followup ground and pound. Returning not long after, Tutori faced Machiavelli Vecellio at SyFi 137. While it was clear that Toturi was an adept striker, the great deal of scar tissue on his face busted up badly against Vecellio before he was caught with a big punch and defeated for the first time in his short career.
Toturi made a single appearance with EMPIRE, taking on fellow boxer Sanderlei Bitetti. Toturi would draw first blood agaist Sanderlei but ultimately lose the decision in a back-and-forth affair.
Having signed a long term contract with Terra Australis FC, Toturi faced power wrestler Torkel Bystrom in his promotional debut. After being taken down early in the opening round, Akodo came back strong midway through the opening frame, overwhelming Bystrom with strikes, prompting him to tap out to avoid further punishment. Next Akodo faced another strong wrestler in Mika Allu. An old weakness reared its ugly head as Allu began scoring ground and pound from the top position: Toturi Akodo began to bleed. As more strikes piled on, more cuts seemed to open like magic as the world turned red around them. Eventually the ringside doctor had seen enough, stopping the fight. Akodo finished out his TAFC contract with back-to-back victories over Lucifer Evo and Itzhak Weinstein before signing with RISE Fight League.
In his RISE FL debut, Toturi Akodo faced kickboxer Samson Fortier, knocking him out with a big punch midway through the opening round.

(Bantamweight Division, Championship bout) Sergei Petrov© (13-2) versus Eta Knox (9-7)
Sergei Petrov© is the undisputed RISE Fight League Bantamweight Champion. Coming into this fight on an eleven fight winning streak, Sergei Petrov is the #8 ranked bantamweight fighter in the world and is the #1 ranked bantamweight in Las Vegas, Nevada. Sergei is capable of fighting on his feet or on the ground but prefers to stand and box with opponents. He has gone for takedowns in the past, but only from inside the clinch when he absolutely had to. Sergei Petrov has fought for New Jersey MMA, Sydney Fights, and most recently RISE Fight League.
Sergei Petrov's inauspicious debut came in the QFC arena where he faced Muay Thai stylist Erran Morad. Although Petrov tried to keep the fight in the clinch, he was overpowered by Morad and finished with strikes from the outside. A few weeks later, Sergei began fighting for New Jersey MMA where he knocked out Galli Dondon with a spinning backfist and submitted Marvin Deep with a triangle choke. Unfortunately he dropped a unanimous decision to Sanka Coffie in his fourth fight. He finished his NJMMA career with wins over Peter Kropotkin, Richard Weed, and Diego Carlitto.
Sergei competed twice for Sydney Fights after the Carlitto match. He defeated two former title challengers in Marcos Santana and Dieselnoi Por Pramuk.
Next Sergei Petrov began fighting for RISE Fight League. In his promotional debut he faced former NJMMA bantamweight champion Hiroki Tomori. The two warriors traded heavy strikes from the outside but Tomori made it clear immediately that he wanted to clinch badly. Petrov caught Tomori coming in looking to grapple, putting the former champion down and out with followup strikes. Next he faced Chosen One, who was on the heels of a four fight winning streak. After dominating his fellow striker in the opening round, Petrov stopped him with strikes in the second.
At RFL-71 Sergei faced lifelong RFL top contender Eta Knox, who had previously challenged Glass Joe for the title. Sergei put on a masterclass performance in the opening round, seemingly toying with the man before putting him away in the second round. This fight proved to the fans and promotion that Sergei Petrov was ready for his shot at bantamweight gold.
At RFL 73, Sergei Petrov challenged reigning bantamweight kingpin Chamuaknoi Sitsongrit for the undisputed title. Sitsongrit had just completed his second title defense and looked unstoppable. The two warriors tested each other's skill, with each round being closely contested on the scorecards. In the end the judges and the fans were torn down the middle on who the winner should be. Sergei Petrov narrowly ousted the wily champion, walking away with the split decision.
Sergei successfully defended his title against former NJMMA champion Preston Mason before he was tasked with rematching Sanka Coffie, whom he had been previously defeated by back in his second NJMMA fight. This time, Sergei dominated Sanka en route to stopping him in the third round.
Eta Knox is a Muay Thai stylist from James Bay, Canada, by way of New York, New York. Unlike most of the fighters that I will preview here today, Eta Knox is in the unique position of having only fought for RISE Fight League. At RFL-50, he challenged a previously unstoppable champion in Glass Joe for the bantamweight title. Eta Knox comes into this fight on a three fight winning streak.
Eta made his debut in the featherweight division against eventual title challenger Charles Kenway, but would fall victim to a submission in just eighteen seconds. Eta rebounded with a big win over Zardu Hasselfrau, stopping him with strikes in the second round. Next Knox faced future champion Andre 3000. Knox would get hurt badly from an overhand right early in the fight ad go down under a barrage of punches shortly after. After retiring two fight jobber Dick Hunter, he rematched Zardu Hasselfrau, stopping the man in even shorter time.
After moving down to bantamweight, Eta Knox tore through Richrd Weed to become the fresh faced challenger that the division sorely needed. At RFL-50, Knox challenged Glass Joe for the bantamweight championship. Knox would go down to strikes early in the second round.
Eta Knox rebounded with a big win over former CEC champion Robert Vanderwiel but lost his next three bouts. With his career seemingly knocking on death's door, Eta Knox shocked the world when he knocked out fast rising top contender Rodrigo Gracie in just two minutes flat.
At RFL-71 Eta Knox faced Sergei Petrov in a top contender eliminator match. If you've been reading my preview thus far you know how this one went: Petrov got the better of the exchanges, stopping Knox in the second round.
Eta Knox had a hard decision to make: he could accept his place as a second rate fighter that could just about become the top contender or he could pick up the pieces of shattered glory and carry them to the inevitable finish line. His head coach went on the record at the time saying that he didn't envy the next men to face Knox in the cage.
The revenge train made its first stop at RFL-76 where Knox faced John McCain. Eta Knox dominated every round of the fight, beating McCain so bad that he fought just once more before seemingly going into exile. Next he made Kisada Hida look like he was standing still, humiliating the man and besting him via lopsided unanimous decision. Next he faced very popular perennial contender Peter Kropotkin, dominating two out of three rounds to establish himself as the undeniable top contender.
Now Eta Knox has the chance to become a world champion and avenge a humiliating defeat at the same time.
[A closer look]
(Sergei Petrov)
Age: 24
Started Fighting At: 18
Record: 13-2
Knockouts: 8
Submissions: 1
RFL Record: 6-0
Total Opponent Record: 134-94-0
Rank (Division): Champion
Rank (Organization): 7
Style: Boxing
Accolades or Accomplishments: Undisputed RISE Fight League Bantamweight Champion (Two Defenses), Eleven Fight Winning Streak, Fight of the Night (x5), KO of the Night (x2)
(Eta Knox)
Age: 24
Started Fighting At: 18
Record: 9-7
Knockouts: 6
Submissions: 0
RFL Record: 9-7
Total Opponent Record: 117-84-0
Rank (Division): 4
Rank (Organization): 47
Style: Boxing
Accolades or Accomplishments: Former Rise Fight League Bantamweight Title Challenger (x1), Three Fight Winning Streak, Fight of the Nigh (x2), KO of the Night (x1)
(Featherweight Division) Great Tiger (13-7) versus Mickey Munday (10-5)
Great Tiger is the former RISE Fight League featherweight champion. This accomplished Muay Thai striker is currently a free agent, seemingly because his owner lost VIP status. Tiger is a veteran of CEC Challengers, Torcida MMA, Honolulu-Hilo MMA, and Sydney Fights before he became a fan favorite in the RISE Fight League promotion.
At RFLFN-15, Tiger faced Henrique Gusmao for the featherweight championship but was caught with a big punch and knocked out cold. After submitting Christian Cyborg, Tiger got his rematch with Gusmao- this time submitting him with a third round armbar.
Great Tiger defended his featherweight crown against Frank Rizzo at RFL-71, besting him via unanimous decision. Unfortunately he lost the title at RFL 73 when Naoyuki Nakano defeated him via unanimous decision.
After losing to Chamuaknoi Sitsongrit, Tiger most recently submitted Mono Loco at RFLFN-29.
Mickey Munday is the former Torcida MMA featherweight champion and Sydney Fights featherweight title challenger. Munday is a world class wrestler with a brown belt in Brazilian Jiu-Jitsu. In addition to being an accomplished mixed martial artist, Mickey Munnday participated in the TWGC 20 middleweight tournament, losing in the first round of the finals.
Mickey began his career in the TWGC 20 grappling tournament. Despite weighing only 155 lbs, Mickey competed as a middleweight during the tournament. After losing in the tournament finals, Mickey made the transition to mixed martial arts.
He made his MMA debut at Torcida 13, taking on Sergio Belkacem, submitting him in the opening round. Next he faced fellow BJJ brown belt Tyrian Lanaster, stopping him with punches on the feet in the opening round.
At Torcida 28, Munday faced fresh fetherweight title holder Antonio Zetsika, submitting him in just thirty-one seconds to claim the title from him. Unfortunately Munday would go on to lose the title to purple belt Furious Munchkin during his first attempted title defense. In his final fight with Torcida MMA, Munday defeated Rodrigo Gracie via second round TKO.
Mickey Munday took time away from active competition to train. Some time later, his team announced that he had signed with Sydney Fights. He went on a tear through the Sydney Fights featherweight division, defeating John Mills, as well as former IXF lightweight champions Ruben Nevez and Chief Cheyenne. Munday challenged Petdee Sitsongrit for the Sydney Fights featherweight champion but failed to capture gory this time around.
After a lackluster three fight skid in EMPIRE, Mickey signed with RISE Fight League. Although he was defeated in his promotional debut against Kron Diego, he has since defeated Mono Loco as well as winning a rematch against Antonio Zetsika.
Main Card Coming Soon