Kajun "Pinoy Savage" Puno vs "Frosty the" Snow Man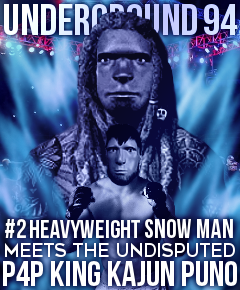 ...Two fighters...
...One Throne...
...An entire Legacy on the line...
The return of the P4P King saw over 93,607 fans pile into Wombley Arena in London.
After a night of grueling action the main event was finally here.
The lights dimmed and the sweet sound of Lynyrd Skynyrd's 'Simple Man' echoed
from the speakers as the crowd began chanting for the arrival of MMA's biggest Superstar.
"Pu-no! Pu-no! Pu-no! Pu-no!"
The crowd roared in anticipation of the Heavyweight King's arrival.
As Puno descended into the arena you could feel the electricity in the air increasing with every step he took towards the cage. As he inched closer, the energy intensified so much that even the raging, belligerent drunk, & booze-infused crowd was left in silence and awe as they marveled at the world champion's presence.
Everybody's power scanners were going bonkers. They had never witnessed such powerful energy
Puno entered the cage and stood across his opponent.
Puno's demeanor - calm, stoic, composed - he had been here before. It seemed like 'deja-vu'.
Mean while Snow Man was already melting from the heat emitting from Puno's intense energy levels.
During the fighter introductions, the camera shifted briefly to capture Chris Karter on the jumbotron sitting ringside w/ LT, Jamie McKenna, a sneaky Northern Ninja, & an entourage of beautiful women that didn't include #Bjornsmom.
Ladies and gentlemen...
This fight is 5 rounds, for the heavyweight championship of the world!
Introducing the champion to my left, fighting out of the red corner.
With a record of 19 wins, 6 losses and 1 draws, fighting out of Montreal, Snow Man!
And introducing the undisputed P4P King to my right, fighting out of the blue corner.
With a heavyweight record of 21 wins, 1 loss and 0 draws, fighting out of Convicted Fight Club, Kajun Puno!
After the fighters were introduced, they touched gloves, and were directed back to their corners.
ROUND 1
Puno came out and found his range early. It didn't take long for him to establish himself as the superior fighter.
The beating that took place for an entire round was almost unfair.
After the first round was over, Puno yawned, waved to his momma, and walked casually to his corner.
Snow Man went crawling to his corner, gasping for air, battered and beaten. He needed help getting on the stool.
His cornermen were about to throw in the towel, when Snow Man suddenly lifted his hand to stop them and shouted...
"No!"
It's as if in that moment of inevitable defeat and misery, he acknowledged and accepted the honor he was receiving from getting spanked by the true Heavyweight champion of the world.
Bless his heart.
He stood from his stool, looked across the cage at greatness, and accepted his demise.
Round 2
Puno, both almighty and merciful, decided to make quick work of his opponent in the second round when he obliterated Snow Man's face with his infamous right hand.
Man walks into a straight right, dropping him to the canvas!
Puno swarms him and finishes the fight with a hail of punches! What a brutal finish!
Ladies and gentlemen, after 1:38 of round 2, we have a winner by way of KO (Punches). Kajun Puno!




With that series of punches Puno put another fighter in a grave and added his 4th world title to his decorated belt collection.
The crowd didn't know whether to clap or bow.