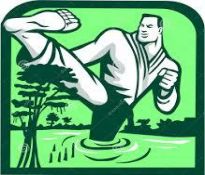 Kickboxing Island League of Legends!
Welcome to KILL!  
We are looking for the best kickboxers the Island has to offer this season.  
If you have the ability to kick down a palm tree like Van Damme, we want you!  
Recruiting now in 155, 205 and 265+.  
Feel free to
PM
me for a contract.  
The fighters who hold the title belt at the last event of The Island Season will receive the award of 1 year of VIP for each division, awarded to the champion's manager.  

Any questions and smack talk from fighters are welcomed in this thread.