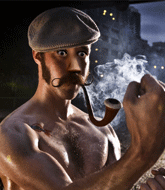 Mick "Money Weight" Murphy (300981)
Today Mick Murphy defeated Rocky Marciano to become the first MMA Tycoon fighter to win championships in all weight classes from 155lbs up to 265lbs:
Ladies and gentlemen, after 5 rounds of action, we go to the scorecards for a decision.
Judge Chris Edwards scores the fight 45:50
Judge Donald Grub scores the fight 45:50
Judge James Glass scores the fight 45:50

In favor of your winner, by unanimous decision... Mick Murphy!
Mick Murphy is the new heavyweight champion!
Mick Murphy took to the mic in his post fight interview and said 'And that's how we do it in Ireland, ya filthy wop. Blah, blah, golden shower, blah, blah.'.
Who should Mick Murphy fight next?