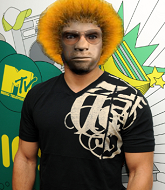 Tevin Mangrove Jr, Formally known as Donzel Fortunado was dropped from his fight manager and lost everything. After a few months of homeless begging, non-stop alcoholism and strip club slumming, Donzel was found unconscious and half naked in a back alley by Tevin Mangrove. It is inconclusive if he was knocked out by the club bouncers or the empty bottle of vodka that they cracked over his head. Neither mattered to Tevin could since he could clearly see that Donzel was a carrier of Enormous Phallic disease and decided to become a producer of his adult movies.
Donzel blew up and became one of the biggest names in the industry, dyed his hair, and gained the nickname "The big finish" for… well… his big finishes. He saw Tevin as his father so he decided to get his name officially changed to Tevin Mangrove Jr, when the fate of his MMA past came returned with a vengeance. His girlfriend that he also performed with begged him to help her stop the guys at her gym from wrongly violating her and begging her for a gangbang so he showed up at the gym angrily only to realize that these guys were bigger, stronger and better than him in every aspect of fighting. He told his girlfriend that those guys were right and that she should oblige. Then he began training with them, under ScoobyAli. He never saw his girl again but quickly became a terribly high skilled fighter.
Now he is looking to get big finishes all over the MMA world as well as all over beautiful women worldwide.
This is the epic life of Tevin Mangrove Jr.