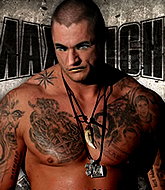 Its One Fine Morning today and i am your host Josh  and today we have KT sensation and the new Dynasty LHW champion
Victor "THE RAZOR" Sharp in the studio with us.
It's a pleasure to have you here with us,Victor.
Vic-Sure man,its awesome to be on the podcast.i often listen to this podcast myself.
Josh-lets start with your days back in your native country.
How did it all start for you?Was it that you saw someone on T.V that inspired you or you had any relatives or friends that pushed you to learn kick boxing?
Vic-It was circumstances that made me want to learn to fight.i was a part of Cska Moscow ultras who would fight ultras groups of rival soccer teams.It was all out bashing of each other with just bare hands,no weapons allowed.One unfortunate day some members of an Austrian ultra group found me alone in the market and beat me up.i realised all alone I am defenceless so Next day i joined a kickboxing gym.
Josh-Any specific incident or key moment is your life you still remember?
Vic--Yes,once my team won a cup final.We were celebrating by throwing cans and bottles on rival fans outside the stadium.Police saw us and charged towards us.We fought and i knocked out one of those cops with a high kick.Even Crop cop would be proud of that.That feeling of shutting some ones lights out is just majestic.I knew this day that my life was to be inside the cage.it was on this day that i decided to become a pro fighters at all costs.Besides i was pretty mediocre at soccer and ice hockey so its not like i had much to think when it came to be a pro at any other sport.
Josh-Talk to me about your training back in Russia?
Did you still used to take part in fights with rival fan groups while training?
Vic--i trained with an uncle of mine.He got me in to a near by gym.I had a great coaches over there.once i became pretty good at kickboxing then i took sambo classes as well.
Yes,for a while i did but my uncle told me either could be hooligan or a real fighter.i choose the latter.
Josh-How did you meet Mr.J?How was the first meeting?
Vic-well you know I was making noise on the amateur scene for quite a while.Mr.J took a notice of me on his visit to Russia.It was brief meeting but he saw the potential I had and brought me to India.A few months later I was sent to US for elite training.
Josh-Asses your career so far,Where did you start at and how was your journey so far?Out of 10 give yourself a rating.
Vic--i started my career at SFC and had a poor start in a tourney.However i came back and won 3 on the trot.i can say that i left the org on a high note.Then i had a very successful stints at EFFA and NACF.I didnt lose any fights there which i am quite proud of.I transitioned to MMA after that and joined CEC.I won 3 fights and drew one there.I proved a few critics wrong there.I took a break then.
Dynasty came on the scene a bit later.They saw my potential and contacted my manger.I had a atrocious start there losing 3 out of first 4 fights but then I won 4 fight in a row.Now i think i am doing justice to my talent.4 wins in a row got me a title shot and yesterday finally,I have won my first title ever.Over all i have had some ups and downs but i am quite satisfied you know.All in all,a 7 out of 10 would be reasonable rating.
Josh-Were you were mistreated by your manager Mr.J after your two consecutive defeats in Dyansty.Lots of online sites Reported that he called you a disgrace of a fighter,Abuses were hurled with some racist overtones as well.It was indicated by some former fighters of Mr.J that he always secretly had your fellow gym mate and frenemy Aleksandar "SHOCKWAVE" Dragovic as his favourite guy among his array of upcoming talents.Does Alexander has special perks that you do not have?You were close to leaving the camp.You even said in a russian daily that you blame Mr.J for few of your defeats.
Vic--First on all lets get this straight.I have no beef with anyone in the camp.My words were twisted by the russian newspaper.All these are just lies.i say it again There is not one ounce of truth in all these reports.
See that deal is that Dragovic was one of those Austrian ultras who beat me up that very day i aforementioned.It is easy to twist our past and publish stories about us.He is a good friend now.We sorted out our differences long long time ago.
Mr. J has two KT champions on his roster so there is no reason for me to leave the camp.I am at one the best camps for a KT fighter.We all help each other out and improve each other.its a perfect place for me to train.Thats all i have to say.
Josh-How confident are you as a MMA fighter?Was CEC stint just a one time thing or did you quit because despite your 3W-0L-1D record you were not in the contention for a title shot?
Vic--My MMA record proves itself that i can easily compete on the MMA scene.I worked a lot on my BJJ.I am very confident man now be it KT or MMA.
That title contention talk is nonsense rumour being spread by an opponent of mine.i just wanted to take a break and work on my BJJ even more.it was just that Dyansty came at the right time to me.
i could go back to MMA anytime but at the moment my focus is KT. 
Q-How to feel about future at Dynasty?Jonah has universal approval from Kt enthusiasts for the great job he is doing running the org.you agree?
Vic--I am impressed with the setup of the org.Jonah King is doing a spectacular job of keeping KT fighters in employment.I cant comment on my future but i promise to see out my contract though.We will see  what comes then.
Q-So all the tycoon world knows about the luxuries you get once you are associated to the notorious Mr.J.He most famously is known as the guy who has one jet for each of his fighters.did Mr. J gave you a jet to keep as well?Reports are all kinds of vices from women to drugs find enough space within the jets.
At times some of his upcoming talents have ruined their future by indulging in too much vices.Are you worried you might have some of his bad influence?He sure has a very controversial image in India with multiple allegations of tax evasion and involvement with that mafia.Infact A Russian journalist made a wild claim that you might have helped Mr.J to hide his money in Russia with your connections with the soccer ultras.Its well known that these hardcore ultra groups are pretty much an extension of bratva.
Vic--Mr.J only ever had positive vibes to offer to not just me but to all his fighters.Yes,i have my own jet now but you know those all those luxuries you mention only last as long you are winning.i wont name the fighter but recently he went through a really bad patch.All his luxuries were gone.He has to arrange his own transport nowdays.
What Mr.J does in India is not my concern.There is nothing proven yet so i dont care.i focus on myself.its not up to me to judge anyone.I have sued that russian journalist for defamation.Now that i am making huge steps towards my future all these baseless allegations are being thrown on me.I wont be affected by it though.i move on.
We move to the fun part now.Lets play a rapid fire round.We gathered some random questions from your fans on twitter.
@Boom2ko-Who is your fav. fighter of all time?
A-mirko cro crop
@Sosharp18-Perfect KO in your opinion?
A-high kick ko akin to cro cop.i did that twice so far.
@Ktrussia-Its World cup year now.How do you rate Russias chances?Are you going to the world cup?
A-yeah i am planning to be there.I am an optimist so i hope we get to next round.
@KOTF-One superpower you could have?
A-Super strength.
@Jimmy09-Did you settle your unofficial record vs Alexander Dragovic?
A-(laughs)no,We are not crazy hooligans anymore.
@nina55-A friend of yours tweeted that you might look to play in NFL after retirement?
A-Naah that was crazy talk by one of my mates .Only football i will ever play is what you Americans call soccer.
@KTpodcast-What are your hobbies?
A-I play tons of fifa and COD.I like to learn to cook as well.I watch sitcoms and thriller tv series quite a lot.
@JKWayne-Any pre fight rituals?
A-Tried this shit but never works for me so not anymore.
@iamgroot-Strangest fan encounter?
A-Some dumb idiot asked for a picture in a wash room.
@Szczesny_Woj-What would you be if you were not a Fighter?
A-Probably a shitty soccer player in some 2nd or 3rd division club.
@iamgroot-which superhero would you be for one day?
A-I am attracted to the billions that Batman got.I will transfer some of his billions to my own account and then disappear off the face of earth so that he next day he does not find me.
Last but not the least 
i gotta ask you about your title win against John Brophy.Have you now proved your self to your manager?
A-Haha,Only my manager can answer that question but at least I have won my first title.i have only had some great words of encouragement from my manager after that public criticism so that must give you some indication of how my manager feels about me now.Nothing more to say about it.
Josh-thanks for the interview Victor. Hope we can have you again here.
Victor-Sure man.