JONNY 'IRISHX' THE PRIDE OF IRELAND SORROW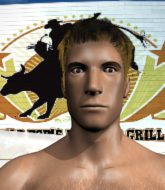 JONNY SORROW, Choke Hall of Famer, 205lb undefeated undisputed World Champion talk exclusively with Rakihiro Nakajima-O'Leary of MMA Japan.
Raki "Jonny, how you enjoy being a champ, and being recognised everywhere you go in Tokyo?"
Jonny "Ter be sure, tis a dream come true, so it is, teems oi am da man roight now, an oi get dem body ter body massages fer fuck all, tertainly elpin me keep moi weight down. Oi bin ter da gym too, so oi have."
Raki "Dee Early has gone on record as being concerned about your dedication to training, even so far as asking Peel Steel if you are actually a member of a gym. What is your response Jonny?
Jonny "Oi fought foive rounds, wun der toitle, oi den took a rest sum, an now oim back in da gym. Oi got ta say, trainin is shoyte so it is, oi canne be arsed, so oi cant, so maybe Doi Oirly as eard sum shoyte but oim champ, so oi der wot da fuck oi want."
Raki "In your first title defence Choke have controversially matched you against Mickey Ward a 25 year old QFC fighter, who is yet to debut in the organisation, were you surprised?"
Jonny "Oi was, oi was, so oi was, der is a lot of good foighters, but oive bin told Oirly and Donnell share der woives, and Mrs Donnell as a noice mantel piece, so Oirly gave da Mickey Ward a shot fer fuck all, so Oirly can doe is missus. Oi wot people are soiyin , loike oive been set up, so I have, and Oirly int appy wiv moi avin the toitle.... coz oi don't troin."
Raki "So you think you are expected to lose on January 25 against Ward?"
Jonny "Oi, Oi dunt tink der bukkies will will goive moi a chance der ya? Sow oive a lot ta prove, but still oi canne be fucked trainin, so oi cant. Oi no ees a stroiker, an 25 so oim fucked so it am, but oi tink oi wuz expected ta lose all moi foights, cuz oi train ser bad. Aah trainin is shoyte, oi forget shoyte faster than oi remember it, so I do."
Raki "If you lose the title what then Jonny?"
Jonny "Oi dunno, oi haven't lost moi toitle yet, if oi can beat Ward, Donnell will regret lettin Oirly rag his missus, so e will, dats moi motivation ta spring da surproise."
Raki "Has your father, the former world number one manager Johnny Sorrow Snr been in touch since you became famous?"
Jonny "Oi avent eard from im, e still upset oi foight fer da Steel Camp, oi tink, so es probably at home in da States wiv is irish flag wrapped round is shoulders, dreamin of Oireland. Oi will take im der one day, so I will."
Raki "Ok Jonny, thanks for talking to us, all the best for the 25th."
Jonny "Oi, Oi av a message fer Mickey Ward.... Mickey, yer got dis shot fer doin shit, oi dunt loike how its append so oim ganna foight yer wiv all of Oireland prayin oi get justice fer da rest of the division, so day are. Yoi shud be ashoimed of yerself joimpin da queue, couz yer manager sells iz missus ter Oirly. On January 25 oi ta waaaaarrr!!!"