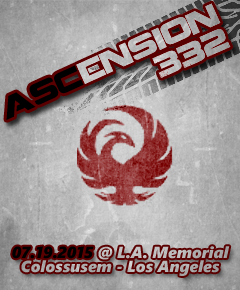 Live from Los Angeles
7.19.2015
Ascension 332
 
Welcome once again all Ascension fight fans, we are here to take an inside look at Ascension 332 which will be the second event on this day as a follow up to Ascension 332.5 and we are hopeful the combination of these two will see us jump back into the top spot in the rankings.  We did not have enough time this week to put together 2 previews so we have focussed our attention on the LA show which will be a follow up to Ascension making a stop in London earlier in the day.  Both of today's shows are on the heels of Ascension 331 which was a grand event highlighted by the back and forth war between Jameson Connemara and Moe Lester which saw Lester leading on the scorecards 3-1 heading into round 5 and looking to do it once again until running into a right hook followed up shortly thereafter by a brutal uppercut by Connemara to steal the fight, the bragging rights and most importantly for him to retain his Featherweight Title.    This event also saw Napoleon Complex work over Jupiter Jones during the first 2 rounds looking to prove this journalist wrong on his prediction fueled by the outcry by manager Baby Face Nelson only to completely run out of gas in round three where he was picked apart and then finally taking a massive overhand right ending his night leaving him to ponder what could have been!!   Tonight's show sees us return to sunny Los Angeles and the LA Memorial Colossuseum where like always we expect close to 93,607 screaming fans will be in attendance to take part in this showdown which features a Heavyweight title fight headlining the main card and a #1 contender's showdown that will undoubtedly from Featherweight Jameson Connemara his next dance partner.   Bo Juggernaut takes on Sergey Chernov in our Main Event of the evening for the 265 lbs title which will be looking to follow up the war expected between Vanilla Ice Cold and Suren Nazarethyan in our Co Main Event.   Here is a quick rundown of what we have in store for you this evening.
Main Event - 265 lbs Bo Juggernaut vs Sergey Chernov  **Heavyweight title fight**
Our main event sees a 265 pound title fight between Bo Juggernaut taking on Sergey Chernov .   Juggernaut comes into this one following a brutal KO loss to Andrei Kersikov under the Montreal Fight Nights banner in the middle of June but that was then and this is now and Juggernaut looks to defend his title for the first time.  Facing off against him is Sergey Chernov who is currently enjoying a 2 fight win streak and is looking to take out Juggernaut for the second time in his career and grab hold of the Ascension HW gold once again.  Having lost 2 of his past 5 yet looking to be an equal match in the standing portion of this one Juggernaut knows what he's up against and will look to use his experience both from the Kersikov fight along with his previous throwdown with Chernov to formulate an effective and winning strategy.  His 95% KO rate shows he means business and his opponents know exactly what he will be looking to do however that will be matched by Chernov who not only towers over the much shorter Juggernaut but also holds an unbelieveable 18 KO's in 18 victories resume.  Having only 1 loss in his last 6 fights Chernov looks to steamroll Juggernaut and take back the gold he lost at Ascension 319.  Both fighters prefer to end their fights at range however they are both able to work their magic within the clinch as well but we believe this one will mainly be fought at range with both guys mixing up their kicks and punches looking to end the others night with that one brutal blow.  During his career Chernov has seen every fight he has entered into end in the same fashion, and on this night we expect nothing less as he regains the title he covets with a second round devastating KO punch ending Juggernauts night and reign as king of the hill.
Co-Main Event - 145 lbs Vanilla Ice Cold vs Suren Nazarethyan
Tonight's Co main event sets up between a pair of veterans with aspirations of gold on their minds as they look to earn the right to face current Featherweight Champion Jameson Connemara.  Ready to wage war in this one is Ascension legend Vanilla Cold Ice who has already held the gold on four separate occasions and believes a win in this one will give him the opportunity to claim it for the 5th time in his career, however opposing him on the other side of the cage is Suren Nazarethyan who has won roughly 75% of his career fights has not had the chance to fight for the gold since his failed attempt early this year under the Evolution banner.   Since joining the Ascension roster he has enjoyed 5 wins in 6 appearances and with a 6th victory tonight will get the chance he has wanted since signing on the dotted line!   Both fighters come into this one backed by very sturdy chins as each have lost on only 2 occasions which is simply astounding.  Ice Cold is the much higher ranked fighter with the most to lose in this one but his high level pedigree will be his key to victory.  Having enjoyed T(KO) victories in just over 50% of his career victories Ice Cold doesn't care where the fight takes place, he is ready and has the skills to dominate.  Nazarethyan however has shown more success in both the clinch game and on the ground where he has enjoyed a 46% Takedown success rate followed up by an imposing ground and pound attack.   Even though Ice Cold has taken 20 victories by way of T(KO) during his storied career over the past 13 fights he has not seen a finish either in the victory or loss department as he has seen his past 13 fights all go to Decision, also factored in is 3 of his past 5 fights have all been against Connemara he will be looking to change up history and finish this one off then move on to attempt to solve the puzzle he has already failed at 2 out of 3 times.  Unfortunately for him Nazarethyan has other plans for this evening and will look to continue his quest to see his name placed in the same breath as Ice Cold and will steal this one with a Split Decision victory and earn his spot at the top of the division and his shot at the gold!
170 lbs Agent 47 vs Rustam Kersikov
Our third fight of the night is a welterweight showdown seeing Agent 47 taking on Rustam Kersikov.  Agent 47 sees action within Ascension for the 3rd time since making the jump to the big leagues on the heels of a 3-1 run with Hilo Fight League and then an even more impressive run of 4-0 in Hardcore Montreal Fighting League.   His more experienced opponent Kersikov is currently on a 4-1 run with Ascension while his only defeat was at the same hands of 47's last opponent Gary Player.  Kersikov, the half cousin of Marko Kersikov is currently under the watchful eye of his 3rd management team, and from the recent results in his career whatever changes were made have been working fantastically as he has only experienced 1 defeat in 9 trips to the cage.  47 comes into this one with a history of using his secret weapon at any opportunity, that being his advanced intelligence as he prefers to focus his efforts on the ground and his 6 submission wins account for 50% of his career totals.  His 46% takedown success rate doesn't hurt either, as in this game the key is to get the fight to where you hold the advantage and Agent 47 is one of the better young fighters to utilize that theory.  Kersikov meanwhile is a talented striker who has pulled back on the power that made him successful early in his career and recently has leaned more on an all around game focussing on grinding his opponents out over a full 15 minutes of action and relying on the judges siding in his favor.  I dont believe that tactic will work on this night as Agent 47's overwhelming takedown abilities will see Kersikov spend far too much time on his back where he does not wish to be, ultimately giving in to a submission by 47 early in round #3.
 
265 lbs Carlos Cutwood vs Grigori Rasputin
Our fourth fight of the main card sees our second heavyweight battle of the main card.  This one sees Carlos Cutwood take on Grigori Rasputin in whats like a shot at a six fight win streak for Rasputin while Cutwood looks for his seventh victory in 8 fights.  Cutwood moves over to Ascension following a very successful run in historic Org CFC and looks to begin a new chapter in his new home.  Having won 23 of his fights by way of T(KO) it isn't difficult to figure out what his gameplan will be, as even though he has enjoyed a 45% success rate on takedowns Cutwood's bread and butter is his KO power in his fists and even recently enjoying a monster headkick KO.  With all that being said staring him down is "The Mad Monk" who not only has a current 5 fight win streak on the go, but even more impressive during it is the fact he has won all 5 by way of finish.   Just like Cutwood is, Rasputin is also making his debut under the Ascension banner and is looking to take a step in competition.  Rasputin holds a slight Primary advantage in both Boxing and Muay Thai one would wonder if the reach advantage held by Cutwood will come into play in his gameplan.  When looking this one over we don't believe it will and think the 10 KO losses endured by Cutwood will be his undoing in this one as Rasputin will continue his run of finishes early in round 2 with a KO Punch heard round the world!
205 lbs Malietoa Feti  vs Nelson Gunn
Tonight's final fight of the main card sees what appears on paper to look like a complete squash match between Triple Elite Malietoa stepping in against much less skilled Nelson Gunn.  Both men rely heavily on KO finishes as they have enjoyed a better than 75% T(KO) finish rate during both of their careers.  Feti is the slightly shorter fighter however he is the heavier fighter in this one which could prove to become a factor carrying the additional 8 lbs around the cage.  During the past 5 appearances for Feti he has had a less than stellar 2-3 record which makes tonight an extremely important fight for him if he wishes to remain relevant and on the main card of his future appearance.  Gunn meanwhile has won 3 of 5 and was overheard backstage bragging of how he loves being the underdog.  Even though he is severely outgunned tonight the chaos driven kamikaze attitude of his notorious manager Mr. J will see Gunn swinging for the fences with only one goal in mind, and when he smells blood he will only become more obsessed with earning the finish.  We love a good underdog story and in this one you couldn't ask for a more entertaining script with Gunn ending his drought of finishes by taking out Feti in the third round by way of TKO Cuts Doctor stoppage.
 
Well folks thats all the time we have for the main card, but here is a quick listing of our other fights on this action packed event
 
170 lbs Azadshatru Singh v Jack Hoffman
       Singh By Way of TKO Strikes
 
205 lbs  Floyd Johnson v Teukka Salama
        Salama By Way of Judge's Decision
 
145 lbs  Malcolm Marshall v Itagaki Fukuzawa
    Fukuzawa By Way of KO Punch   
 
205 lbs  Bang Bang v Stan Paige
  Paige by way of TKO Strikes
 
170 lbs   Akira Azuma v Guy Georges
  Georges by way of Submission Triangle