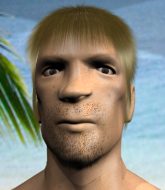 Glass Joe, MMA record 4-1
Following his recent win at SyFi 42 the Sydney MMA website sherkangaroo did an interview with Glass Joe talking about his entry into MMA and the early days of the SFC organization.
You came into MMA relatively late at 25, what was your background before then?
I was doing boxing in the Nintendo WVBA, yes don't even start, I know most people wouldn't even call that real fighting. And I wasn't exactly doing well there, not at all actually.. was never motivated for it and hardly threw a punch in most of my fights. Wasted years of my life going nowhere.
I can understand you wanted to leave that, but how did the switch to MMA come about?
After I quit boxing I moved to Helsinki in Finland. Purely for economical reasons, didn't have a lot of money and that was the cheapest place to live. There I met Mac, a guy I know well from my boxing days. He was completely on fire about MMA, wanted to invest the money from his boxing career - which was better than mine - into becoming a manager. Said he read some stuff on a web forum and he now knew exactly how to train and how to succeed in MMA.. not sure he really knew what he was talking about back then, but he convinced me to join as his first ever fighter.
You then got a professional contract in.. Sydney, why all the way down here?
I didn't have any say in it to be honest. The way Mac tells it is some guy called Bob just called him in the middle of the night (because of the timezone difference). He had somehow found out about me doing MMA and offered a contract. Almost a bit creepy, like he was stalking me via some registry of newly licensed MMA fighters or something. Claimed the distance to Sydney would not be an issue at all and that everything would work out great. Mac accepted to go down and see him without even asking me and the next day told me to pack my gloves, we are going to Sydney.
That was in the early days when the SFC had just started, how was it joining such a young organization?
There wasn't much money involved. When me and Mac first came down to sign the contract we slept on the floor in Bobs living room, didn't have money for a hotel. Bob wasn't exactly doing that well himself back then, but he turned out to be a really nice guy who tried to help his fighters out any way he could. For example I remember he gave me $200 once to help with my training fees. Doesn't sound like much today, but back then every little bit helped.
I've heard you say earlier training wasn't as good back then as today
Yes certainly true, crowded sessions in small gyms. Sometimes with horrible instructors. One of the guys I went to do BJJ with later turned out to be a fake blackbelt. There were gyms closing, always right after you paid gym fee for the next week. When Mac convinced more of our old boxing friends to come join us in MMA they went to Sydney, the main reason was better availability of public gyms  there - and of course being closer to the SFC events.
So how was fighting in MMA compared to boxing?
In my opinion much more strategic. There are so many more options for how to go about a fight and the gameplan you go in with plays a huge part. I love it, I instantly felt like a completely new man when I entered the octagon and let loose my boxing skills in a way I never did before.
You had a very successful start of your career, some have called it a Cinderella story.
No one ever believed in me for any of my first fights, cannot say I blame them considering my background before MMA. When I was put up for the title fight against Barbosa the odds were something huge in his favour.
That was the first 5 rounder in SFC history to go the distance, an epic striker vs grappler struggle
Yes, the fight of my life so far, one I will be telling the grandkids about for sure. I was working a lot of takedown defense before that one. The gameplan worked out perfectly for the first 3 rounds. In the 4th I was starting to tire, my concentration lapsed for a moment and he pulled me down. I was in a bad spot there by the end of the round when he swept me and got on top. I was silently cursing that fake BJJ instructor when the bell rang and saved me. Thinking of him though gave me new energy for the last round and in the end the decision was unanimous.
Now as an ex-champion coming off a fresh victory, what are your plans for the future? Will you make another bid for the title?
I wish I could say yes, I love this sport, I love fighting. I will be doing it for as long as I can. But to compete with guys who are both younger and had quality training in this sport before I even started in my first Cozad gym.. that's just not realistic in the long run. I'm proud to have held the belt of course but right now I'm just here to have fun, punch guys in the face and get paid for it on top, what else could you wish for?
Thank you for your time Glass Joe, given your record of "of the night" awards we can surely look forward to many entertaining fights to come.