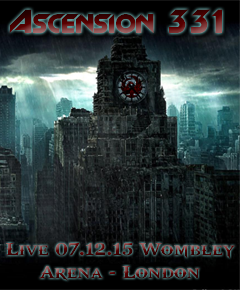 Ascension 331
Live from London
07.012.15
Wombley Arena
 
Welcome once again all Ascension fight fans as we are here to preview Ascension 331 which is right on the heels of the ultra successful event Ascension 330 which earned the company a 1003 event rating and put them right back in their rightful spot as the number one Fight Organization in the Tycoon community.  Tonight's show takes us to London and the Wombley arena where 93,607 screaming fans are here to take part in this showdown which features two title fights headlining the main card.  Both the Featherweight title and the Bantamweight title will be on the line in what looks to be another top heavy show that should keep Ascension right at the top of the hill.  Jameson Connemara takes on Moe Lester in our Main Event of the evening for the 145 lbs title which will piggyback the fireworks expecting between Jupiter Jones and Napoleon Complex as they throw down for the right to claim the Ascension Bantamweight title.  These 2 fights will easily be the icing on the cake and close out the evenings matchups as we have an action packed lineup from top to bottom.  Here is a quick rundown of what we have in store for you this evening.
 
Main Event - 145 lbs Connemara vs Lester  **Featherweight title fight**
 
Our main event sees a 145 pound title fight between Jameson Connemara taking on veteran Moe Lester .   Connemara comes into this one after defeating Vanilla Ice Cold by split decision back at Ascension 323 and looks to defend his title for the first time while riding a three fight win streak.  Facing off against him is veteran Moe Lester who is currently enjoying a five fight win streak and is battling back following some adversity and has reclaimed his glory with a chance now to win the Ascension title for the first time since he beat this very same opponent back June of 2014.  Lester will be appearing in his sixth title fight under the Ascension banner and thus far has an unfortunate record of only 1 win to go with four losses meanwhile Conamara will be appearing in his fourth title fight having won two of those three and facing the same opponent in all three.  Tonight's action will be the first time he faced someone other than Vanilla Ice Cold to hold the gold in Ascension.  Both men have identical primary skill sets and look to be very evenly matched in all aspects of the action.  Both of these men appear to have amazingly solid chins as only Lester has succumbed to a KO loss twice in well over 70 fights while Connemara has never felt the sweet taste of defeat by way of KO in over 30 fights during his career.  This one looks like it will be a battle to the final buzzer as both men will look to stand and bang each others drum until the ref steps in to put a halt to the action.   Having won 11 of his last 12 fights the thinking here is Connemara will continue that run while also achieving two goals he has thus far been unable to follow through on, defeating Lester and avenging the previous loss on his record and more importantly defending his gold which he has failed to accomplish in his previous two attempts.
Co-Main Event - 135 lbs Jones vs Complex  **Bantamweight title fight**
In Tonight's Co main event we see the Ascension Bantamweight title on the line as Jupiter Jones takes on Napoleon Complex.  In this one our champion Jupiter Jones holds a slight edge in Muay Thai however is slightly behind when it comes to the wrestling and BJ J game of his opponent Napoleon Complex.  This fight will be Jones fifth consecutive title fight in either Ascension or Evolution seeing him fight Rafa Silva to a draw and then losing in his last two appearances for Evo for their Bantamweight belt then jumping to Ascension winning the gold by beating Dan Price and following that up with a victory over Mr. Azure.   Jones is now looking to win his third consecutive title fight in Ascension and retain his bantamweight title.  On the opposite side of the cage we see Complex taking part in his second title fight within a top three fight organization having lost also too Rafa Silva in EVO then much like Jones leaving for Ascension where he has won two consecutive fights and is now looking to try and get his hands on the gold.  Both of these combatants show very similar backgrounds having won just slightly over 50% of their fights by way of TKO and just over 30% by way of the judges decision, both men seem to have solid chins and we are thinking is this one will come down to who comes into this fight with the best game plan and imposed their will on their opponent.  Jupiter Jones has shown more of a tendency to take his fights the distance recently whereas Complex has been more for the flair for dramatics with his stylish finishes. However on this night it is our belief that Jupiter Jones will take it by way of split decision victory.
185 lbs Anastasio vs Takala
Our third fight is a five round Middleweight showdown seeing Anthony Anastasio taking on Topic Takala.  This fight is a rematch of the battle that took place at Ascension 322 where Takala was able to pull off a decision victory over Anastasio.  Anastasia has been on quite the run recently having won 12 of his last 13  fights with the only blemish being the title fight  loss to Takala back in late May.  Similar to Anastasio, Takala has won five of his last six fights with his only loss being in the title fight at Ascension 325 against Neno Pejovsky.  Anastasia enters this fight with a huge reach disadvantage seeing himself being 17 cm shorter than challenger Takala but being equal in almost all primary skills other than BJ J.   However we don't feel that will come into play in this fight based on previous experience.   Anastasia prefers to use the dynamite he is holding in his hands however the chin of Takala has withheld many similar challenges and in over 50 fights has only seen defeat by way of KO on one occasion.  If Anastasia can adjust his previous game plan we have a feeling he has the skills to pull this one out but it will be no easy task.   This war goes the full five rounds in what could be deemed Fight of The Night with Anastasia pulling off a split decision upset catapulting him right into the title picture near the top of the division.
185 lbs Gustin vs Unit
Our fourth fight of the main card sees another middleweight battle take place between Melvin Gustin and Doom Unit.  This will be the fifth fight in Ascension for Melvin Gustin who has enjoyed a two and two record thus far with his losses coming against both fighters previously mentioned in flight number three Anthony Anastasio and Topi Takala.  Gustin likes to mix in some leg and body kicks however he relies mostly on his punching ability having seen 12 of his 23 fights end in TKO stoppages.  Facing off against him his doom unit who has enjoyed somewhat roller coaster ride within the Ascension banner having seen him lose just as many fights as he has won.  Unit has enjoyed a slightly more active career and has shown slightly better chin and we feel that this will be the main ingredient that will ensure his victory on this night.  Doom Unit will prove to be just a little too much for Gustin to handle and will take this one by way of unanimous decision.
185 lbs Avitan vs Seppala
Tonight's final fight of the main card sees yet another middleweight fight between Yossi Avitan taking on Henka Seppala.  This matchup sees Avitan come in with a distinct streaking advantage while Seppala has the better ground game.  Both fighters have lost two of their past three and are fighting to remain relevant in the Ascension 185 lbs division.  Avitan brings great KO power to the cage along with a solid looking chin however in recent times he has relied more on going the full  three rounds  and placing his fate on the judges scorecards to earn the victory rather than trying to finish his fights.  To drive this point home over his last 12 appearances he's only enjoyed two finishes.   Standing in Avitans way is Seppala who has enjoyed a 50% take down rate even though he only tries one and a half per fight and thinking is here if he gets his way to the ground that's where he'll try to keep it in order to maximize his ground skill advantage.  But even with all that said that doesn't mean that he's going to try straight out of the gates to go to the ground as he has shown even in his last fight that he's not afraid to stand and bang and wear his opponent down either at range or within the clinch and then take advantage of a late takedown to score more points and earn the decision victory.  Avitans recent cautious approach though a strong game plan could pose to be his undoing in this one as Seppala could prove to be just a little too much to handle over the entire 15 minutes and instead we believe he will look to expose the reach advantage he enjoys over Seppala and earn himself a 2nd round T(KO).

Well folks thats all the time we have for the main card, but here is a quick listing of our other fights on this action packed event
185 lbs Eliod Bunkley Iii v Tim Poutsi
Tim Poutsi By Way of TKO Strikes
 
205 lbs     Dragon Warfist v Tyson Jacobs
Dragon Warfist By Way of Judge's Decision
 
135 lbs  Alfredo Torres v Andrey Tutov  
Alfredo Torres By Way of Judge's Decision   
 
145 lbs    Sirodom Kingchanklao v Cletus Landry
Cletus Landry by way of KO Punch
 
145 lbs     Craig Clendennon v Lester Green
Lester Green by way of Judge's Decision