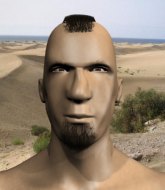 Vs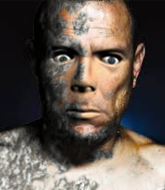 p4p 49 - "Far" Ken Oath - 20-5 (19 via KO)             p4p 2 - Carl "Crusher" Creel - 33-7 (29 via KO)
In a weeks time fight fans from around the MMA Tycoon world are going to be treated to another Superfight involving 2 heavyweight superstars. Stu PIdasol's Ken Oath fresh off his demolition of former p4p champion Don Marciano will take on the the current number 2 and former number 1 fighter in Carl Creel. The fight is headlining Ascensions Lorde card.
Ken Oath riding a 9 fight winning streak that has seen him shoot up through the ranks of the most stacked division in the MMA game. This is to be the biggest test of Oath's career as Creel hasn't lost a fight in his last 14. Both fighters have the ability to end the fight in one sickening blow, the 1 difference between the 2 is that Oath's chin has been his achilles heel throughout his career.
Reporter: Ken, hows it all going we haven't heard much from you since the demolition of Don Marciano?
Oath: I'm going great, there is nothing quite lke beating a fraud senseless. Speaking of Marciano have you seen who he is fighting next?
The reporter does a quick scan of the MMA fight schedule....
Reporter: WTF.. Marciano the former king of the game is fighting some bum that has lost almost as many has he has won??
Oath: Hahaha.. Yeah I know, it's hilarious. Marciano reminds me of Austalia's Anthony Mundine.. Lots of talk, spoon fed opponents and no talent. But enough about that scrub.
Reporter: I thought you might like to get a couple of digs in before we got your thoughts on Creel.
Oath: Well you know me well. As for Creel, he is going to be tough opponent, but look at him, he's nothing more than a poor mans version of Marciano, slightly taller, slightly lighter, has no ground game and doesn't posses the same power of Marciano.
Reporter: I never really thought of it like that....
Oath: Well I don't think many people would, so don't feel too bad, you're just like the majority of fight fans, you see a name, you see a manager and you jump to conclusions.
Reporter: Well to be fair, many have said Templeton is the greatest manager of heavyweights and probably fighters the MMA world has seen. 
Oath: He may very well be, but that doesn't mean that once his fighters step into the cage they are unbeatable, people freeze up because of they think oh no it's one of Lance Templeton's fighters his reputation beats people before the fight even takes place.. Me I couldn't give a shit about who he is, what he has acheived. All I care about is coming out there and catching Creel early. I'm going to turn his lights out by the 3:25 mark of the first round.
Reporter: You're now not only predicting a KO victory you're going to predict the time it happens as well, you sure you aren't biting off more than you can chew?
Oath: No... Creel has enjoyed his time at the top, but his reign at the is gong to come crashing down  at my hands. He won't fall as far as Marciano has but he will fall. Creel, my one piece of advice to you..... Enjoy it while it lasts.