BREAKING NEWS
Today marks the biggest black stain in tycoon history since Mentor was busted for multi's and scamming big dick pills, when two sub-par managers at best, were busted for fraud, fight-fixing, and straight up being douche bags. Congratulations dickheads, you've turned Vendetta into the Enron of MMATycoon. You can read the full story here.  
To nobody at Convicted Inc's surprise, Wolf, Aaron, and Vendetta still suck.

(Wolf celebrating after every fixed fight)



(Aaron celebrating after every fixed fight)

(Aaron approaching Wolf after he was given access to an FTP folder)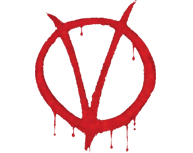 The V for Vendetta once again stands for V for Vaginas. Thanks to two special pieces of garbage, Wolf and Aaron, the success of the entire alliance comes into question.  Cheating was obviously the only way mediocre managers like Wolf, Aaron, and even Ryan Epicity (how else could this guy crack the top 10 lol.) could succeed.  We've seen dirt balls in the past; Mentor, Steel Penn, Castor, but Wolf and Aaron take the cake and go down in history as the dirtiest scumbags to ever curse the game with their presence.

Congratulations assholes, and good riddance.