Reflections Day1:
"I was sent to the island on special assignment by my manager. There is a secret Martial Arts tournament being held here, far away from civilization. As I approached the shoreline, I could see the other competitors making their way toward the entrance. I knew right away that this was going to be challenging, not just physically, but mentally as well. Just from the look of this place & some of the fighters here, I could already tell that there would be trouble inside & outside the ring. I better keep to myself as well as my ear to the ground. Anything can happen here. I promised I'd make it back to the US in 1 piece. With that said...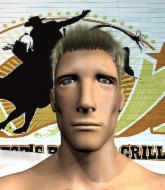 JOE ARMSTRONG
"I'm ready to rock n' roll"
(ooc: I was thinking we could get a story going for this thing.
Everyone has their own story as to why they're fighter is here.
We'll find a way to tie it all together into something awesome.)