As all of you know, Syn legend and olympic gold medalist Santiago Colon retired at the age of 34 after defending his Syn MW belt succefully again early february. A sad moment for the sport, as it always sucks to see a legend hang up his gloves, but we can't blame him as I've been to the Bahamas before as well and must say that it's tempting to not want to stay there. 
The Syn-staff wants to thank Colon and his manager Duphus, both absolute legends of the sport, for having been such a pleasure to work with and look forward to seeing some of his stall come to Syn again in the future. Congrats on all your achievements and we look forward to what the future brings! 
As Colon retired, he vacated his belt, what made that a lot of hungry challengers were thinking ' what is next? '.  Well, what is next is a big tournament, purely for the 185lbs division of Syn. In a royal tournament with our fighters, the next kingpin at 185lbs will be determined. 
Extra good news for the fighters; they won't fight with tournament pay ( lousy 5k, 5k, 5k as often is the case), but will fight on their regular pay and also get the chance of winning the grand price of 1milllion dollar for winning the belt if they win the tournament !! 
The entire division has been messaged last week and all are very interested in taking part.  The top 16 ranked guys will be in it and very soon the list of participants will be posted here , together with a list of the random draw for the tournament. 
TIME FOR SOME MIDDLEWEIGHT MANIA!!!! 
For those who are a bit new to the game and don't know who Colon is, lets give you a short profile of him: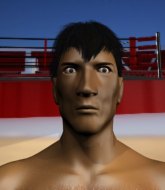 Colon started his career at 170lbs , but would go on to fight most of the time at 185lbs, a division he dominated for the last year. 
Known for his KO power and amazing chin, this destroyer would already early on show glimpes of greatness, as he already became champ at the age of 20. After a loss at a young age still, his manager parted ways with him and he was picked up by the man, the myth , the legend, Ruphus Duphus . Under his wings, a yourney started that will go down as one of the greatest of a long time. Colon would go on to become the Syn champion, defend his belt succesfully 3 times, all finishes and would go on to become the gold medalist in the olympics at MW as well. In the final of the olympics, he took on the guy who many consider the future of MW, Rockmeteller TOdd and showed him that Colon still reigns supreme.  
Colon retired at the age of 34 , having achieved all his dreams, and retired with a pro record of 31-9-0 and as the Syn MW champion. He is know enjoying life on a party-island, surrounded by luxury and women that we can only dream about...!