Just a little intro to the intro.. I fancied writing something, so I've been planning this for about a month now so I don't run out of content quickly. This first one is a bit boring and I apologize, I want to make it as entertaining and fun to read as possible and next week we should get into that, in my head in this game all my fighters have a unique personality and I love imagining how they interact with each other and this is just a fun way for me to really visualize it while (hopefully) entertaining you too. There is no rhythm or schedule to when I'll be updating new episodes or the size of each one, whenever I have the urge too I guess. I'm a guy that really feeds off feedback so please let me know what you think and tell me who you like the most I guess, I did it in the version of a documentary/reality TV show and even made myself and the host a character. So this should be fun. Thanks for reading.
Unicorn Powered Fighting TV show. An introduction to all the fighters.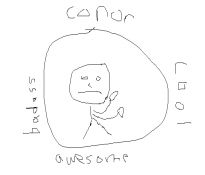 Logo made by Gwad
Hello and welcome to inside MMA gyms! For this series, eccentric MMA manager and MMA gym owner King Con, otherwise known as just Conor has opened the doors to let us film in his gym under the one agreement we don't televise, show or talk about any of the coaching drills we see. Although everything else, sparring, circuit training and strength and conditioning is available footage for our cameras. We'll be taking an inside look at his gym Unicorn Powered Fighting in Helsinki, Finland. Speaking to him and his fighters, about life as fighters, upcoming fights and about the gym. I am your host Owen Bryant and this is inside MMA gyms, a new series focusing on the fastest growing in the world MMA and how fighters live and learn before stepping forward into the cage.
The shot opens up on Owen shaking hands with presumably Conor, a young man around 5'8 small in stature, brown curly hair with blue eyes, seemingly very confident.
Thanks for letting us in Conor - Can you tell us anything about what we will see once we're inside?
Well you've come at a good time, the guys are just preparing for the morning session, they're a big bunch of characters so beware about that - Osvaldo Martinez and Drew Peacock don't speak any English so don't try to interview them. The rest know what you're coming to do and are absolutely fine with it, I think I saw Wijnbergen put some makeup on in preparation. Just don't ask any questions or piss them off, don't get in the way because at the end of the day this is a gym and not a studio and training comes first.
Sure thing Conor, we'll try and stay out of the way. You've touched on Oswaldo - Did I get that right?
Yes. Well nearly, it's OsValdo but not to worry.
Alright, well the point I was getting at was you've told us a little about Osvaldo and Drew, can you tell us about all your fighters in your gym?
Hmph, well alright. We have 12 guys training full time here, and 3 sparring coaches. I don't know where to start - I suppose with the guys I don't manage. We have Malik Al-Khadi a very good prospect from top, top manager Dean Sutherland in. I struck a deal with Dean and I have an open door policy for his fighters. Malik and Dean didn't sign any papers so you won't be able to get any more information from me or footage on him. Another guy who I don't manage but trains here is Quincey Ferguson, he's been here for a while now and is a good striker. Much like Malik you won't be able to get any more info or details on him.
That's fine we already know about that, what can you tell us about the fighters you manage?
Well starting with Cruz White - He's a crazy gangster who can take a lot of punishment, he is the SPI light heavyweight champion and he's representing our alliance Vendetta against the Bomb Squad in an upcoming fight card in Dissolution. He really is a wild card, but he's a great fighter with a lot of potential.
After Cruz White, we have Timothy McGee. A state champion wrestler from America who is quiet, not one for social interactions but is no doubt a future champion. All of the coaches give me feedback on this guy and how good he is, how fast he picks things up and in the cage he's a real killer.
How about Afeef Isa Baba? He's starting to make his mark in Victory Combat League
Yeah, you're well informed. He's the Saudi Arabian lightweight kickboxing champion. He wanted to make a transition to MMA, I got a phone call one day from this kid who could barely speak English. I gave him a trial and we never looked back. He has some real power. He struggles with the language, not through a lack of effort so he's not very sociable right now. All I know is he comes from a very wealthy family.
Scott Hall was introduced to the gym about the same time as Afeef, and couldn't be more different. This guy is a good looking goody two shoes, we call him the Hall monitor, as a play on his surname. He's a total perfectionist and hates doing things wrong or against the rules. The coaches love him for it.
Speaking of rules, as I said earlier. Osvaldo Martinez doesn't speak any English, I don't think he's ever bothered to learn. He's rather obnoxious, I guess I can say this because he won't watch this or understand this. Rules don't apply to him, he comes into training late, he goes too hard in sparring and is quite frankly on his last warning here at the gym. Scott and Osvaldo had a push fight recently when he took Drew Peacock down during stand up sparring. Scott is our super hero, standing up for those in need. Since Peacock can't stand up for himself. We found Peacock outside the gym one day, he can't say anything other than peacock and we don't know his name, his age or where he's from. He doesn't smile or frown, just "peacock peacock" maybe he was raised by peacocks or something. So we gave him the name Drew Peacock, sounds about right huh? Scott takes good care of him though, they live in the same apartment together.
Then it's to our three newest members, Albert Ricci, Joels Wijnbergen and Darryl Gibbons. Albert is still on trial with us, we rip him about his heritage, he has an Italian father but was born and raised in America with an American mother, he can't speak a word of Italian but is adamant of using it as bragging rights, but the kicker is, he's patriotic as hell about America too. So we call him "The All American Italian" until he can make his mind up about which he prefers.
Joels is a funny one, you probably know him. He has his own TV show out about kickboxing and self defence, I'm sure he'll let you all know when you interview him, it's a story he always recites about how he got bullied because he was fat and then he got into kickboxing and wants to teach everybody else how to.. *sigh* we hear it everyday.
Darryl is training here under my management while he competes in the BloodSport kickboxing tournament. He's a fun guy, makes everybody laugh. Fucking prankster though. How many times am I going to walk into a clingfilmed doorway? I think he even made Peacock boy laugh when he did some wrestling sparring in a power rangers morph suit. Will be nice to see him kick his opponent to shit soon, he's a talented kid.
Is it true you own an apartment block 10 minutes away from the gym? That's true dedication there.
Yeah. Getting people to come all the way to Finland is hard enough, telling them they have to find their own accommodation is unsettling, so I bought an apartment block that the fighters I manage and myself live at. They all have their own kitchen, bedroom, lounge and toilet but we have a common room too. Some of these guys are really close like Cruz and Timothy, but in truth my whole roster is new and they're all getting used to each other.
And it's still okay if we come to film in the common room of the apartments at some point?
Absolutely yeah, just don't go into their apartments, that's their time away from fighting and there isn't all that much of it, so be respectful.
Alright, with all that said. Shall we go on in and get filming with the fighters?
Be my guest, I'll open the doors for you.
To be continued….. (didn't realise how much I'd write)
I hope you guys appreciate the effort I went to to hyperlink all the stuff so you can take a look at the guys, I will be adding an up to date and relevant bio for all of them later on today. The beauty of this is, I can focus on whatever I like, whoever I like when I like. So if you guys really want a "Solving the mystery of Drew Peacock" or something I can do that easy peasy. I know what the next episode is going to be, it's going to feature all the guys and I'll leave a little tease on the reserved post.
As I said before, please give me feedback, let me know how to improve, if you're enjoying it (well all of what there is.. which isn't much) let me know and let me know what you are enjoying so I know whats popular! I'd also like to do cameo appearances of other managers, just let me know if you want to be involved.