In a not-so-distant dystopian future, President Donald J. Trump declares war on the NFL for it's lack of patriotism.  Jerry Jones criticizes the U.S. President for his interference and they exchange in a twitter war that last 296 days.  The NFL is divided as ratings spike, profits shrivel, and fingers are pointed.  With sanctions looming Robert Kraft pledges his loyalty to President Trump and in exchange the Patriots are officially pardoned for Spy-Gate, Deflate-a-gate, and Aaron Hernandez.  Donald Trump slaps sanctions on the entire NFC conference which cripples the economy and pushes the teams towards bankruptcy.  Jerry Jones leads a collation against the U.S. President in an attempted coup d'état but is defeated in a battle of dimwits. 
The NFC conference is in shambles.  It's forced to split from the NFL and become it's own entity due to the methodical and tactical destabilization of the U.S. President and his goonies in the Congress.  The financial crisis forced every owner to declare bankruptcy and shut down all sport related operations.  While the outside world watched the NFC implode from within, others saw opportunity.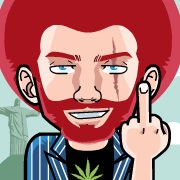 A notoriously wealthy business mogul by the name of Chris Karter assembles a team of business tycoons, lawyers, and financial investors to purchase the rights to the defunct NFC conference.  President Trump warns that he refuses to lift any sanctions against the NFC because he found the "teams and logos of his enemies of old offensive and unpatriotic".  Bribes are paid, blackmail is suspected, and a deal is made.  Trump declares it a win for the American people and compliments his Presidency for getting the deal done.  All 16 teams purchased are relocated, re-branded, and the NFC conference was resurrected under a new identity.  10 years have passed by and today marks the 10th anniversary of the NFC's resurrection.
Introducing the new NFC conference: