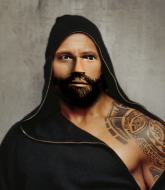 Silas is an albino and devoted monk of the Catholic organization Opus Dei. He often hurts himself as punishment for his crimes.
He grew up in Marseille with his parents. His childhood was far from ideal as his father was furious about having an albino as a son and blamed his wife. After a few years of beatings and cruel punishments, his father killed her.  Silas , only seven years of age at that time, couldn't deal with the pain of losing his mother. Two weeks after the murder on his mother, Silas used a buther's knife to kill his father in one of the most brutal murders in the history of mankind.
 
He ran away and was chased down by police from all over the world. He lived a life of crime for many years, making it even to the top 20 of most searched for criminals in the world by the FBI. After killing two gangmembers in Spain, he was imprisoned in Andorra in the Pyrenees. As if God wanted to save him, an earthquake destroyed the prison walls and he was free again.
He met a young Spanish priest, named Manuel Aringarosa, who got him back on the right path. When he was born, Silas wasn't called Silas, but Marcel. The Spanish priest gave him his new name, after a person in the Bible who was freed as well by an earthquake. Aringarosa would go on to become the head of Opus Dei and Silas became his enforcer. Even at his young age, he already was one of the most fearced assasins in the world. Opus Dei created an MMA team a few months ago and Silas is the most promising young fighter in their team. Remember his name guys! He is the real deal.