BIG NEWS : Finally the media have been able to talk to Fabian Hoi, the norwegian prodigy!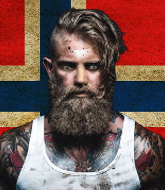 Fabian Hoi 
 
For the first time in the history of his career, Fabian Hoi has accepted to talk with the MMA media. There has been a lot of talk about him and he thinks it's his time to talk now. Find out more about the norwegian MMA prodigy in the following interview. 
----
 
Hey Mr. Hoi! It's great to finally see you in person and being allowed to talk to you! 
 
Likewise. I never really was informed by former managers that it is interesting for a fighter to promote himself. My manager Bjorn O'Donnel has changed my mind about that and learned me that in this modern age, it's actually important that the world knows about you. 
 
It certainly is! Does that mean that we will here more often from you? 
 
Yes indeed. As long as my agenda allows it, I will try to keep my fans and the media informed on my progress as a fighter and how my life is going. There are a few interesting facts about my life that nobody knows about and I would love to talk about later. 
 
That's great news! 
 
Just one thing. Don't ever reach out to me again. I am the one who choses when I talk to the media and not vice versa. 
 
( The reporter is clearly intimidated by emotionless face that Hoi has during those hard words and decides to try and lighten the mood a bit) I heard that you are really enjoying NY . Can you tell us a bit more about that? 
 
Hmm, ok. Well , I can't say that I enjoy NY as a city really, but I enjoy the quality gyms that the city offers. I train in my manager's gym - Bjorn's Elite Team-  and also in - River's Edge Gym-. Both have been great places for me to improve my skills and I have been getting a lot of great training lately. The results of my hard work are clear. 
 
That's the least one can say! You have been doing great your entire career so far and haven't been looking any less lately at all. How did it feel to make the jump to the big leagues with your new manager? 
 
It feels great! Me and my manager decided that the only place were I belonged was a top org. I got like 20 contract offers, but choose Syn , as they gave me good pay and are legendary org with great staff. It was not easy to let down some other orgs that my manager likes as well, but in the end it was a good decision to choose for Syn for sure. 
 
You had 2 good victories in your first fights in a top level org. Did these fights played out the way you wanted or is there something you would have liked to see differently? 
 
My first fight was against a dangerous KO fighter, but I proved to be dominant during the fight and got an easy decision victory. I would have rather seen a KO win, but that's life I guess. In my second fight in Syn, I got another easy decision victory, but it must be said that this guy is only 22 years old and has the potential to be an absolute monster. I wouldn't be surprised to meet him in the cage later on again. He has the potential to reach the top as he is highly skilled and has a granite chin. 
 
He will be happy to hear that I imagine. How are you liking ITFL so far? 
 
The tournament has the potential to be great. There are almost nothing but great fighters/managers in it and GBK seems to be working hard to make it a big hit. I hope that the previews etc keep coming as they are very enjoyable to read and are a big extra value for the tournament if you ask me. 
 
What do you think of your team? Are they strong enough to get very far? 
 
Oh yes they are! We have a great team and will only get stronger as the tournament goes on. We work together very well and are a very complete group of fighters. In the first round it were the 170lbs fighters that got us the win, but don't be foolish to count our heavy guys out yet, as they have some big potential! There is one HW on my team that I have seen train and I can guarantee you that he is going to tear everyone up that stands in his way!  Our team got an upset 4-3 victory in the first round against the favorites, so that already shows that we are not looking to be just an average team at all! 
 
That certainly was a big win for your team, but what said then about your win over Yates! That was some crazy stuff man! 
 
Haha, thanks! I must say that not much surprised me. I knew that Yates was a very tough opponent, but I trained extremely hard. Yates told me that he would keep the fight standing a week or so before the fight, but I knew that wasn't going to happen. I would dominate him standing and he knows it. His only chance was trying to get me to the ground. Guess what, I knew that and adapted my gameplan accordingly. I dominated him the first round standing and knew that he was going to need to take me down and so he did in the second. He tried to get a kimura twice, but I wasn't going to let him get it. Yates understood that it wasn't going to work and then changed to trying to gnp me, but I got hold of his arm and seconds later he was tapping. Crazy finish and I am very proud of it. 
 
That was crazy indeed! I guess some 170lbs fighters are pissing their pants right now . 
 
I'll bring some toilet paper along every fight that they can have if they are too scared, so that they clean their pee up. 
 
Haha, that's awesome! Who is your next opponent? 
 
A guy called Nomo. I don't really care who is next. I will accept the fight offer when I get it and then I will scout him and set up a plan to make him fail miserably as well, just like my last opponent. 
 
I heard that you received 'Sub of the night' award for your amazing submission win over Yates. I haven't seen it on your record yet. What is going on? 
 
Honestly, I don't know. My manager confirmed that he got the money, but he doesn't want it. It's my money and it's my price. My management team has messaged GBK and hopes to hear from him about the award. I want that award . My manager has sent back the cash as he doesn't want it. All that we want is that I can get that award that I deserve and that it's official. He announced it, but hasn't published it for some reason. 
 
Strange. Hopefully you will receive it soon. You certainly earned it! 
 
Thank you. ( gets a text message) 
 
Maybe we should end it here as I already have taken away a lot of your time and I understand that you are a busy man. 
 
Ah yeah, the message isn't work, but more like fun orientated. I'll explain it later to you , but not right now. Anyway, you are correct, I must leave. I don't want to be late for training, or I'll have to run some extra laps and that sucks! 
 
Have a great training session Mr. Hoi and I wish you good luck for your next fight! 
 
Thanks man, I appreciate it!