Welcome to The Synchronicity Six, where we will be giving you the chance to get up close and personal with Syn's last remaining warriors as they each make one last venture into the cage for Syn and the Tycoon Olympics.  5 fighters will be fighting to bring home gold and one fighter looking to add bronze to what has been an amazing Tournament for the fighters, their managers and Syn.
First up is none other than Devlin Styles...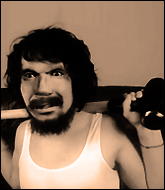 Name: Devin Styles
Nickname: "Furious"
Weight (Natural): 205lbs  Height: 187cm
MMA Pro record: 25-8-0
Biggest Accolades: Former Syn' 205 & 265 lbs champion
Manager: Blunts Allday (record 14-5)
On Friday the 4th of July, Devin Styles will be facing the man known as "The Holy Man", Jensen Saint, in the finale of the Light Heavyweight division in the first MMATycoon Olympic Games. The two men will battle it out to be known as the best light heavyweight in the games and only one can emerge winner, taking the victory back to their respective organisation. Styles will be battling to take gold back for Synchronicity while Vatican City resident Saint will want to go home victorious to EVO.
Syn' will have to put a lot of faith into the younger Styles, as the 29-year-olds result this Friday could make a huge difference in where they finish in the final table. Styles' has earned the trust and respect of the management and his fellow fighters, not only during the Olympic period with two impressive stoppage victories, but also during his time with Synchronicity. Since his arrival on the scene in Syn Styles has had 16 fights and during that time he's won both the light heavyweight and heavyweight titles, with his biggest achievement being when he stopped the hype train known as Scotty Bennett (Bennett before his defeat to Styles was previously 27-0 pro record).
Devin was also once the world number 2 pound-for-pound fighter after an impressive period of ten victories in eleven fights before losing his heavyweight title to "The Thing" Ben Grimm. It is unclear at this point what Devin has been training in the lead-up to this bout but with 21 of his 25 victories coming by (T)KO stoppages, it's hard to see any other game plan that go for the knock-out. The only concern Styles' may have coming in will be the ability of Saint on the ground but if Devin can keep the fight standing it's hard to look past a Devin Style and Synchronicity win on Friday night. We look forward to seeing you all there and please send your best fan photo's to the Synchronicity twitter (or Smack Talk page) in support of the Light Heavyweight hero!
Written by Dan Milner