Good evening gentlemen! Doctor Zoidberg [a.k.a. Barney] is proud to announce a new clothing shop in Rio de Janeiro: El Zoido's Feeble Fightwear.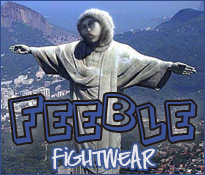 Feeble designed fightwear for feeble talented fighters. Looks cheap. Cost Cheap.
We also accept logos and custom orders. Custom skins, Custom alliance t shirts, maybe custom avatars! This is the one and only place to buy your Barney's Cheap Custom - all the kool kids are wearing. 100% Genuine, cheap customs.
 
Here are some of our sponsored fighters and friends enjoying the opening party:
Soon to be posted again
Check our art gallery! Visit our store, get feeble!