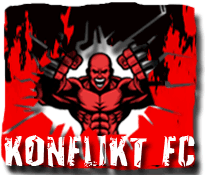 What once was, will be AGAIN!
On March 17th you will experience the re-emergence of a movement so powerful it forever changed the landscape of MMA Tycoon. The winds of change are blowing hard and those in its path best seek shelter. The world renowned KONFLIKT FIGHTING CHAMPIOSHIPS will rise once again upon the Tycoon World and lead the charge of the 330K ID Revolution!
It's time for something old to become something new.
The Mecca of MMA (VEGAS BABY), will be the site as KONFLIKT FC I takes place in front of a ravenous and blood thirsty crowd of 400 screaming lunatics 
  at the Micro Arena.
Security & VIP Credentials handled by Convicted Inc.
Get Ready for KONFLIKT.
CLICK HERE for fight previews by: Noah Liamson