EVO 249: Hess vs Maldini
Preview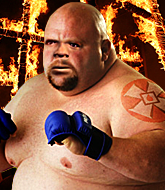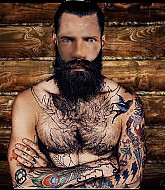 "That fat mess is going to sleep in round 4"- Maldini
And for the second EVO card this week, here is Timqwe with the preview:
Phol Hunt (31-5-0) vs Adrian Shota (21-7-1) – 185lbs
Phol "One Punch" Hunt, is one of those guys that you can't believe he isn't champion. The man has been champion in three different organisations already. One of these titles was the EVO championship, but he lost that at EVO 237 against nemesis Rockmetteler Todd. After that, the 32-year old striker beat Jalovaara by late TKO and edged out a split decision against Samusovias. He's looking to get another chot at champion Todd, but since he's 0-2 against the champ, he'll need a mighty impressive performance.
His opponent is the Senegalian Muay Thai specialist Adrian Shota. Shota is making his debut at EVO, coming from the now defunct Ultimate Proving Grounds. There he was the last middleweight champion, having not lost a fight in his last six fights. He'l want to make an impact in his debut, and scoring an impressive win over the former champion might make give him the possibility to add another title to his resume.
Joe Frazier (38-17-1) vs Rocky McColgan (31-8-0) – 265lbs
Fireworks in the heavyweight decision up next. Grizzled veteran Joe Frazier takes on the brawler Rocky McColgan. Joe Frazier has been with Evolution for what seems like forever, making his EVO debut at EVO 151, twenty fights ago. In the time he was with EVO, he managed to win the Heavyweight title against Apollo Gutz, but failed to defend it against Guiseppe Maldini. After that, he went on a 3-fight win streak, before losing his last fight against that same Maldini. The 37-year old will look to proof that, besides his doubters, he isn't done yet, and still has a run in him.
Fireworks are guarenteed with his opponent of the night: 31-year old Rocky McColgan from Ireland. McColgan is a smaller heavyweight, weighin in at 244 pounds. Despite his smaller frame, "Cocky" has some impressive strength, dominating opponents in the clinch. The man has been a champion all his life, winning the BEEF Heavyweight title in only seventh fight, and being in a total of 17 titel fights in his life. His last one didn't go his way though, losing against Brick Tires, what started of a three fight losing streak. He bounced back knocking out Marailov just before the end of the first round, and will try to do the same to Frazier, to come one step closer to what he believes is rightfully his.
Taisto Perälä (20-7-0) vs Nikolai Luzhin (20-5-1) – 170lbs title
The first title of three is up next. Perälä hasn't been increddibly buzy with the title these days, opting for superfights instead. After winning the title from Conan at EVO Undisputed 2016, he went on to retain it against Nada at EVO 241. In the same time, he also went on to have superfights with Bjorn Helgi and #1 rank lightweight Ricki Rocker, ending both fights in losing fashion. The only 26-year old kickboxer will try to prove against Luzhin that he's still one of the best welterweights in the world.
Luzhin is getting a titleshot straight away in his EVO debut. Not an unwarrented shot though. Luzhin is the former UPG champion, and has not lost a fight in UPG, going on a five fight win streak. The 31-year old Ukrainian has the striking skills to match Perälä and posses some very deadly knees in the clinch. Expect this one to be a war.
Hector Camacho (30-6-0) vs Ozzy McKane (23-5-0) – 155lbs title
The second of three title fights is up next. Camacho has looked very impressive in his EVO run. He won the title in his debut, and hasn't let go of it since, only losing a superfight against Connemara. Camacho prefers to limit all danger, using his allround skillset to either keep his opponent at range, or grind him up on the ground, coasting to a decision.
Going to the ground might not be the best idea against McKane though. The Irish black belt has racked up eight submission wins in his career. He's coming over from Trinity, where he was a three time champion, as well as the reigning champion. Also winning the Evolution championship, might make him one of the greatest lightweights of all time.
Jon Hess (27-12-0 MMA, 15-2-0 KT) vs Giuseppe Maldini (32-19-0) – 265lbs title
Two heavyweights with a lot of fights under their belt go at it in the main event of the night. While both being 34, they already have a combined total of 108 fights. Hess hasn't been that long in EVO yet, but it only took him three fights to get to champion Brick Tires and defeat him by TKO. Hess sports some impressive power, finishing all his wins by (T)KO and is probably the best pure striker at heavyweight, maybe even in the whole world.
Maldini is no slouch in the striking department either though. The former champion is very powerfull, and always stays dangerous. He throws a very low volume of strikes, opting to keep his opponent at bay, until he can hit him with that one big shot. Faced, against the on paper better striker Hess, he might do something we rarely see though, and see him utilese his black belt. No love lost between Maldini and his opponent too, as Maldini called him "a fat mess" on buzz, and predicted that he "would go to sleep in round 4". Watch EVO 249 tonight, to see if he follows up on his words.