EP35: Showdown in the Bay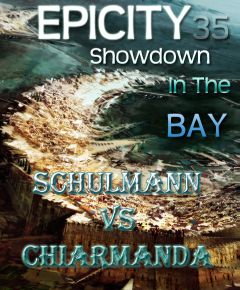 11th July 2015
Live from the Wandalay Bay arena in Las Vegas!
In association with Conquer Clothing!
Good evening ladies and gentlemen and welcome to our preview for Epicity's latest event, EP35: Showdown in the Bay! Following Wednesday's epic battle for the Welterweight title, the focus now shifts to the Lightweight division as Yaniv Schulmann defends his title one last time before moving on to compete in the ITFL. He will be competing against Ossilus Chiarmanda, who makes his EP debut in this fight also. The fans are excited for this card, so without further ado, let's kick off this preview with my predictions for the undercard, followed by the preview of the main card!
UNDERCARD
Fight #1 - Guthrum Oskar def. Pepe Lopez via (T)KO in Round 2
Fight #2 - Test Subject def. Jalmari Pullo via (T)KO in Round 1
Fight #3 - Chet Lamare def. Virgil Dreesen via (T)KO in Round 3
Fight #4 - John Hoop def. Andrey Danilov via (T)KO in Round 2
Fight #5 - Stefan Kung def. George Baba via Submission in Round 2
MAIN CARD
Fight #6 - Middleweight Division!
Ho Chi Min (5-3-0) vs Noirtier De Villefort (7-2-0)
Kicking off the main card we have a Middleweight bout that sees Ho "Noodles" Chi Min take on "The Bonapartist" Noirtier De Villefort.
Ho Chi Min is a dangerous Muay Thai and BJJ fighter who is known for finishing his opponents as well as being difficult to finish. He has spent his entire career in EP, and recently broke a 2 fight losing streak with a TKO victory in the third round against Guthrum Oskar. In addition to his style, he also has a Granite Chin which he will be hoping will allow him to time to take effect with his strikes and secure a win.
Noirtier De Villefort also possesses a Granite Chin, and he recently made his EP debut with a TKO Strikes victory early in the third round against Pepe Lopez. He has a solid record of 7 (T)KO's from 7 victories, and the only 2 losses he suffered both came at the hands of Insanity 185lbs champion Nolan Sackett. He will be confident of winning the striking battle, while his ground defences seem to be solid.
Overall, I think De Villefort has the edge going into this fight, but I wouldn't be surprised if Ho Chi Min came away with a win, but he will need to dictate the tempo to stand a chance I feel.
Prediction: Noirtier De Villefort to win via (T)KO in Round 2
Fight #7 - Light Heavyweight Division
Boogie Knight (11-6-0) vs Selfrid Bergman (8-4-0)
Following up that fight is a Light Heavyweight contest as Boogie Knight goes toe to toe with Selfrid Bergman.
Boogie Knight is currently 6-1 under his current Freddy Krueger and has recovered well from that solitary loss with 2 wins in a row, both via Unanimous Decision. He has a good record of (T)KO wins, with 9 of his 11 wins coming via stoppage. His BJJ and Wrestling are mostly used for his defense, as we have seen he loves to strike from range using both kicks and punches, and is no slouch inside the clinch either.
Selfrid Bergman is a grappler who is a workhorse when it comes to getting the fight to the ground and remaining active when he gets it. He recently avenged his EP debut loss to Pete McKallister with a second round TKO win over my own former fighter Bray Wyatt. He faces a much more skilled opponent in this bout however, but will really show his potential if he pulls off a victory.
Overall, I think Boogie Knight is just too sound defensively, but if Bergman can get him down, he can cause some serious damage. I expect Knight to take this though.
Prediction: Boogie Knight to win via (T)KO in Round 2
Fight #8 - Welterweight Division
Lewis Scott (13-4-0) vs Ronin Mori (9-6-0)
Our last fight of the Main Card before the Main Events is a Welterweight fight that sees former Gamasi champion Lewis Scott take on former ITFL Season 3 competitor Ronin Mori.
Lewis Scott is going into this fight with his third manager in three fights. He was sacked by manager Jacob What after suffering consecutive losses to Sinbad Sailor and Bobby Shamrock, before being picked up by Ivan Drago, who also sacked him after a win against Derek The Brave. He is a Sprawl and Brawl fighter who has good levels of Muay Thai and BJJ also. He has a great record of KO's, with 12 in his 13 wins showing he has devastating power, and he will be relying on that in order to get a victory.
Ronin Mori is on a good run under new manager The Can Crusher, going 2-0 early on in their partnership. Mori has a Granite Chin which has kept him in contests on plenty of occasions, and it has been displayed with 0 (T)KO losses in his career. He has almost elite levels of Wrestling, and his Striking is a dangerous weapon. He has shown the ability to take a punch while continuously pressing forward, and he will be looking to that to win here.
Overall, I think Mori's Granite Chin will be his saving grace. If he has high levels of Clinchwork, he should use it to control the action, and continuously work over his opponent with strikes.
Prediction: Ronin Mori to win via (T)KO in Round 2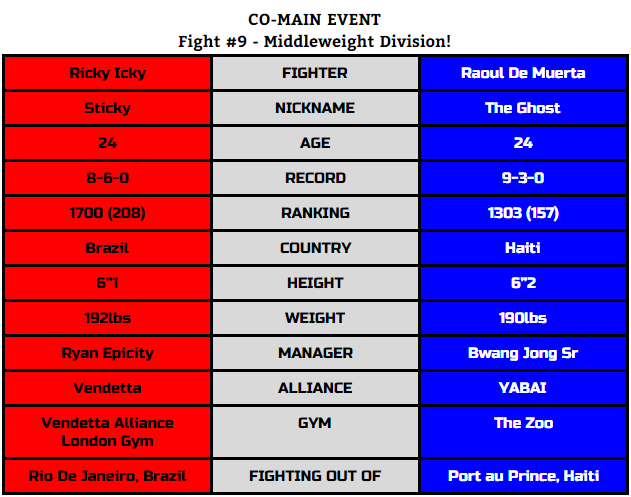 Our Co-Main Event of the evening is sponsored by GBK16's Writings. For quality and consistency, contact Grant Brophy (93477) for all your writing needs!
Our Co-Main Event of the evening is a Middleweight clash as Ricky "Sticky" Icky makes his EP debut against another debutant in Raoul De Muerta.
Ricky Icky is making his EP debut here after undergoing a bit of a transformation. After competing under the name of Carlos Hulk as a client of Moyses Mattos, he was released by Mattos and changed his name by deed poll to Ricky Icky. He got off to a winning start under Ryan Epicity's management, with a KO finish within 2 mins against King Cult in MFN. He signed with EP, and is now competing against another fighter who used to be in NYFN, in Raoul De Muerta. Icky possesses formidable KO power, and when combined with his Granite Chin, he is a fighter with a lot of potential who will be looking to start his rise here.
Raoul De Muerta is a fighter who really packs a punch, as his 9 KO victories display. His 3 losses all came against tough competition, with all 3 of those fighters being touted as potential stars of the future. Muerta himself is a former Middleweight champion at NYFN, and decided his best move upon leaving NYFN was to sign for EP, and he is now looking to make an immediate run at the title. While his opponent has a Granite Chin, Muerta possesses KO Power that can easily crumble it.
It's a tough contest, as both fighters have great potential. Muerta's KO Power can easily win him the fight at any time, but Icky's Granite Chin can keep him in the fight long enough to use his own KO power to get a win. Don't be surprised at either guy winning here.
Prediction: Ricky Icky to win via (T)KO in Round 2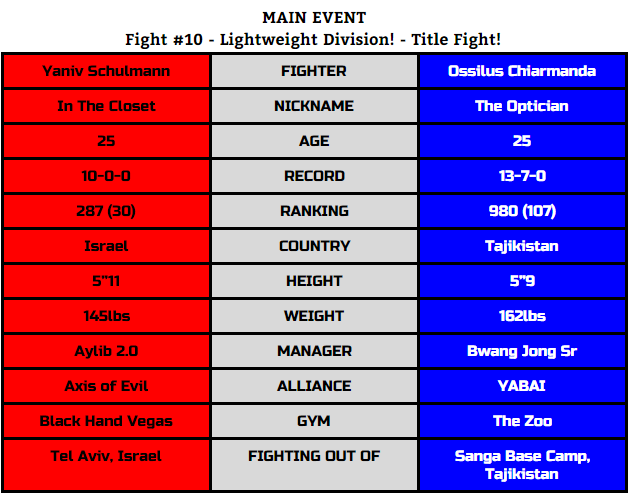 Our Main Event of the evening is sponsored by Conquer Clothing - The official merchandise partner of Epicity!
Our Main Event of the evening is a Lightweight fight for the championship as Yaniv "In The Closet" Schulmann takes on debuting title contender Ossilus Chiarmanda.
Yaniv Schulmann is one of MMA's brightest prospects right now, being 10-0 so far in his career, he has also compete in 5 different orgs so far in his career, with this fight equalling his record for number of fights in any one specific org. His debut in Epicity saw him capture the title in a Unanimous Decision victory over Jeffrey Miller, before he defended the title successfully against Joaquim Antunes with a Submission victory. With this being his last fight before leaving for the ITFL, Schulmann will be looking to leave with a victory, and will need to be at his best to do so.
Ossilus Chiarmanda is competing for the title in his EP debut here, having signed upon the expiration of his Troid contract. Currently on a 2 fight winning streak, he has used his striking well in gaining 9 (T)KO's in his 13 wins. A former KT champion with 2 different orgs, he is 3-2 so far in his MMA career, and will feel claiming a title in MMA as showing he made the correct decision to move over to MMA, but he faces a tough challenge in Schulmann.
Overall, I think Chiarmanda is the favourite coming into this bout, but he will need to use his striking efficiently. Schulmann can dominate fighters if he is given the opportunity, so it is up to "The Optician" to ensure he hits Schulmann hard and control the fight. However, if Schulmann can get it to the ground, I feel he can end it.
Prediction: Ossilus Chiarmanda to win via (T)KO in Round 2
That's all from me in this Preview. Some big fights happening, and a lot of fights that will be pretty tight come fight time. Be sure to look out for the results just after 2am GMT, but for now, it's good night from me.