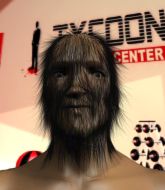 Tomas Nxon
It's really starting to hit me how much I've overachieved. Your greek friend is older than me. In fact I'm the youngest guy here. I won the belt at 19.
Mester I wish nothing but the best in teaching the beautiful intracacies of the ground game to the next generation and I'm sure i'll run in to your protege one or twice in the future, hell I love a challenge and maybe I can teach him a little humility it sounds like he desperately needs.
Anderson I think i'll be seeing you in the near future so what more can be said other than, I hope the two of you beat the holy hell out of each other.