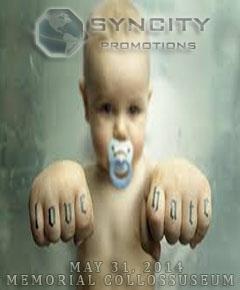 Coming to you live on PPV from the LA Memorial Colossuseum (capacity 93,607) on Saturday 31st May
As we look forward to when Synchronicity will bring you their three-hundred and second weekly show live on PPV, we take a closer look at the fighters and match-ups that fill the card as 20 fighters in 10 top, world class fights give it their all to become the best. Another stacked card with 2 title fights is unlikely to disappoint so we'll start there.
Lightweight Title Fight
*Champion* Michael "Nuts of Wonder" Patton (46-15-1) vs Derek "The Artist" Riggs (29-17-0)
Pound for Pound Patton is considered the number 7 best fighter in the world, in his own weight class you're now wondering? He's the number one in the world! His opposition on paper may not be quiet as formidable but Riggs was on a current four streak win run and on Saturday he was looking to make it five. The Champion may have gone in the favourite but "The Artist" is just that, a true technique artist in his striking and was no written off what so ever by the fans!
The fight was of true main event quality and both me proved why they were headlining a card with such formidable fighters filling it from top to bottom. It was 5 rounds of pure class from both me, exchanging strikes, holds and takedowns. At various points within the fight both men could've been made to tap by the other but it was not to be that day and they went the full distance. When 25 minutes isn't enough to separate two top class athletes it hardly seems fair it comes down to the opinion of three people sat around the cage watching in but that's how a winner had to be decided.
It was announced to the electric audience (and the two fighters) that after 25 minutes, 5 rounds, that – by Split Decision – their Champion of the Lightweight division was…… still Michael "Nuts of Wonder" Patton! Scoring of the three judge's puts an exclamation point on just how close a contest this fight was, with 47:48, 48:47, and 48:47. This fight isn't just one of the fights of the night; it was truly one of the fights of the year and is worth catching on the replay. We can only hope as fans we get to see a re-match of this great fight as these two men really went to war.
Welterweight Fight for the Belt
Yang Tao (30-10) vs Sergiy Sklyar (32-8-1) *Champion*
Coming into this one, Sergiy Skylar's only loss had been a title fight against Buzz Cloltran at Syn'278 but he won the belt back a mere 2 fights later and currently boasts a 7-1 record during his time here at Synchronicity. His opponent Tao is on a current 3 fight win streak beating very formidable opposition during those fights in the forms of, Ben Stone, Motanna and Shawn Kronburger. This fight was always going to be a hard fought classic no matter the result but on Saturday night, these two truly delivered.
Just like the main event this one went the full distance and holds a very similar story. After three rounds this fight seemed like it was being edged by Skylar, the champion digging in and performing as expected but knowing he was losing on the score cards after three only inspired and motivated Tao. Tao pulled out one of the best round performances in the fourth round as he gave Skylar very little space and dominated the stand-up. Going into the last round it was all tied and just a matter of who could take it. Would Tao be walking away the new Welterweight champion or would Skylar make his record one win richer.
The final round was the closest of the lot, with both fighters giving their absolute all trying to put away the other or at least lead on the scorecards, trading shot after shot and really putting on a show for the Syn fans. As the bell rang, you could smell the anticipation in the air, as both men got ready to celebrate their name being called and all judges had agreed one their scoring, leaving the announcer to tell the world that their NEW Welterweight champion of the world was Yang Tao by Unanimous Decision (48:47)! Post-fight Tao was clearly emotions but made a heartfelt thankyou to all of his fans for their support.
Syn'299 Rematch
Apollo Jackson (17-3-1) vs Evgeniy Malkin (17-6-2)
The rematch the world had been waiting for, after their previous battle had gone the full 15-minutes allocated to the three round bout and at that point the judges couldn't even separate them, the , was awarded as a draw. This was something neither man was content with and while the respect was clear, it was also obvious they wanted to go a few for rounds so they could have a decisive winner.
And the first round picked straight up where the last fight had left off, with both men equal to a point where the fans were chanting their names and nobody envied the jobs of the judges having to give an official scoring. And while the fight remained close, that was the last near unseperateable round these two men would contest, as Malkin began to take an edge in the second and controlled the third successfully despite Jackson fighting throughout till the end. Almost fittingly the winner of this – in effect – 6 round war, came down to the three men around cage side and they awarded Malkin with the Unanimous Decision victory. A clearly disappointed Jackson and a nearly speechless Malkin showed great respect post-fight for one another and it'd be hard not too after the war these two had engaged in over these two Pay-Per-Views. These three top fights on the card were worth the ticket price alone for the fans and all 6 men involved really did Synchronicity proud on Saturday night.
The Main Card
Dragon Slayer (20-7-1) vs Damon "Pretzel" Pierce (32-18)
Slayer vs Pierce saw something, that in no other fight, a total of 31 other rounds worth of fighting, we saw all night. A fight that not only saw a finish but didn't get out of the first round! Slayer battered Pierce with some solid striking that saw him finish "Pretzel" in under three minutes, gaining a TKO victory when Slayer landed a big uppercut that left Pierce on his knee's against the cage and needing the referee to jump in and stop the strikes from Slayer raining down. When the finish came the crowd went ballistic after having watched six other fights all go to a decision, the delight from seeing a fight finished was clear. When the announcement was made it was met by a standing ovation from the 90,000+ packing the collosuseum.
A J Hearts (28-9) vs Zoran Miloshevich (27-14)
A solid bout 3 round bout between 2 of Synchronicity's more quiet fighters, who may not have gotten off to the best start in the respective careers but have both been great to watch in the cage. They did not disappoint as they used every minute of every round to try and sway the judges points in their favour but from the moment Hearts cut open the head of Miloshevich it looked like their could only really be one winner. A J  Hearts performed superbly and just edged out each round in his favour after heavily controlling the first to take a deserved Unanimous Decision (30:27) victory. A lot of people will be hoping to see big things from a more confident – yet very respectful – AJ Hearts.
"God's Worker" Jonah Sumrall (18-6) vs Alfonso Lopez (16-5)
Not a fight that was likely to set the world on fire and it turned out exactly how most expected, a three round fight with little in the way of persuasion that one man would threaten to finish the other. The closest chance to a finish the fans saw was when Lopez (who controlled most the fight) got knocked down by a good headkick from Sumrall and "Gods Worker" tried to close on the finish but was denied by the resilience of Lopez. Lopez went on to win all three rounds – deservedly so in the eyes of most – by unanimous decision (27:30). Looks like God turned his back on his worker on this one.
Undercard
Sergei "El Fenómeno" Kharitonov (19-8-0) v J "Face" Breaker (48-29-1)
Complete domination is the only adjective applicable to Sergei Kharitonov's performance against J Breaker – who was barely able to get into the fight. Kharitonov took a unanimous decision victory (30:26) over Breaker, as he controlled the fight and obliterated his seemingly burnt out opponent in the final round winning it 10:8 on every judges score card. With a fight like that, it does make you wonder just what "El Fenómeno" is capable of and how successful can he be here in Synchronicity.
Mr Bronze (25-15-0) v Kaoklai Khanomtom (30-11-3)
Evenly matched this fight definitely was, as these two fighters couldn't be separated from 15 minutes of fighting in the same way they couldn't be separated during the build up to the fight. The action was slow paced and slightly disappointing compared to other fights on the card but had moments that shone like any other. With 15 seconds left Khanomtom knew he was losing the fight and needed to do something about it, which resulted in him nearly putting Bronze out (after Bronze had controlled for 2 rounds straight) but Bronze held on to claim a unanimous decision (29:28) to take victory here in Colesssueum.
Makao Matsumoto (23-16-1) v "Captain" Tsubasa J Champ (19-8)
This fight may have ultimately gone on to be decided by decision after it reached the third round but J Champ will be wondering how he was not being announced winner after a mere 15 seconds, in which he cut, knocked down and seemingly had beat an extremely resilient Makao Matsumoto. Matsumoto would go on to control the rest of the fight after recovering himself from the early onslaught in the 1st-2nr round break and eventually take the victory by Unanimous Decision (29:28) but it was the "Captain" J Champ who will feel victory should've been his and will be disappointed with his performance following his early dominance.
Thor Berserk (20-10) v Charles "The Hammer" Martel (46-15-0)
The opening fight of the card saw the veteran Martel take his first win (by majority decision) since losing his title shot fight against Jake Lamotta in Featherweight division. Thor Berserk provided solid opposition and took it right down to the wire. Just how closely this fight was contested is shown in the judges' score card as the judges all gave different scorings from 29:29, 28:29, 27:30, in favour of "The Hammer". Such a vast scoring range from our judges raises the point again of the scoring system in place currently in MMA but that is a debate for another day.
Synchronicity delivered true value for money tonight with no less than 9 fights going the full distance to a decision, which made the KO of the night award (awarded by Reaper Combatwear) a simple decision in giving it to Slayer. The other fights – for the most part – more than delivered in terms of entertainment and quality of fight, in particular the main-events were real highlights and completely lived up to their billing. As an overall this show really went down well with fans, officials and fighters across the globe alike and was awarded a 997.40 rating from the MMA Tycoon governing body, along with selling over 325k of PPV buys. A fantastic night for not only Synchronicity, but also MMA Tycoon as Syn'302 really delivered as expected and possibly even more.
Report by,
Championship Press Association
Report sponsored by Championship Clothing – Clothing for the Champions!